Symphony of the Seas Cruise Ship Profile
Ship Features, Itinerary, News, Photos, Review, Accommodations, Notable Rooms, Dining Venues, Kid's Areas, Deck Plan, Outdoor Spaces, Smoking Sections
CDC Ratings
If link above doesn't open to the report page, close the window and click on link again to access.
2019 Rating 93 (Mar)
Deck Plan
Deck 16
FloRider, SeaPlex, Ripcord by iFly, North Star, Vitality Sea Spa and Fitness Center
Deck 15
Publix rooms: Jogging track, Rock climbing wall, SeaPlex, Gaming area, North Star, Vitality at Sea Spa and Fitness Center
Deck 14
Public rooms: H20 zone, Outdoor pool, Movie Theater, North Star Bar, Solarium
Deck 13
Public rooms: Solarium, Conference Center
Passenger staterooms
Deck 12
Public rooms: Adventure Ocean
Passenger staterooms
Deck 11
Public Rooms: Adventure Ocean
Passenger staterooms
Deck 10
Passenger staterooms
Deck 9
Passenger staterooms
Deck 8
Passenger staterooms
Deck 7
Passenger staterooms
Deck 6
Passenger staterooms
Deck 5
Public rooms: The Royal Theater, Two70
Passenger Staterooms
Deck 4
Public rooms: Music Hall, The Royal Theater
Deck 3
Public rooms: Casino, Music Hall, The Royal Theater
Passenger staterooms
ships > RCI > Symphony of the Seas
Specifications
Quantum-class ships span 16 guest decks; encompass 167,800 gross registered tons; carry 4,180 guests at double occupancy; and feature 2,090 staterooms.
The ship offers new unprecedented features, such as RipCord by iFLY, the first skydiving experience at sea; the North Star, an engineering marvel that transports guests more than 300 feet above the ocean; SeaPlex, the largest indoor sports and entertainment complex at sea with bumper cars, roller skating and more; as well as the Bionic Bar powered by Makr Shakr which features the world's first robotic bartenders.
Quantum-class ships are the world's most technologically advanced in the world with "boatloads of bandwidth" which allow the cruise line to offer unprecedented connectivity – 500 times more than any other cruise ship; easy-to-use systems that expand guest choices and simplify schedules, plus, RFID technology that speeds up the boarding process and allows guest to track their luggage every step of the way.
Ship Class: Quantum class
Keel Laying: August 2013
Launched: Fall 2014
Refurbished:
GRT: 167,800
Length: 1,141 feet
Draft: 28 ft.
Speed: 22 knots
Passengers: 4,180
Quantum of the Seas Webcam
Accommodations
The Quantum of the Seas offers 1,570 balcony staterooms, 147 ocean-view staterooms, and 373 inside staterooms.
Notable features
• 34 will be wheelchair accessible
• 28 will be studio staterooms (including 12 studio staterooms with balconies)
• All aft-facing staterooms will be a 2-story "loft" suites.
• 80" virtual balconies will display live views of the outdoors in interior rooms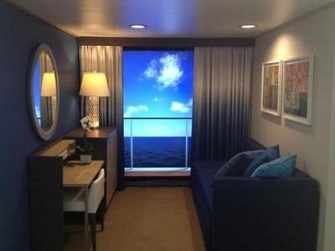 All staterooms offer accommodations that convert to queen size bed and have private bath, vanity area, flat-panel TV and phone, electric mini-bar, hair dryers and AC.
Stateroom sizes (based on category average):
| | | |
| --- | --- | --- |
| Category | Cabin | Veranda |
| Inside | 166 Sq. ft. | |
| Oceanview | 182 Sq. Ft. | |
| Balcony | 198 Sq. ft. | 55 Sq. ft. |
| Suite | 267- 1640 Sq. ft. | 81-613 Sq. ft. |
Dining Venues
Guests will have access to the new reservation system before their cruise to select when, where, and how they dine. Visit www.RoyalCaribbean.com/DynamicDining
Complimentary, full-service restaurants:
American Icon Grill
A take on the classic American road trip, pulling together best-loved regional favorites into one comfort-style menu. Serves breakfast, lunch and dinner.
Chic
Representing the height of contemporary cuisine is realized and the freshest ingredients, such as proteins that pack a punch and sauces made from scratch, are evolved for a modern palate. Dinner only.
Silk
Using the Far East to bring new flavor to adventurous palates through a Pan-Asian menu. Dinner only.
The Grande
Every night is formal night in a venue paying homage to the bygone era of the classic European ocean liner. Dinner only.
Coastal Kitchen
A venue for suite guests where Mediterranean dishes and mixed with the bounty of California's farmlands. Serving breakfast, lunch and dinner.
Specialty venues (Surcharge applies)
Jamie's Italian
The first at-sea outpost of popular British chef Jamie Oliver features rustic Italian favorites, handmade - using seasonal ingredients and Jamie's tried-and-tested crowd pleasers. $$ Lunch and dinner.
Wonderland
A setting where Royal Caribbean chefs twist their culinary kaleidoscopes to invent a dreamscape of never-before-seen fare. $$$ Dinner only.
Michael's Genuine Pub
The first American gastropub at sea and the next evolution of Royal Caribbean's relationship with James Beard Award-winning chef Michael Schwartz, offering simply-prepared food and drinks made with quality ingredients. $ Lunch and dinner.
Solrium Bistro
Serving the foods you love all under five-hundred calories, Devinly Decadence is designed by Devin Alexander, media personality, New York Times bestselling author and chef of highly-rated television show, "The Biggest Loser." $$ Serving breakfast, lunch and dinner.
Chops Grille
Steak and Seafood in an elegant atmosphere. Dinner only - by reservation. $$
Izumi Japanese Cuisine
The new Asian cuisine restaurant features a sushi bar and hot rock cooking, as well as other Asian fare in a more formal setting. Open for lunch and dinner; á la carte pricing. $$ Lunch and dinner.
Johnny Rockets
Get the family together for good old-fashioned hamburgers and fries at Johnny Rockets—complete with authentic 1950s décor, a menu filled with all-American favorites and a jukebox at every table. Lunch and dinner. $
Chef's Table
A private seating with the chef. $$$$
Anytime Dining
Windjammer Marketplace
Offering the utmost flexibility for breakfast, lunch and dinner, this next generation of the brand staple features multiple islands, each serving a variety casual buffet fare. Complimentary.
The Café @ Two70
A gourmet marketplace serving savory hot-pressed sandwiches, salads made to order, handmade soups and more. Complimentary. Serving breakfast, lunch and dinner.
SeaPlex Dog House
The first food truck at sea offering gourmet hot dogs for all to enjoy in SeaPlex, the largest indoor active space at sea. Complimentary.
Café Promenade
Located on the opposite end of the Royal Promenade from the Mondo Cafe, the popular café continues serving Seattle's Best Coffee, fruit shakes, pastries and sandwiches throughout the day and night. Open 24 hours; Complimentary and á la carte pricing. Serving breakfast, lunch and dinner.
Sorrento's
For an authentic New York pizzeria experience, head to Sorrento's for fully-loaded pies right out of the oven. Sample rotating creations from chorizo to Hawaiian to Pizza Florentine – with classic cheese and pepperoni always on call. Complimentary. Lunch and dinner.
In-Stateroom Service
Guests wanting to enjoy a meal in the comfort of their staterooms can choose from the complimentary breakfast, lunch and dinner menus, as well as the recently introduced Dine in Delights menu, which offers name-brand culinary options ranging from the Original Johnny Rockets hamburger to Ghirardelli Chocolate Cookies. Open 24 hours; á la carte pricing for Dine In Delights and $3.95 service charge for in-room deliveries between 12:00 a.m. and 5:00 a.m.
Notable Features
North Star
Observation pod that gives views 300 feet above the sea for 360 views of destinations.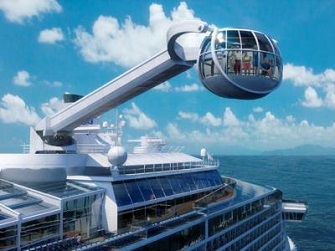 RipCord by iFly
A cruise line first, experience onboard Skydiving called Ripcord by iFly. Soar in the air in a safe, controlled environment.
Circus school
Learn how to fly on a trapeze at Circus School.
Bumper cars
Quantum of the Seas features 30 bumper cars for a rip-roaring good time for the family.
Two70°
During the day, Two70 takes on the ambiance of a grand living room, perfect for games, lounging, reading or early morning coffee. At night, Two70, named for its breathtaking 270-degree panoramic sea views through vast, floor-to-ceiling glass walls, gradually transforms into entertainment area for guests to enjoy throughout the night time.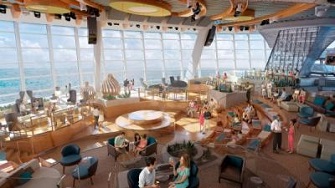 SeaPlex
Indoor sports complex that transforms from day to night. The SeaPlex features 30 bumper cars, a basketball court, roller skating, and a circus school.
Music Hall
Multi-purpose performance venue that offers dance classes and game shows during the day and thrilling shows in the evenings.
Solarium
An adults-only glass enclosed area is the ideal, relaxing retreat.
Kids Only
Royal Babies & Royal Tots
Interactive classes filled with enriching activities developed by early childhood experts at Fisher-Price® for kids 6-18 months. The Royal Tots Program offers 45-minute interactive playground sessions filled with age-appropriate activities and toys for kids ages 18-36 months. Both programs are hosted by trained youth staff. A parent or caregiver must accompany child during all activity sessions. Nursery program also available.
Adventure Ocean for Kids Ages 3-11
Aquanauts for kids ages 3-5 years old; Explorers for kids ages 6-8 years old; Voyagers for kids ages 9-11 years old. Royal Caribbean offers age appropriate parties, crafts, scavenger hunts, science experiments, theater games, excursions and more.
Teen Program
Non-structured, participate when you want program for teens, ages 12-17 years old. Featuring Theme Nights, Improve Games, DJ Academy, Mocktail Competition, Dodgeball, Open Mic and Talent Show, BBQ, Movie and Pool Party, Teen Casino, Snowball Fight, Climbing Competition and more. Teens also have their own lounge (The Living Room) and disco (Fuel).
Youth Zone
• Open gym and activity area
• Adventure Ocean Theater and Science Lab
• The Workshop - includes activities such as jewelry making & scrapbooking
• Teen Areas including Fuel disco, The Living Room lounge, the Back Deck and more