Royal Caribbean Cruise Line Fleet Info
Fleet and Company History, News, Fleet Smoking Policy, Contact Information, New and Retired Ships
RCI Contact Info
Royal Caribbean International
1050 Caribbean Way
Miami, FL 33132
Website: www.royalcaribbean.com
Retired Ships
Empress of the Seas - 2008 operating with Pullmantur Cruises as MS Empress
Sovereign of the Seas - 2008 operating with Pullmantur Cruises as MS Sovereign
Smoking Policy
RCI ships are designated as non-smoking. To provide an onboard environment that satisfies smokers, RCI offers designated smoking areas.
Smoking in public areas is only permitted in designated smoking sections which vary by ship. Generally, smoking is permitted outdoors on only one side of the ship; and smoking is permitted on all private ocean front balconies, including Loft Suite balconies on Oasis Class.
To assist in locating areas where smoking is permitted, you will find visible signage posted within all smoking areas and ashtrays that are provided for your use. The location of all smoking venues can also be found in the daily Cruise Compass.
Smoking is not permitted inside any stateroom or on interior private balconies on Oasis Class that overlook The Boardwalk or Central Park. Smoking is not permitted in any dining venue, food outlet, theater, hallway or corridor; nor in Central Park, The Boardwalk or The Jogging Track on Oasis Class ships; nor in the H2O Zone on Oasis and Freedom Class ships.
A $250 cleaning fee will be applied to the SeaPass account if smoking has occurred inside staterooms or on private interior balconies overlooking The Boardwalk or Central Park onboard Oasis Class ships. Guests who violate the smoking policy may be subject to further action pursuant to the "Consequences Section" of this Guest Conduct Policy.
Pipe and cigar smoking is only permitted within the Cigar lounge. (If no Cigar lounge exists on a particular ship, there will be a designated area for pipe and cigar smoking).
Oops, sorry. This page has moved. Please follow this link to the new page.
Royal Caribbean International is a global cruise brand with 22 ships currently in service. Royal Caribbean International is an industry leader in innovative, unexpected onboard activities and amenities, from fleet-wide rock-climbing walls to state-of-the-art fitness centers and spas to dedicated Internet connections in guest staterooms. The RCI brand is distinguished by Gold Anchor Service, energizing onboard and shoreside adventures, and remarkable destinations all over the world.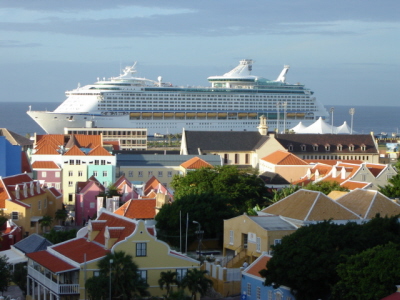 RCCL History
Royal Caribbean International has always had an uncanny way of outdoing itself. Again and again. Ever since the very beginning, back in 1968 when the company was founded by three Norwegian shipping companies, Royal Caribbean has pushed boundaries and wowed guests.
On its first new ship Song of Norway in 1970, the striking Viking Crown Lounge made its debut dramatically clinging to the exterior of the smokestacks. Today, the Viking Crown Lounge still occupies one of the topmost decks of Royal Caribbean's ships and continues to be one of the line's trademarks.
Just eight years after its debut, Song of Norway was the first passenger ship to be "stretched" by being cut in two and fitted with a new 85-foot mid-section. Suddenly the 700-passenger ship could accommodate more than 1,000 guests, though it wasn't long before it was dwarfed by yet another impressive build. By 1982, when the brand new 1,400-passenger Song of America was introduced it was twice as large as Royal Caribbean's previous new build.
In 1986, Royal Caribbean came up with its own Caribbean hideaway, Labadee, on the secluded north coast of Haiti. Four years later, the Bahamian island of CocoCay was developed as another shore side paradise for the exclusive use of Royal Caribbean guests.

In 1988, Royal Caribbean introduced the 73,192-ton, 2,350-passenger Sovereign of the Seas. Sovereign of the Seas was the largest passenger ship built in the previous 50 years and was at least twice the size of all the other vessels in Royal Caribbean's fleet at the time. The ship's signature was the five-deck atrium called the Centrum. Glass elevators and sweeping staircases were anchored by marble pools, gurgling fountains and lush foliage. It was the first time such a huge atrium had been constructed on a passenger ship and the airy, modern look remains a Royal Caribbean standard today.
In 1993, Royal Caribbean became a public company trading on the New York Stock Exchange under the symbol "RCL."
The mid-90s were the start of a building boom that's still going strong. Six Vision-class ships debuted within a three-year span beginning in 1995, including both the 74,140-ton, 1,950-guest Grandeur of the Seas and the 69,103-passenger 1,804-passenger Splendour of the Seas in 1996.
In 1997 the company changed its name from Royal Caribbean Cruise Line to Royal Caribbean International. That same year, Celebrity Cruises merged with Royal Caribbean Cruises Ltd.
In November 1999, the 142,000-ton, 3,114-passenger Voyager of the Seas arrived to great fanfare. The most exciting cruise ship ever built, the world watched as unheard-of-before-at-sea features were unveiled, from a rock-climbing wall on deck to an indoor ice-skating rink and a four-deck high interior promenade with a series of cabins facing down on the fun. Even the propulsion system was cutting edge, boasting fuel-efficient, highly maneuverable Azipod technology. Over the next four years, four more Voyager-class ships were launched.
The crescendo of building broadened even more in 2001, when the first of the 90,090-ton, 2,100-passenger Radiance-class ships debuted. Another three Radiance-class ships were rolled out over each of the next three years.
Royal Caribbean opened Cape Liberty Cruise Port in Bayonne, N.J. in 2004. Ships are based there for both Bermuda and Caribbean voyages.
The year 2006 marked the debut of the first Freedom-class ship. The 160,000-ton, 3,600-passenger ships are even larger, more action packed than their Voyager-class predecessors. Royal Caribbean outfitted these ships with a Flowrider surfing machine, full-sized boxing ring and a poolside water park with sprinklers and other features.
With the debut of Oasis of the Seas, in 2009 and Allure of the Seas, in 2010, vacationers now have a choice of two Oasis-class cruise ships that offer unprecedented entertainment, dining and exclusive onboard amenities.