Enchantment of the Seas Cruise Ship Profile
Ship Features, Itinerary, News, Photos, Review, Accommodations, Notable Rooms, Dining Venues, Kid's Areas, Deck Plan, Outdoor Spaces, Smoking Sections
ships > RCI > Enchantment of the Seas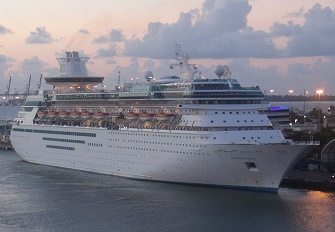 Sister ship, Majesty of the Seas
Enchantment of the Seas received major upgrades in 2015 that include: bungee trampolines, suspension bridges and an expanded Pool Deck with a Splash Deck that gives a place for kids to get soaked.
Ship Class: Vision
Launched: 1997
Upgrades: stretched & refurbished in 2005;
2-week drydock Dec 1-14, 2012
GRT: 81,500
Speed: 22 Knots
Length: 990 ft.
Draft: 25
Passengers: 2,252
All staterooms offer accommodations that convert to queen size bed and have private bath, vanity area, flat-panel TV and phone, electric mini-bar, hair dryers and AC. The bedding program has been updated fleet-wide, with new bed frames, mattresses, sheets, pillows, and duvets.
Stateroom sizes
| | | |
| --- | --- | --- |
| Inside | 134-165 | Sq. ft. |
| Outside | 151-200 | Sq. Ft. |
| Balcony | 191-350 | Sq. ft. w/veranda |
| Suite | 247-1087 | Sq. ft. w/veranda |
Interior
Two twin beds that convert to a Royal King, measuring 72.5 inches wide by 82 inches long, sitting area, vanity area, and a private bathroom. Family staterooms include a pullman or sofa bed to accommodate up to 4 guests.
Outside
Two twin beds that convert to a Royal King, measuring 72.5 inches wide by 82 inches long, sitting area, vanity area, and a private bathroom. The family ocean view has additional bunk beds in separate area, separate sitting area with sofa bed, and can accommodate up to 6 guests. Panoramic staterooms have floor-to-ceiling windows for stunning views.
Balcony
Two twin beds that convert to a Royal King, measuring 72.5 inches wide by 82 inches long, private balcony, sitting area, and a private bathroom.
Suite
Two twin beds that convert to a Royal King, measuring 72.5 inches wide by 82 inches long, private balcony, private bathroom with bathtub and a sitting area. Grand suites include concierge service. Royal family suites have two bedrooms with two twin beds that convert to a Royal King, measuring 72.5 inches wide by 82 inches long(one room with third and fourth Pullman beds), two bathrooms (one with shower, one with bathtub), living area with double sofa bed, private balcony, and concierge service. The stateroom can accommodate up to 8 guests. The Royal Suite has a separate bedroom with king-size bed, private balcony with hot tub, whirlpool bathtub, living room with queen-size sofa bed, baby grand piano and concierge service.
Suite Amenities
Excluding Junior suites, guests booked in other suites enjoy the following amenities :
• Priority check-in
• Personalized attention throughout the cruise with complimentary
• Concierge Club service on select ships
• Reserved prime seating in the main theater for entertainment shows, where available
• Priority tender tickets on select cruises. (Tender service is provided when smaller vessels are necessary to reach shore in locations without docking ports large enough for cruise ships.)
• VIP pool deck seating, where available
• Full breakfast, lunch and dinner dining room menus available for in-room dining
• Private breakfast and lunch seating in specialty restaurants on our Voyager and Freedom Class ships
• Mattel® board games available to order for in-room entertainment for the kids
• Complimentary luggage valet service
• Luxury spa bathrobes for use onboard
• Complimentary pressing service on formal night
• Priority departure with exclusive suite departure lounge featuring continental breakfast
($) = Specialty restaurant, surcharges apply
My Fair Lady Dining Room
Two-story main dining room. weeping, multi-level ambience, world-class cuisine and extraordinary personal service from a dedicated wait staff. The main dining room serves exceptional, multi-course meals for breakfast, lunch and dinner.
Windjammer Cafe
A culinary destination loaded with an array of delicious food for every meal and snack time – all with spectacular views and a comfortable, casual atmosphere. Browse multiple buffets and serving stations featuring pastas, omelets made-to-order, global cuisine, salads, soups, sandwiches, meat-carving, and tons of tantalizing desserts.
Park Cafe
An indoor/outdoor gourmet market featuring salads, sandwiches, soups and pastries. Open for breakfast, lunch and dinner, complimentary.
Chops Grill ($)
Royal Caribbean's popular signature steakhouse, featuring grade-A premium cuts of steak cooked to your specifications, plus fresh seafood, hearty side dishes and signature desserts in an upscale, contemporary setting. $30.00 per person surcharge.
Chef's Table ($)
An exclusive and private experience co-hosted by the executive Chef and Sommelier for a wine pairing dinner of five courses. Open for dinner reservations, $95 per person.
Cafe Latte-tudes ($)
Caffeine fix, coffee break, or after-dinner cappuccino – drop by this café for sweets, people watching and specialty coffee beverages (additional cost applies).
Ben & Jerry's ($)
Ice Cream shop.
Room Service
Breakfast, lunch and dinner, 24 hours a day (late night service charge applies).
Palladium Theater
Complimentary Broadway-style entertainment playing nightly.
Viking Crown Lounge
Observation area during the day with great views of the sea and cocktails and music by night.
Casino Royale
Play slots, cards, roulette and more.
Schooner Bar
The Schooner Bar is a nautical haven inspired by the sea – a guest-favorite bar, thanks to nightly piano entertainers that will have you joining a chorus of classics.
Champagne Bar
This quiet and elegant bar is the perfect place to enjoy a glass (or two) of champagne.
R Bar
The R Bar features iconic furnishings and classic cocktails-- gimlet, martini, gin, whiskeys and more-- all served by the ship's resident mixologist.
Boleros Lounge
Follow the Latin beat and find yourself in Boleros, a nighttime hot spot where you can keep up with live music and cool down with a mojito or caipirinha.
Carousel Lounge
Music, dancing and entertainment.
Sport Activities
Bungee Trampolines, Vita Course, Jogging Track, and Rock Climbing Wall located on Deck 10.
Pool Areas
One swimming pool and 4 whirlpools midship and a Solarium pool with two whirlpools located aft on deck 9.
Royal Babies & Royal Tots
Interactive classes filled with enriching activities developed by early childhood experts at Fisher-Price® for kids 6-18 months. The Royal Tots Program offers 45-minute interactive playground sessions filled with age-appropriate activities and toys for kids ages 18-36 months. Both programs are hosted by trained youth staff. A parent or caregiver must accompany child during all activity sessions. Nursery program also available.
Adventure Ocean for Kids Ages 3-11
Aquanauts for kids ages 3-5 years old; Explorers for kids ages 6-8 years old; Voyagers for kids ages 9-11 years old. Royal Caribbean offers age appropriate parties, crafts, scavenger hunts, science experiments, theater games, excursions and more. Located on deck 10.
Teen Program
Non-structured, participate when you want program for teens, ages 12-17 years old. Featuring Theme Nights, Improve Games, DJ Academy, Mocktail Competition, Dodgeball, Open Mic and Talent Show, BBQ, Movie and Pool Party, Teen Casino, Snowball Fight, Climbing Competition and more. Located on deck 10.