Monarch of the Seas Cruise Ship Profile
Ship Features, Itinerary, News, Photos, Review, Accommodations, Notable Rooms, Dining Venues, Kid's Areas, Deck Plan, Outdoor Spaces, Smoking Sections
CDC Ratings
2009 Rating 96 (Jun)
2009 Rating 96 (Dec)
2010 Rating 96 (Jul)
2011 Rating 98 (Jan)
2011 Rating 97 (Jul)
2011 Rating 85 (Nov)
2012 Rating 96 (Jan)
2013 Rating 92 (Jan)
2013 Rating 98 (Aug)

Deck Plan
Deck 12
Jade Restaurant, Sorrento's, jogging track, Viking Crown Lounge, Rock Climbing Wall
Deck 11
Jade Restaurant, Windjammer Cafe, Pool Bar, Pool, video arcade, The Back Deck, Fuel Teen Disco, sports court
Deck 10
Passenger staterooms, Voyagers Youth area, Explorer's Youth area, Aquanauts Youth area
Deck 9
Passenger staterooms, Beauty Salon, Day Spa & fitness Center
Deck 8
Passenger staterooms, The Circuit Lounge
Deck 7
Passenger staterooms, Conference Center, Business Services, Centrum, Boleros Lounge, Sound of Music Lounge
Deck 6
Passenger staterooms
Deck 5
Passenger staterooms, Ben & Jerry's, Latte-tudes, Boutiques, Casino Royale, Schooner Bar, Sound of Music Lounge
Deck 4
Passenger staterooms, guest relations, explorations desk, Centrum, Claude's Dining Room
Deck 3
Passenger staterooms, Art & Photo Gallery, Centrum, Vincent's Dining Room
Deck 2
Passenger Staterooms
Outdoor Features
Sport Activities
Sports court located on deck 11. Rock Climbing Wall and Jogging Track located on deck 12.
Main Pool Area
Sun deck with two swimming pools and two whirlpools located on deck 11.
ships > RCI > Monarch of the Seas
Note: The Monarch of the Seas has been retired from the RCCL fleet. The vessel now sails with Pullmantur Cruises.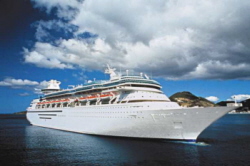 Monarch of the Seas is the second ship in the Sovereign Class. Her sister ship is the Majesty of the Seas. A renovation of Monarch of the Seas in 2003 added state-of-the-art features, like the new, oversized spa and fitness center, specialty Asian-fusion cuisine at Jade, a make-your-own pizzeria, and, of course, Royal Caribbean's signature rock-climbing wall.
Monarch of the Seas News
Monarch of the Seas Leaving Royal Caribbean Fleet in 2013
Royal Caribbean announced the transfer Monarch of the Seas out of their fleet and into sister company Pullmantur Cruises in April 2013. The ship will be based in Curacao sailing 7-night Southern Caribbean itineraries to ports in Venezuela, Panama, Colombia and Aruba.
Specifications
Ship Class: Sovereign
Launched: 1991
Refurbished: 2003
GRT: 74,000
Speed: 19 knots
Length: 880 ft.
Draft: 25
Passengers: 2,390
Accommodations
All staterooms offer accommodations that convert to queen size bed and have private bath, vanity area, flat-panel TV and phone, electric mini-bar, hair dryers and AC. The bedding program has been updated fleet-wide, with new bed frames, mattresses, sheets, pillows, duvets and flat-screen TV's in every stateroom.
Stateroom sizes
| | | |
| --- | --- | --- |
| Inside | 119 | Sq. ft. |
| Outside | 122 | Sq. Ft. |
| Suite | 811 | Sq. ft. w/veranda |
Dining Venues
Main Dining Rooms
Vincent's Dining Room located on deck 3 and Claude's Dining Room located on deck 4.
Windjammer Cafe
Main buffet.
Latte-Tudes
Coffee and pastry cafe.
Sorrento's
Pizzeria located on deck 12.
Jade Restaurant and Sushi Bar
Asian Fusion cuisine.
Ben & Jerry's
Popular ice cream bar.
Room Service
Breakfast, lunch and dinner, 24 hours a day (late night service charge applies).
Notable Rooms
Sound of Music Lounge
Main showroom.
Viking Crown Lounge
Observation area during the day with great views of the sea and cocktails and music by night.
Boleros
Latin themed lounge.
Circuit Lounge
Late-night disco.
Casino Royale
Slots, cards, roulette and more.
Schooner Bar
Nautical themed bar.
Champagne Bar and Terrace
Intimate and elegant lounge located on deck 4.
Kid's Only
Royal Babies & Royal Tots
The Royal Babies program offers interactive classes filled with enriching activities developed by early childhood experts at Fisher-Price® for kids 6-18 months. The Royal Tots Program offers 45-minute interactive playground sessions filled with age-appropriate activities and toys for kids ages 18-36 months.
Both programs are hosted by trained youth staff. A parent or caregiver must accompany child during all activity sessions.
Nursery program also available.
Adventure Ocean for Kids Ages 3-11
Aquanauts for kids ages 3-5 years old; Explorers for kids ages 6-8 years old; Voyagers for kids ages 9-11 years old. Royal Caribbean offers age appropriate parties, crafts, scavenger hunts, science experiments, theater games, excursions and more. Located on deck 10.
Teen Program
Non-structured, participate when you want program for teens, ages 12-17 years old. Featuring Theme Nights, Improve Games, DJ Academy, Mocktail Competition, Dodgeball, Open Mic and Talent Show, BBQ, Movie and Pool Party, Teen Casino, Snowball Fight, Climbing Competition and more. Located on deck 11.