Trinidad Cruise Ship Destination Port
Cruise Ship Port of Call information like Port News, Weather, Transportation Options, Things to Do and See, Area Events, Medical Care, Crime and Safety Review
Need to know
Personal Safety
Trinidad/Tobago is a beautiful industrial port supported by a multicultural society rich in history and traditions recognized all over the world.
Trinidad has seen better days, however, the current government appears stable and working to improve conditions for tourism. Incidents of violent crime have been steadily on the rise on both islands. Visitors to Trinidad and Tobago should exercise caution and good judgment, as in any large urban area, particularly when traveling after dark.
Areas to avoid in Trinidad include Laventille, Morvant, Sea Lots, South Belmont, scenic rest stops, walking across the Queen's Park Savannah, and downtown Port of Spain (after dark), as tourists are particularly vulnerable to pick pocketing and armed assaults in these locations.
Trinidad Neighborhood Map
Holiday periods, especially Christmas and Carnival, often see an increase in criminal activity.
Violent crimes, including assault, kidnapping for ransom, sexual assault and murder, have involved foreign residents and tourists, including U.S. citizens. The perpetrators of many these crimes have not been arrested.
Robbery is a risk, particularly in urban areas and especially near ATMs and shopping malls. Visitors should avoid wearing expensive jewelry or displaying large amounts of money in public.
Visitors should not walk alone or in unfamiliar areas.
Visitors should avoid neighborhoods known for high crime rates.
Medical Services
We strongly recommend that you obtain comprehensive travel and medical insurance before traveling. Medical care is limited compared to that in the United States. Care at public health facilities is significantly below U.S. standards for treatment of serious injuries and illness, with limited access to supplies and medications.
While care at some private facilities is better than at most public health facilities, patients may be expected to prove their ability to pay before assistance is given, even in emergency situations. Patients requiring blood transfusions are expected to arrange for at least the same amount to be donated on their behalf.
Physicians and nurses may go on strike, causing serious strain on both public and private medical resources. Ambulance service is extremely limited both in the quality of emergency care and in the availability of vehicles in many parts of the country.
Getting around
If you want to tour the city and island, we highly recommend you schedule a tour with a tour company or through the cruise line.
Taxis
Taxis are fixed and not metered. Fares should be posted at the cruise terminal. Taxicabs are simply normal passenger cars with no special markings. However, their license plates start with the letter "H". They are found at Taxi stands which may be at a street corner or at the side of the road in town only.
Taxis available at the major hotels or through pre-arranged pick-ups with reputable companies are generally safe and reliable.
Ferry
For complete ferry schedules and rates visit the Trinidad and Tobago Port Authority
Scooters, Bicycles and Driving
Scooter, bike rentals and rental cars are not recommended for cruise passengers at this port of call. For first timers, we highly recommend you schedule a guided tour with your cruise company.
Area Events
Plymouth Jazz Festival
Located in Plymouth, Tobago. April Annual Event. The Plymouth Jazz Festival in Tobago showcases local musical talent every year as well as serious international superstars.
Trinidad and Tobago Carnival
February Annual Event at Queen's Park Savannah. Trinidad's carnival is the definitive street party. Each year, thousands of scantily-clad, sequined and feathered masqueraders take to the streets to music provided by DJ trucks. Carnival website.
Taste T&T
May Annual Event at Hasley Crawford Stadium.
Heritage Festival
Jul-Aug Annual event Compared to the non-stop party carousel that is Trinidad, Tobago is the tranquil paradise of the twin island state.
Great Fete Weekend
Jul 29 - Aug 2, 2009 Annual Event at Store Bay, Pigeon Point. The Great Fete Weekend is a huge annual beach party at Store Bay, Pigeon Point Beach Resort and Mount Irvine Beach Resort. Top DJs and soca and rock stars from Trinidad and Tobago.
Emancipation
Jul-Aug Annual Event
Visitors to Trinidad during the Emancipation Celebrations could be forgiven for thinking that they had landed in the middle of the island's famous carnival.
Carib Great Race
August Annual event. Powerboats race from Port-of-Spain to Crown Point, a distance of 84 miles. The race begins just off the Yacht Club in Trinidad's Gulf of Paria.
Independence Day
August Annual Event at Queens Park Savannah. Independence Day is always an occasion for celebration and in Trinidad and Tobago this day is commemorated in extravagant fashion.
Diwali
October Annual event. Diwali, otherwise known as the Festival of Lights.
The islands of the Caribbean are located in a region southeast of the Gulf of Mexico and Northern America, east of Central America, and to the north of South America.
Trinidad is located 7 miles off the coast of Venezuela. Tobago is twenty miles northeast of Trinidad.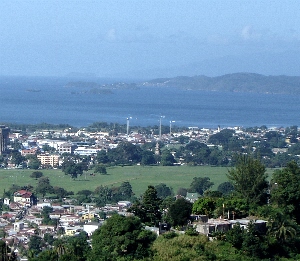 The two islands of Trinidad and Tobago were incorporated into a single colony in 1888. Trinidad and Tobago achieved full independence in 1962 and joined the British Commonwealth. Trinidad and Tobago became a republic in 1976.
There are large numbers of U.S. citizens and permanent residents of Trinidadian origin living in the United States (mostly in New York and Florida), which keeps cultural ties strong. About 20,000 U.S. citizens visit Trinidad and Tobago on vacation or for business every year, and more than 4,600 American citizens are residents.
Good to Know
The tourism office is located at the Cruise Ship Complex Terminal. Immediately outside the terminal is a craft market and you can also finds taxis offering island tours (due to increased crime throughout the Caribbean, we recommend you schedule guided tours through your cruise company at this port.)
The country is one of the most prosperous in the Caribbean thanks largely to petroleum and natural gas production and processing. Tourism, mostly in Tobago, is targeted for expansion and is growing. The government is coping with a rise in violent crime.
Port of Entry
Port of Spain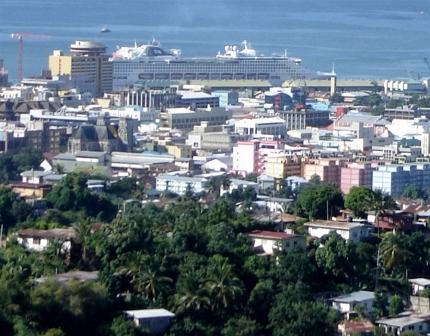 Time Zone
AST (GMT/UTC - 4)
Map Coordinates
10°40′N 61°31′W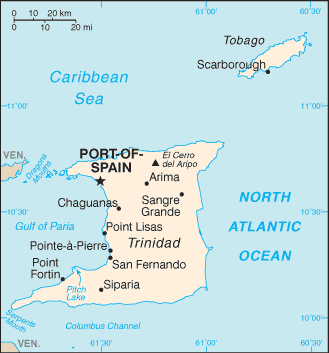 Average Temperatures
Water: 83º Summer - 78º Winter
Air: 85º Summer - 79º Winter
Things to do and see
Chaguaramas
About 20 minutes from the Port of Spain located on the most western point of the island. A great resort area where many yachts and sailboats dock.
Mount St Benedict Abbey
Nestled 800 feet above sea level on the forested slopes of the Northern Range, the Abbey is only 25 minutes away for the Port of Spain.
Fort King George
Built in the 1770's, this fort remains one of Tobago's best preserved historical monuments. The fort's prisoner's bell tank, barracks and officer's mess are all located amongst the lush grounds. The cannon's still remain as they were overlooking the coast. On a clear day, Trinidad's Northern Range can be seen. The Tobago Museum and art display are located on the Fort's grounds. U.S. Embassy Note: "We advise against visiting the Ft. George scenic overlook in Port of Spain because of lack of security and a number of recent armed robberies at that site."
Leatherback Turtles in Trinidad
Mar 1 - Aug 31 Annual event on the north coast of Trinidad, Port of Spain. Each year around Easter, hundreds of hikers and conservationists trek to the coastal regions of Trinidad and Tobago to watch (and guard) Leatherback turtles while they lay their eggs.
La Brea Pitch Lake
The village of La Brea in South Trinidad is home to the world's largest asphalt lake. U.S. Department of State Caution: "Tourists at La Brea Pitch Lake in South Trinidad were targets of criminals in 2004 and 2005."
Asa Wright Nature Center
One of the best bird watching centers in the world. Located in Trinidad's Northern Mountain Range.
Galera Point and Toco Lighthouse
Rocky outcrop located at the north-eastern tip of Trinidad. In February Orisa devotees celebrate the Olukun Festival (Celebration of the Ocean) here.
The Toco Lighthouse
Built in 1897. Facilities include a park and picnic area.
Banwari
Located in southwestern Trinidad, this site is one of the first permanent settlements on the Island.
Five Islands and Nelson Island
The main buildings were constructed with slave labor and completed in 1802. The buildings served as a port of entry for ocean-going ships, a reception center, a US Naval base and so much more.
Queen's Park
In the center of Port of Spain and where all the activity is centered for Carnival and other events. U.S. Department of State Caution: "We advice against walking across the Queen's Park Savannah as tourists are particularly vulnerable to pick pocketing and armed assaults at this location.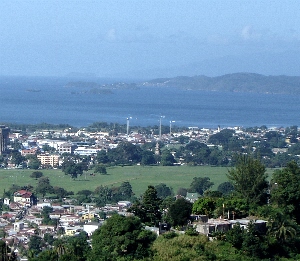 Queen's Park - Port of Spain, Trinidad
Botanical Garden's and Government House
Government House in Port of Spain, Trinidad
Shopping
Trinidad has good shopping for quality items but don't expect duty free bargains like Eastern Caribbean ports. Frederick Street is the main shopping strip in the Port of Spain and Charlotte Street, two streets over from Frederick Street is where some bargains can be found.
Island specialties
Angostura Aromatic Bitters, Mango and Tamarind Chutneys, and Flavored coffees.
Snorkel and Dive Spots
Buccoo Reef
Largest coral reef in Tobago and just a short distance offshore. The Nylon Pool, halfway to the reef, is shallow and ideal for swimming. Known for its marine life and is popular for scuba diving and snorkeling.
Speyside Beach
Scenic beach past King's Bay. Brain Coral is among the largest in the world.
Culloden Beach
Good snorkeling beach.
King Peter's Bay
Good snorkeling and spear fishing.
Englishman's Bay
A quiet spot with white sandy beaches and deep, clear water good for snorkeling.