Isle De Margarita Cruise Destination Port
Cruise Ship Port of Call information like Port News, Weather, Transportation Options, Things to Do and See, Area Events, Medical Care, Crime and Safety Review
Need to know
Venezuela is an earthquake-prone country and is occasionally subject to torrential rains, which can cause landslides. Torrential rains resulted in multiple mudslides and road closures in late 2008.
Venezuela is a medium income country whose economy is dominated by a substantial oil industry. The political climate in Venezuela is highly polarized and volatile. Violent crime is a serious problem, and the capital city of Caracas has been cited as having the highest per capita homicide rate in the world.
Medical Services
Medical care at private hospitals and clinics in Caracas and other major cities is generally good. Public hospitals and clinics generally provide a lower level of care and basic supplies at public facilities may be in short supply or unavailable. Cash payment is usually required in advance of the provision of medical services at private facilities, although some facilities will accept credit cards.
Patients who cannot provide advance payment may be referred to a public hospital for treatment.
Private companies that require the patient to be a subscriber to the service or provide cash payment in advance generally provide the most effective ambulance services. Public ambulance service is unreliable.
U.S. citizens should be aware that due to the currency restrictions in effect in Venezuela they might find it difficult to receive wire transfers from abroad, whether through a bank or Western Union. Such wire transfers cannot be used reliably as a source of emergency funds. U.S. citizens traveling to Venezuela may also find it difficult to obtain certain prescription drugs, particularly name brands, and should ensure that they have sufficient quantities of all medications for the duration of their stay.
Health Care Centers
Hospital Luis Ortega, Porlamar, phone: 612212
Margarita Medical Center, Calle Marcano, Porlamar, phone: 614611.
La Fe Medical Center, Porlamar, phone: 622711.
Libertad Medical Center, Porlamar, phone: 63078.
Nueva Esparta Medical Center, La Asunción, phone: 422111.
Getting around
For precautionary measures, we recommend cruise passengers, particularly Americans, take guided tours arranged through your cruise company when visiting this port of call.
Driving regulations in Venezuela are similar to those in the United States, although many drivers do not obey them. Child car seats and seatbelts are not required and are seldom available in rental cars and taxis.
Stops at National Guard and local police checkpoints are mandatory. Drivers should follow all National Guard instructions and be prepared to show vehicle and insurance papers and passports. Vehicles may be searched.
Inexpensive bus service is available to most destinations throughout the country, but the high incidence of criminal activity on public transportation makes bus travel inadvisable.
Isla de Margarita
Isla de Margarita (Margarita Island), Venezuela belongs to the State of Nueva Esparta which also comprises the islands of Coche and Cubagua.
The island is formed by two peninsulas joined by an isthmus. Most of the island's 420,000 residents live in the more developed eastern part, especially in the city of Porlamar and adjoining city of Pampatar. Others are found in the much smaller city of La Asunción, the capital of the region or Juan Griego.
Margarita boasts world-class windsurfing (at El Yaque) and some of the best diving in the southern Caribbean.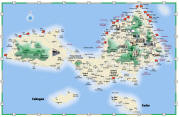 Good to Know
The biggest city on Margarita island is Porlamar, known for its commercial center; it flourishes with shops and good restaurants.
Port of Entry
El Gumache - The port is located in a remote part of the island and pre-arranged excursions is the best way to see the area
Time Zone
UTC - 04:30 hours
Map Coordinates
8.00 N, 66 00 W
Average Temperatures
Water: 83º Summer - 78º Winter
Air: 86º Summer - 80º Winter
Things to do and see
The biggest city on Margarita island is Porlamar, known for its commercial center; it flourishes with shops and good restaurants. About 85,000 people live there during the low season. Porlamar has two city beaches.
Pampatar has around 50,000 citizens in its greater area. Most of the larger shopping malls are here.
Please Note: According to the U.S. Department of State website " Credit cards are generally accepted at most upscale tourist establishments, but foreign exchange controls have made credit card acceptance less common than in the past. Visa, MasterCard, and American Express have representatives in Venezuela. Due to the prevalence of credit card fraud in Venezuela, travelers should exercise caution in using their credit cards and should check statements regularly to ensure that no unauthorized charges have been made. Most major cities have ATMs with 24-hour service where users may withdraw local currency, but many of these ATMs will not accept U.S.-issued debit cards."
Angel Falls
The tallest waterfall in the world (16 times the height of Niagara Falls)
La Restinga Lagoon and National Park
Offers wildlife viewing along the canals, and miles of unspoiled beaches with thatched roof eating establishments.
Juan Griego
A city of around 45,000 people, it has small shopping centers and beaches. Famed for its spectacular sunsets.
Area Beaches & Dive Spots
There are at least 50 unique and magnificent margarita beaches which are scattered along a 106 miles of coastline. Its location as an island in the Caribbean sea offers lots of beaches to explore which range from crowded to solitary and most of them virgin.
Playa Puerto Cruz
The beach of Playa Puerto Cruz is one of the most popular with tourists and has been the location of the making of numerous commercial films because of its long white sandy beach.
Playa El Agua
Located to the north and is reported to be the most popular beach with a 2 mile boulevard lined with shops and restaurants. About a 45 minute drive from the port (reports of increased crime in this area.)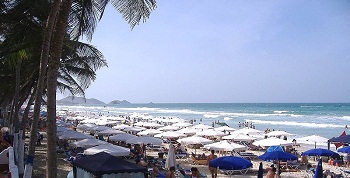 Playa El Aqua
Playa El Yaque
Internationally known as an excellent location for windsurfing. The beach is located in the south side of the island near the International Airport. The trade winds blow steadily at 15 to 30 knots during most of the year, and the shallow sea extends south of the beach for several hundred meters, allowing fallen windsurfers to stand on the flat sand bottom.
Playa El Yaque
Playa Caribe
Playa Caribe is a beach situated a few minutes north of Juan Griego, at a small bay on the west coast. Popular beach with several restaurants and food-stands. Playa Caribe is an exposed beach break with moderate waves.
Playa Caribe
Playa Parguito
Playa Parguito (Parguito Beach) is a secluded area located at the Southeast end of the island. Good surfing beach and few services nearby.
La Galera
AA fortress not far off the city center, where in the early 1820s, a fierce battle for independence was fought.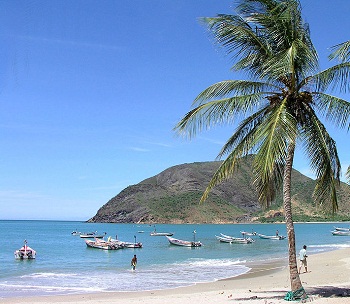 La Galera
Los railes
A group of small rock islands which is about 12km northeast of the coast of Isla de Margarita. This is ranked as the absolutely best diving place around the island. The maximum depths are about 25m and the viewing range from about 10-30m. A disadvantage is that the water is fairly cold for the Caribbean so wet suits are recommended.
Isla Cubagua
Isla Cubagua is one of the sister's islands of Isla de Margarita. At Isla Cubagua you can dive of the wreck of a sunken ferry that went down in the early 1970's after a fire onboard.