Montserrat Destination Report
Cruise Ship Port of Call information like Port News, Weather, Transportation Options, Things to Do and See, Area Events, Medical Care, Crime and Safety Review
Natural Hazards
Hurricanes
Montserrat can be affected by hurricanes. The hurricane season normally runs from June to the end of November, but there have been hurricanes in December in recent years.
Volcanoes
Planning a visit to Montserrat? Stay up-to-date with current volcano activity. Visit the Montserrat Observatory
---
Personal Safety
The crime rate in Montserrat is low. However, travelers should take normal, common sense precautions.
Avoid carrying large amounts of cash and displaying expensive jewelry. Use hotel safety deposit facilities to safeguard valuables and travel documents.
Medical Services
St. John's Hospital (telephone (664) 491-2843), Montserrat's main hospital, can handle most routine and surgical emergencies. However, there is no hyperbaric chamber in Montserrat.
Doctors in private practice are also available.
Arrangements can be made quickly to transfer more serious problems off island by helicopter to Antigua or Guadeloupe.
Getting around
In Montserrat, vehicles are operated on the left-hand side of the road.
There is no organized government roadside assistance, but local residents are often willing to aid those with car trouble. Roads are narrow, winding and steep.
For specific information concerning Montserrat driving permits, vehicle inspection, road tax and mandatory insurance, please contact the Montserrat Tourist Board in Montserrat at tel. 1 (664) 491-2230 or 491-8730. You may also email them at info@montserrattourism.ms
The islands of the Caribbean are located in a region southeast of the Gulf of Mexico and Northern America, east of Central America, and to the north of South America.
Montserrat is a British overseas territory and part of the British West Indies. The island is part of the Leeward Island chain in the Lesser Antilles.
English and Irish colonists from St. Kitts first settled on Montserrat in 1632; the first African slaves arrived three decades later. The British and French fought for possession of the island for most of the 18th century, but it finally was confirmed as a British possession in 1783.
The island's sugar plantation economy was converted to small farm landholdings in the mid 19th century. Much of this island was devastated and two-thirds of the population fled abroad because of the eruption of the Soufriere Hills Volcano that began on 18 July 1995.
Good to Know
Montserrat is located approximately 300 miles east-southeast of Puerto Rico and 30 miles southwest of Antigua.
The island of Montserrat has a very active volcano and the Government of Montserrat has issued several recent proclamations and warnings urging residents and visitors to be vigilant and to be prepared to move at short notice.
Port of Entry
Little Bay - Tender Service used to transport passengers to the port.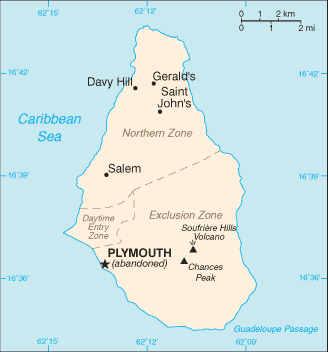 Time Zone
AST (UTC/GMT - 4.5 hours)
Map Coordinates
16°45′N 62°12′W
Island Population
4,922 (Montserrat 2011 Census)
Average Temperatures
Water: 82° Summer - 78° Winter
Air: 82°Summer - 79° Winter
Things to do and see
Tourist Board: http://www.visitmontserrat.com/
Ongoing volcanic activity in the south of the island has led to the evacuation and relocation of residents of the so called 'exclusion zone' since 1995. Additional evacuations may occur when volcanic activity increases. Because the volcano is still active and dangerous, access to the southern part of the island is restricted. Persons entering restricted areas without authorization are subject to fine and/or imprisonment.
Soufriere Volcano - Montserrat
In early 2007, Montserrat government authorities warned residents and visitors of volcanic activity and an increase of pyroclastic flows in Tyres Ghaut, Gages Valley and behind Gages Mountain. After placing sections of the lower Belham Valley off limits in January 2007 due to the danger posed by growth of the volcano's dome, the government of Montserrat lifted those restrictions in September. Access to all areas on the southern flanks of the Belham Valley east of the Belham Bridge and areas south remains prohibited, as is south of Jack Boy Hill to Bramble Airport and beyond.
Area Events
St Patrick's Week of Activities
March Annual event. St Patrick's Day on the Caribbean island of Montserrat is one heck of a party. Residents take part in calypso competitions, nature hikes and rum tours during this week in March.
Montserrat Dive Fest
Annual Summer event. Held in conjunction with Montserrat's bi-annual Reef Check Program, the scheduled dive program includes a free Coral Reef Conservation Specialty course, discounted Peak Performance Buoyancy course and two tank dive trip to the elusive Redonda island.

Calabash Festival
July Annual event. The Emerald Isle comes alive with a plethora of fun activities during Montserrat's annual Calabash Festival.
Cudjoe Head Celebrations
August Annual event. Every August, residents and visitors to the Caribbean island of Montserrat can enjoy a colorful street festival, take part in sporting competitions and watch music and masquerade performances.
Montserrat Festival (Carnival)
Annual Dec - Jan event. Paying tribute to the destination's culture, talent and creativity, the unique island of Montserrat celebrates its annual carnival, known as Festival, held every year from about the first week of December through January 1st. The destination comes alive with music, revelry and a variety of events that highlight the resilient and exuberant people of Montserrat.