St. Kitts Cruise Ship Destination Port
Cruise Ship Port of Call information like Port News, Weather, Transportation Options, Things to Do and See, Area Events, Medical Care, Crime and Safety Review
Need to know
History
Saint Kitts became the first British colony in the West Indies in 1624 and then became the first French colony in the Caribbean in 1625, when both nations decided to partition the island.
The island of Nevis was colonized in 1628 by British settlers from Saint Kitts. From there, Saint Kitts became the premier base for British and French expansion, as the islands of Antigua, Montserrat, Anguilla and Tortola for the British, and Martinique, the Guadeloupe archipelago and St. Barths for the French were colonized from it.
Although small in size, and separated by only 2 miles (3 km) of water, the two islands were viewed and governed as different states until the late 19th century, when they were forcefully unified along with the island of Anguilla by the British. To this day relations are strained, with Nevis accusing Saint Kitts of neglecting its needs.
Saint Kitts and Nevis, along with Anguilla, became an associated state with full internal autonomy in 1967. Angullians rebelled, and their island was allowed to separate from the others in 1971. St. Kitts and Nevis achieved independence in 1983. It is the newest sovereign nation in the Americas.
Medical Services
Medical care is limited. Serious medical problems requiring hospitalization and/or medical evacuation to the U.S. can cost thousands of dollars. Doctors and hospitals expect immediate cash payment for health services.
Joseph N. France General Hospital on St. Kitts (869) 465-2551. The major trauma facility. There are physicians and specialized surgeons on staff. Accidents and emergencies are dealt with immediately and minor cases are seen in order of severity.
Ambulance response time is approximately 4-6 minutes within the capital city of Basseterre and approximately 12 minutes outside of town.
Ambulance crew and Emergency Medical Technicians (EMT) are allowed to perform CPR and start IV lines.
For US Residents Only
The U.S. Embassy in Barbados has consular responsibility for Antigua and Barbuda, Dominica, St. Kitts and Nevis, St. Lucia, St. Vincent and the Grenadines, as well as the British dependent territories of Anguilla, British Virgin Islands and Montserrat, and the French islands of Martinique, Guadeloupe, St. Barthélemy and St. Martin.
The U.S. Embassy is located in the Wildey Business Park in suburban Wildey, south and east of downtown Bridgetown. The main number for the Consular Section is (246) 431-0225. After hours, the Embassy duty officer can be reached by calling (246) 436-4950. Website US Embassy in Barbados.
Hours of operation are 8:00 a.m. – 4:30 p.m., Monday-Friday, except Barbados and U.S. holidays.
Getting around
Public Transportation consists of mini-buses and taxis. Established fares are available from cruise terminal dispatchers.
Complaints regarding taxi or minibus services may be lodged with The Department of Tourism or with your hotel.
Traffic in St. Kitts and Nevis moves on the left-hand side of the road.
Roads are reasonably well paved but narrow and sometimes poorly marked.
Drivers often stop on the side of or in the middle of the road to visit with other drivers, blocking one lane of traffic. Honking one's horn is a common form of greeting, not a warning.
Travelers are required to obtain a visitor's drivers license, which may be obtained from the Traffic Department or the Fire Station for a small fee on presentation of a valid home or international license.
More detailed information on roads and traffic safety can be obtained from the Ministry of Tourism, Culture and the Environment, Bay Road, Pelican Mall, P.O. Box 132, Basseterre, St. Kitts, telephone (869) 465-4040.
For specific information concerning St. Kitts and Nevis driving permits, vehicle inspection, road tax and mandatory insurance, contact the St. Kitts and Nevis national tourist organization via the Internet at http://www.stkitts-tourism.com/index.asp.
St. Kitts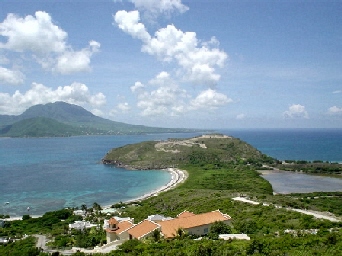 St. Kitts and Nevis is part of the Leeward island chain located in the Caribbean Sea, about one-third of the way from Puerto Rico to Trinidad and Tobago.
The islands of Saint Kitts and Nevis are two of the Caribbean's oldest colonized territories.
Good to Know
Port of Entry
Cruise ships dock at the St. Christopher Air & Sea Port - located right next to downtown Basseterre.
Time Zone
AST (UTC/GMT - 4.5)
Map Coordinates
17°20′N 62°45′W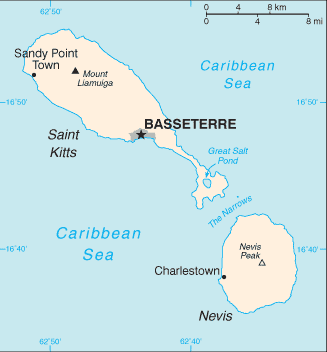 Average Temperatures
Water: 83º Summer - 78º Winter
Air: 86º Summer - 80º Winter
Things to do and see
Brimstone Hill Fortress & National Park
The Fortress was built by the British and African Slaves to deter any potential takeovers. Built on a natural hill 800 feet, the ruins of the surrounding buildings and outhouses have spectacular views down to the nearby town of Sandy Point.
St. Kitts Sugar Train Scenic Railway
Located at St. Peter Basseterre Parrish - 30 mile ride (3 1/2 hours) $89 pp, 3-11 yrs, $45 pp. Prices subject to Change. The train runs along an old sugar cane tracks and takes you all around St. Kitts. From June to September the train runs on Monday and Wednesday and during the cruise season (Oct - May), the schedule depends on cruise ship arrivals.
The St. Kitts Experience
Features a twice daily live show for Cruise ship passengers showcasing the flamboyant culture of the people of St. Kitts. Patrons will be treated to a weekly dinner theatre including a buffet and a 45-minute show.
Romney Botanical Gardens
A short distance west of Basseterre.
The Beach House Restaurant
www.stkittsbeachhouse.com) offers panoramic views of Nevis.
Beaches
Friars (North & South)
Powdery sand coastline popular with locals. Food & Drink services available.
White House Bay
Excellent snorkeling. Rocky coastline. There are no facilities and little shade.
Sandy Bank
Sand Bank Bay is below North Friars' and North Frigate Bay. A long, crescent-shaped white sand beach with a shallow, cove. No services.
Cockle Shell
Cockleshell Bay is 2 miles of power-white sand.
Turtle Bay
Located on the end of the South East Peninsula. Great beach bar and restaurant (Turtle Beach Bar & Grille). Watersports.
Pump Bay
Pump Bay in Sandy Point is good for beginners to dive and snorkel.
Dieppe Bay Beach
Black-sand beach on the north coast. Good snorkeling and windsurfing. Special Note: If it starts to rain and you're looking to stand under a tree for shelter... Do not seek shelter under the dreaded machineel trees. They are poisonous and rain falling off the leaves will feel like acid on your skin.
Frigate Bay (North & South)
South Frigate Bay - Caribbean side of the coastline offers good for swimming, food/ drink services, and watersports.
North Frigate Bay - Favorite with horseback riders.
Banana Bay
Secluded beach at the very tip of the southeast peninsula.
Conaree Beach
Atlantic side beach - narrow strip of gray-black sand. Popular with bodysurfers.
Half Moon Bay
Atlantic side beach where the waters can be rough. Another good spot for body-surfing.
Snorkel and Dive Spots
Coconut Tree Reef
One of St. Kitts' largest coral reefs. Sloping reef - Depth: 45ft to a sandy bottom of 120 ft.
The Rocks
Visibility of 60-100 feet.
Nag's Head
St. Kitts only drift dive.
Tug Boat
Depth: 65 feet on a sandy bottom.
River Taw
A 144 ft. freighter that went down in 1985, sat perfectly upright on the bottom until 1989 when Hurricane Hugo came through and broke the wreck into two parts. St. Kitts most dived site.
M.V. Talata Wreck
Old freighter that rests on a reef and is totally upright and facing east across the harbor.
Brimstone Shallows
Located about two miles west of the shoreline and boasts soft and hard corals. Depth: 40- 50ft down to well over 100 feet.
The Finger Reef
Shaped like a finger.
Black Coral Reef
Black coral trees protrude from this mini wall.
Green Point Reef
Sponges, sea fans, and black coral trees abundant here.
The Vents
A short boat ride from Pinney's Beach in Nevis. Black coral trees, wire coral and hot water vents holes.
Corinthian
The wreck of the Corinthian is an old tug that sits totally upright. Depth: 72 ft. largely intact wreck site. Black coral trees. Fish are fed here and will gladly eat just about anything although we have them on a strict diet.
Links to Dive Tour Operators
Area Events
St. Kitts Music Festival
Annual event in June takes place at the Fort Thomas Hotel in Basseterre. While providing a platform for Caribbean artists, the event has previously attracted such popular and in-demand acts as John Legend, Billy Ocean, Michael Bolton. Website
Culturama Nevis
Jul-Aug Annual Event. Culturama is a carnival type Emancipation Day celebration
St. Kitts Carnival
Annual Dec - Jan event in Basseterre
Carnival in St. Kitts basically becomes one great big party. Highlights include an opening gala, the crowning of the King and Queen of the festival, J'ouvert (Jump Up), a New Year's Day Parade and the Carnival's "Las Lap". Website