Grenada Cruise Ship Destination Port
Cruise Ship Port of Call information like Port News, Weather, Transportation Options, Things to Do and See, Area Events, Medical Care, Crime and Safety Review
Need to know
Personal Safety
Street crime occurs in Grenada. Tourists have been victims of armed robbery especially in isolated areas and thieves frequently steal credit cards, jewelry, U.S. passports and money. Mugging, purse snatching and other robberies may occur in areas near hotels, beaches and restaurants, particularly after dark.
Visitors should exercise appropriate caution when walking after dark or when using the local bus system or taxis hired on the road. It is advisable to hire taxis to and from restaurants.
---
Medical Services
Medical care is limited. U.S. citizens requiring medical treatment may contact the U.S Embassy in St. George's for a list of local doctors, dentists, pharmacies and hospitals. Serious medical problems requiring hospitalization and/or medical evacuation to the U.S. can cost thousands of dollars. Doctors and hospitals often expect immediate cash payment for health services.
---
Water Quality
Grenada chlorinates its water, making it generally safe to drink. However, during especially heavy rains, quality control can slip, particularly in the city of St. George's. It is recommended that visitors to Grenada request bottled water, which is widely available and relatively inexpensive.
---
Dress Code
Grenada officials announced in Dec 2008 they will strictly enforce the dress code and violators will be told to return to the ship to dress appropriately or don't return. Casual, light cottons are ideal during the day; in the evenings, elegantly casual attire is appropriate. Bathing suits or mini shorts should not be worn in the streets or stores.
---
For US Residents Only
The U.S. Embassy in Barbados has consular responsibility for Antigua and Barbuda, Dominica, St. Kitts and Nevis, St. Lucia, St. Vincent and the Grenadines, as well as the British dependent territories of Anguilla, British Virgin Islands and Montserrat, and the French islands of Martinique, Guadeloupe, St. Barthélemy and St. Martin.
The U.S. Embassy is located in the Wildey Business Park in suburban Wildey, south and east of downtown Bridgetown. The main number for the Consular Section is (246) 431-0225. After hours, the Embassy duty officer can be reached by calling (246) 436-4950. Website US Embassy in Barbados.
Hours of operation are 8:00 a.m. – 4:30 p.m., Monday-Friday, except Barbados and U.S. holidays.
Getting around
Driving conditions in Grenada, including road conditions, increasing numbers of vehicles, and sometimes undisciplined minibus drivers all require caution and reduced speed for safety.
Traffic moves on the left in Grenada; the majority of vehicles are right hand drive.
The Government of Grenada has a seat belt law; drivers and passengers found not wearing seat belts are subject to a fine of EC$1,000 (US$400).
Getting a local temporary drivers license, based on valid U.S. drivers license plus EC$30 (US$12), is highly recommended.
In the event of an accident, not having a valid local driver's license may result in a fine, regardless of who is at fault.
St. George's, Grenada
St. George's, the island's capital, is often called the most beautiful city in the Caribbean.
About 89% of Grenada's population is of African descent. An additional 8.2% are of mixed East Indian, African, and/or Caucasian ancestry, reflecting Grenada's history of African slaves, East Indian indentured servants, and European settlers. An additional 2% of the population considers itself East Indian, which includes some descendants of the indentured servants brought to Grenada from 1857 to the 1890s, as well as immigrants arriving from Trinidad and Tobago, Guyana, and Indians since the 1970s. A small community (less than 1% of the population) of the descendants of early European settlers resides in Grenada.
Grenada was granted full autonomy by the British over its internal affairs in March 1967. Full independence was granted on February 7, 1974.
Good to Know
Grenada is located about 100 miles north of Venezuela. To the north sits St. Vincent & the Grenadines, and Trinidad and Tobago to the south.
English is the official language.
Grenada is know as the "Spice Island" so make sure to stop at one of the local markets to stock up on your favorites. Visit a Cocoa plantation and Nutmeg station.
Port of Entry
Melville Street Cruise Terminal, located at the downtown waterfront.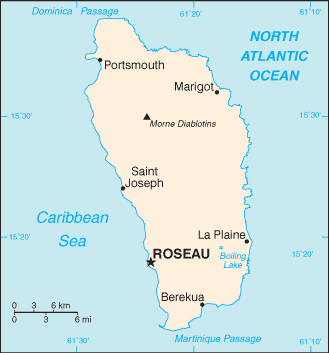 Time Zone
AST (UTC/GMT -4.5)
Map Coordinates
12°3′N 61°45′W
Average Temperatures
Water: 81º Summer - 73º Winter
Air: 83º Summer - 79º Winter
Things to do and see
Grand Etang National Park
More than 2000 ft. above sea level. Well marked hiking paths leading to the Seven Sisters Falls.
US Invasion Relics
United States invaded Grenada on Oct. 25, 1983. President Ronald Reagan ordered some 6,000 troops to oust the six-day-old Marxist government that had come to power in a bloody coup, and to ensure the safety of hundreds of U.S. medical students studying there. The evidence is just north of the little town of Grenville, at the abandoned Pearls Airport along the Atlantic Ocean. The rusted relics of large cargo planes, still standing 26 years after the invasion, share the tall grass with a few dark brown cows.
Beaches
Sandy Island
Off Hillsborough is just a ring of white sand with a few palm trees, surrounded by a reef and crystal-clear waters. Bring your snorkeling gear.
Tyrrel Bay Beach
Dodge the poisonous green "apples" of the manchineel trees here. The foliage of these trees can burn your skin.
Snorkel and Dive Spots
Sunken cruise liner Bianca C
The "Titanic of the Caribbean".
Gibbs Cay
Snorkel with stingrays and explore the coral reef 50 yards away.
Area Events
Montserrat St. Patrick's Day Week Long Celebration March 13-20
St. Patrick's Day - March 17th (National Holiday)
Montserrat is the only nation in the world other than Ireland that considers St. Patrick's Day a national holiday. St. Patrick's Week in Montserrat includes parades concerts with calypso, soca, and iron band music, church services and dinners, and a special March 17 commemoration of an attempted slave revolt in 1768.
Annual Carriacou Maroon Music Festival
Annual April event
Grenada Carnival Season
Starts in May and runs through August. Carnival celebrations in Carriacou are held from the weekend before the start of the Christian Lenten period. In the tradition of Caribbean Carnivals, these celebrations include calypso competitions and the parade of brightly costumed masqueraders through the streets of the main villages.