Aruba Cruise Ship Destination Port
Cruise Ship Port of Call information like Port News, Weather, Transportation Options, Things to Do and See, Area Events, Medical Care, Crime and Safety Review
Aruba is renowned for its white, sandy beaches on the western and southern coasts of the island, relatively sheltered from fierce ocean currents, and this is where most tourist development has taken place. The northern and eastern coasts, lacking this protection, are considerably more battered by the sea and have been left largely untouched by humans. Most of the tourists are from Venezuela and the United States.
The island's greatest selling points are safety, friendliness, hospitality of its people and their ability to understand and speak four languages. Over 40 nationalities are represented on the island.
Need to Know
Aruba is located in the southern Caribbean sea just 15 miles northwest of Venezuela. Aruba offers mild temperatures year round with little variation and low rainfall. Aruba is flat with only a few hills, no rivers and scant vegetation. The highest point is Mt. Jamanota, 620 ft. (189M).
The islands of the Caribbean are located in a region southeast of the Gulf of Mexico and Northern America, east of Central America, and to the north of South America.
Port of Entry
Oranjestad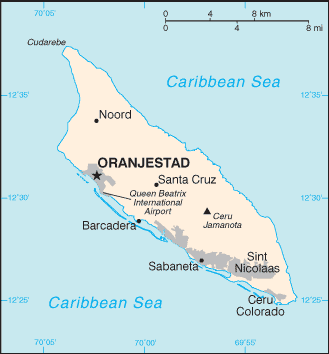 Time Zone
AST (UTC/GMT - 4)
Map Coordinates
12 30 N, 69 58 W
Average Temperatures
Water: 82°- Summer; 81°- Winter
Air: 85°- Summer; 81°- Winter
Things to do and see
Shopping
The stores of Aruba are stocked with imported merchandise and luxury items at excellent prices. Many stores also feature local handicrafts.
Most stores and boutiques are located in Oranjestad, but excellent shops can also be found at the larger hotels and at the airport.
Shops in the malls and shopping centers are open from 9:30 a.m. to 6 p.m. Some stores are open on Sundays and holidays when cruise ships are in port.
Aloe is abundant in Aruba and skin care products are manufactured right on the island. Stores on the main streets are open from 8 a.m. to 6 p.m. Monday through Saturday, although some are closed for lunch between noon and 2 p.m.
Arikok National Park
The 870-acre ecological Arikok National Park covers about a fifth of the island.
California Lighthouse
Striking sunset views abound from Aruba's Hudishibana plateau.
Skydiving
Tandem skydive with a certified instructor.
Beaches
Palm Beach
Good for swimming
Hadikurari
Just south of the lighthouse near the northern tip of Aruba. Windsurfing and snorkeling.
Eagle Beach
Well visited public beach for locals with gentle surf.
Baby Beach
Located at the southeastern end of the island.
Area Events
Aruba Carnival
Music, luxurious floats and costumes are only some of the components of the largest Carnival parade taking place through Oranjestad on the Sunday before Ash Wednesday. The parade is part of a month-long Carnival celebration of street parties, festive parades and creative contests for locals and visitors alike.
Aruba Soul Beach Music Festival
The Aruba Soul Beach Music Festival is a remarkable event highlighting comedy nights and special performances. The two-night concert series takes place at the Aruba Entertainment Center in Oranjestad and has featured past performances by artists including Alicia Keys, Chaka Khan, Wyclef Jean, India Arie and Lauryn Hill. Annual May Event.
Annual Aruba HI-Winds Competition
Windsurfing takes place at Fisherman's Huts on Malmok Beach and kite boarding at Boca Grandi Beach across the island. Annual event in July. Website
National Anthem and Flag Day
Annual event takes place in March. Celebrations all over town. Official celebration takes place at Plaza Betico Croes in Oranjestad. beginning at 10am.