St. Lucia Cruise Ship Destination Port
Cruise Ship Port of Call information like Port News, Weather, Transportation Options, Things to Do and See, Area Events, Medical Care, Crime and Safety Review
Need to know
Personal Safety
Efforts by the Saint Lucian authorities to improve public safety on the island are ongoing. Valuables left unattended on beaches and in rental cars are vulnerable to theft. Visitors should use caution, especially at night and in lightly frequented areas.
Hurricanes
St. Lucia is situated in an area of the Caribbean that sometimes experiences hurricanes between June and November.
In the event of a tropical storm or hurricane alert, Shipdetective will post NWS updates and information for travelers on our Tropical Storm Update page
Medical Services
Medical care is limited. There are two public hospitals and one private hospital in St. Lucia, neither of which provide the same level of care found in an American hospital.

There is no hyperbaric chamber; divers requiring treatment for decompression illness must be evacuated from the island.

Victoria Hospital is the main local trauma facility operating on a 24-hour schedule. The hospital has a staff of physicians and surgeons specializing in all areas of medicine.

The wait time in the accident and emergency room is dependent on the medical condition as patients are triaged in priority order. There are over 200 nurses on staff.

There are no ambulances at the hospital. The fire department provides the ambulance service and the crews are allowed to perform CPR and basic EMT functions.

Ambulance response service in St. Lucia is fast because the service is decentralized at the fire stations in the various districts.

(758) 452-2421

.

Tapion Hospital is a modern, privately owned 22-bed facility. There are approximately 15 consultant doctors; there are now 3 resident doctors. Minor, intermediate and major surgery is performed. There is no ambulance service at this facility. (758) 459-2000/01

Emergency Contact Numbers

Fire/Ambulance: 911

Police: (758) 452-2854/999

The hospital and fire service can be contacted through the local police.
For US Residents Only
The U.S. Embassy in Barbados has consular responsibility for Antigua and Barbuda, Dominica, St. Kitts and Nevis, St. Lucia, St. Vincent and the Grenadines, as well as the British dependent territories of Anguilla, British Virgin Islands and Montserrat, and the French islands of Martinique, Guadeloupe, St. Barthélemy and St. Martin.
The U.S. Embassy is located in the Wildey Business Park in suburban Wildey, south and east of downtown Bridgetown. The main number for the Consular Section is (246) 431-0225. After hours, the Embassy duty officer can be reached by calling (246) 436-4950. Website US Embassy in Barbados.
Hours of operation are 8:00 a.m. – 4:30 p.m., Monday-Friday, except Barbados and U.S. holidays.
Getting around
Taxis are not metered and fares are regulated by the government. Taxis are available at generally reasonable rates, but tourists are vulnerable to being overcharged. When using minibus or taxi services, travelers should agree to a fare ahead of time.
St. Lucia is served by privately owned and operated mini-buses, plying licensed designated routes. While most of these services operate only on weekdays during daylight hours, some may operate at night and on weekends and holidays.
When hiring a service at night, travelers should take precautions such as having their hotel call a reputable company for service.
Vehicles travel on the left side of the road in St. Lucia. Roads are reasonably well paved but poorly marked, narrow and winding, with steep inclines/declines throughout the island. There are few guardrails in areas that have precipitous drop-offs from the road. In spite of these conditions, drivers often travel at excessive speed, and accidents are common.
Area Events
Holy Week Celebrations
April annual event. The days of Holy Week are the most solemn on the St. Lucian calendar.
St. Lucia Jazz Festival
Nine day jazz festival began in 1991 and is now the the biggest music event on the island. Included world renowned musicians that offer a variety of musical styles - traditional jazz, R&B, blues and reggae.
St Lucia Carnival
Annual event takes place in July. The major highlight of the carnival season is the calypso competition. The island's premier performers compete for the Calypso Monarch title.
International Creole Day
Annual event in October. Generally, there is no English spoken among the Creoles on this day so if you're visiting the island you may want to learn a few Creole phrases.
Kalalu Music Festival
Annual Event at Choc Bay in December. St. Lucia's newest cultural event held every year at Samaans Park in Choc Bay.
National Day Celebrations
Annual event Dec 13. St Lucians actively celebrate their National Day with sporting, cultural and religious activities. The celebration includes the Festival of Lights and Renewal
St. Lucia is located in the eastern Caribbean Sea, north-northeast of St. Vincent and the Grenadines, north-west of Barbados and south of Martinique. St. Lucia is part of the Windward Island in the Lesser Antilles.
The island, with its fine natural harbor at Castries, was contested between England and France throughout the 17th and early 18th centuries (changing possession 14 times); it was finally ceded to the UK in 1814. Even after the abolition of slavery on its plantations in 1834, Saint Lucia remained an agricultural island, dedicated to producing tropical commodity crops. Self-government was granted in 1967 and independence in 1979.
St. Lucia is an English-speaking, developing Caribbean island nation. The capital city of St. Lucia is Castries, where about one third of the population lives. Major towns include Gros Islet, Soufrière and Vieux Fort.
Good to Know
Port of Entry
Castries Harbor
Time Zone
AST (GMT/UTC - 4)
Map Coordinates
13°53′N 60°58′W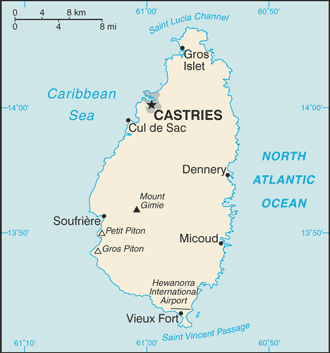 Average Temperatures
Water: 83º Summer - 78º Winter
Air: 86º Summer - 80º Winter
Things to do and see
Shopping
Duty free shopping at Pointe Seraphine- Spanish style complex at the pier complex; Outdoor straw market on Jeremie Street - take the water taxi across the harbor or walk 15 minutes.
Store hours in town vary, but most stores are generally open 8:30am to 4:30pm, Monday thorough Friday, and 8:00am to 12:30pm on Saturday. Some stores open on Sunday when ships are in port.
Castries Market, St. Lucia
Named by National Geographic as one of the top ten food markets in the world. Stock up on island spices (star anise, mace, cinnamon); breadfruit, bananas, and other tropical fruits; condiments like hot-pepper sauce; hot food, including rotis; or the fishermen's catch. Open daily (except Sundays), but is best on Saturdays.
Bike St. Lucia
Located a mile and a half from the town of Soufriere on St. Lucia's SW Coast at the Anse Mamin Plantation which is part of the 600 acre estate belonging to Anse Chastanet Resort. Website
Whale and Turtle Watching
St Lucia is recognized as one of the leading whale watching sites in the area. Over 20 species are regularly spotted throughout the year, including humpbacks, pilot whales, sperm whales and spinning and spotted dolphins.
Turtles are another fascinating thrill for nature-lovers. The abundance of these majestic reptiles on St Lucia is due to the protection provided by local environmental activists, who have ensured there is a permanent suspension on turtle hunting.
Millet Bird Sanctuary
Located in the heartland of St. Lucia, is the Millet Bird Sanctuary Trail ; a haven of bird life. Over thirty species of birds can be found there, including five endemic species such as St. Lucia¡¡Parrot, St. Lucia Black Finch, St. Lucia Oriole, St. Lucia Pewee and St. Lucia Warbler. This trail provides a breath taking view of the Roseau Dam. Located about 45 minutes from the city of Castries and 15 minutes from Marigot Bay.
Anse Chestanet National Marine Park
Visitors will be in awe when they gaze upon the strands of black volcanic sand, the mile-long stretches of white beach and the gorgeous palm-fringed bays bordered by towering mountains.
Enbas Saut Waterfalls Trail
The Enbas Saut Waterfalls Trail is located within the 19,000 acres Central Forest Reserve, 6 miles East of Soufriere at the foot of the highest mountain, Mount Gimie. The Enbas Saut Waterfalls Trail is 5 km (2.5miles) trail. Remote, wild and unbelievably scenic, with a combination of Rainforest, Cloud Forest, Elfin woodlands, and observe the rare St. Lucia Parrot, St. Lucia Oriole, St. Lucia Black Finch, Blue Hooded Euphonia and the Mountain Whistler. The trail is most famous for its two cascading waterfalls and pools at the head of the Troumassee river, where you can bathe in pure rainforest water.
Rainforest Hikes
Explore the Rainforest Reserve with a guide from the Forest and Lands Department on a 3¨hour hike. Visitors trek past indigenous tree species and along paths lined with tinier plants, bromliads, orchids and mushrooms. Throughout the tour, beautiful birds including the indigenous St Lucia Parrot (Amazona Versicolor) can be seen. Emerging from the dark shade of the forest into the open, a magnificent view of Mount Gimie, St Lucia's highest peak. Located about 20 minutes from the city of Castries.
Diamond Botanical Gardens
Soufriere Hours: Mon - Sat 10am to 6pm and Sun 10am to 3pm. One of three botanic gardens on St. Lucia.
Maria Islands Nature Reserve
These tiny islands in southern Saint Lucia to the east of Vieux Fort are home to rare wildlife and birds. Several species exist nowhere else in the world.
Pigeon Island Museum and Interpretive Centre
Pigeon Island National Landmark covers 40 acres and is located on the northwest coast of the island of St. Lucia. Explore colonial ruins and climb to the top of Fort Rodney. The museum is located in a former British officers' mess hall, which has been restored to its original 1808 status.
Beaches
All St. Lucia beaches form part of the "Queen's Chain" and therefore are all public, even if it is in front of a hotel, which means that you can see every beach that St. Lucia has to offer no matter where you stay. Nature's impact on St. Lucia's beaches has made each one more breathtaking than the last.
NW Coast Beaches
Pigeon Island
The Causeway connects the Island landmark of Pigeon Island National Park to the mainland. Once the home of Amerindians, a hideout for pirates and a military base for the British, it's now a recreational area with beaches and areas for picnicking.
Rodney Bay
Reduit Beach is popular with locals and has a long white sandy coastline. Food & drink, water-sports and hotel services available here.
Choc Bay
A long, sweeping stretch of sand and coconut palms with tranquil waters along the north-western coast, close to Castries and the major hotels. A premier spot, the bay's tranquil waters attract swimmers and families with children A beautiful sandy beach, sheltered by palm trees, with water sports facilities and close to the large hotels, you can look out at little Rat Island off shore. The Gablewood shopping center is located nearby.
Vigie
Located 1.5 miles from Castries, this pretty strip of sand has lots of shade. It is popular with the locals, and regularly cleaned. The only drawback is that it is parallel to the airport runway. But the lack of hotels and low levels of pollution make up for that.
Labrelotte Bay
A very nice sandy beach situated between the East Winds Inn and the Windjammer Landing.
Marigot Bay
A beautiful, sequestered, natural harbor that once provided pirate ship hideouts. Marigot Bay also served as the setting for the film Dr. Doolittle. Today it's used by boats and ships both for fun and recreation as well as a place to moor a ship when hurricanes approach. Marigot Bay is located 20 minutes south of Castries, St. Lucia's Capital city, 45 minutes South of Pigeon Island National Park and 60 minutes North of the Pitons.
South Coast Beaches
Many of the beautiful beaches in this area are only available by boat.
Anse Cochon
Accessible only by boat, the black volcanic sands and calm waters make it a romantic hideaway and shallow reefs provide hours of snorkeling fun.
Anse Chastanet
Just off the coast of Anse Chastanet beach is the popular marine reserve that has some of the best snorkelling and diving on the island.
Soufriere
North of the city there is a long stretch of dark sandy beach. Between the palm trees you have a grandiose view of one of the Pitons. The beach is mostly used by local people.
Cas En Bas
One of the pre-eminent places for wind surfing. The last part of the road to the beach is in very bad condition and it is as fast to walk down to the beach as it is to drive. There are constant on shore trade winds. At the Turtle Reef Bar, the only wooden house next to the stretched white sandy beach, you can hire a wind surf board and take wind surfing lessons. There are also kayaks for hire. During the summer months, the bar can be closed for a period of several weeks.
Anse de Sables
An easy to reach, beautiful but windy, white sandy beach looking out over the Maria Islands. This is one of the most popular places for wind surfing, as there are constant on shore trade winds. Close to the 'The Reef' bar and restaurant you can hire wind surf boards. The wind surf centre of Club Aquarius is also located here. This beach is recommended for sun-worshippers.
Jalousie
The Hilton imported fine white sand to cover the black sand on their beach that can make the water cloudy, but it is a most beautiful bay. You can feed the fish from the pontoon.
Anse Des Pitons
Relax at the foot of The Pitons on this stunning crescent-shaped beach. At certain points of the beach you're actually between The Pitons.
Anse De Sable
As one of the most beautiful and long beaches in St. Lucia, it's amazing that it's not overly developed or populated, and it's easy to access if you don't mind the drive.
East Coast Beaches
The Atlantic east coast of the island has heavy surf beating against the cliffs so no swimming here. The beaches are isolated and difficult to get to without 4-wheel drive and local guidance. This area contains important habitats and nesting places for the island's wildlife, and are ideal for the naturalist and bird watchers.
Donkey Beach
An hour's walk from Gros Islet, but well worth the trek. The wild scenery is open and windy. Unlike any other beach on the island.
Dauphin Beach
Indian stone-carvings are the main attraction at this beach only accessible by jeep from Monchy.