Costa Magica Cruise Ship Profile
Ship Features, Itinerary, News, Photos, Review, Accomodations, Notable Rooms, Dining Venues, Kid's Areas, Deck Plan, Outdoor Spaces, Smoking Sections
Costa Launches Onboard App for Calls and Texts
posted February 5, 2014
Costa Cruises has announced the launch of "MyCosta Mobile", a new application for smartphones and tablets that is designed to allow Costa guests to call and text onboard at no cost. Read more...
Canaletto Deck
Observation area
Mantenga Deck
Saturina Spa, Squok Club Kid's Room, Sports deck
Tiepolo Deck
Passenger staterooms, Beauty salon, Club Vicenza, Jogging track
Tiziano Deck
Passenger staterooms, Solarium, Palinuro Pool (waterslide), Bellagio Buffet
Giotto Deck
Passenger staterooms, Maratea Pool, Bellagio buffet, Positano Pool (Magradome)
Veronese Deck
Passenger staterooms
Perugino Deck
Passenger staterooms
Caravaggio Deck
Passenger staterooms
Leonardo Deck
Urbino Theater, arcade, art gallery, Galleria Shops, Ballo Spoleto Bar, Capo Colonna Piano Bar, Capri Lounge, Card room, Classico L'Aquilla Bar, Isola Bella Lounge, Salento Grand Bar, Sicilia Casino
Michelangelo Deck
Urbino Theater, The Chapel, Library, Photo gallery, Costa Smeralda Restaurant, Grand Disco, Internet café, Portifino Restaurant
Raffaello Deck
Urbino Theater, Costa Smeralda Restaurant and Portofino Restaurant (lower levels) Italia Magica Bar
Tintoretto Deck
Passenger staterooms
Giorgione Deck
Passenger staterooms
The Costa Magica is the third Concordia Class ship and sister to Costa Serena, Costa Concordia, and Costa Pacifica. The Fortuna class ship features art work from the Brega Academy and takes passengers on a journey through Italy's enchanting cities.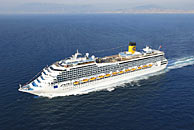 Class: Concordia
Launched: 2003
Maiden Voyage: 2004
GRT: 102,500
Length: 893 ft.
Draft: 27 ft.
Speed: 23 Knots
Passengers: 3,470
All category staterooms are furnished in a modern, functional style with basic amenities such as a flat-screen satellite TV, room safe, mini-bar, hair-dryer, telephone, Wi-Fi capable and room service.
Stateroom sizes
| | |
| --- | --- |
| Inside | 153 sq. ft. |
| Outside | 190 sq. ft. |
| Balcony | 217 sq. ft. with veranda |
| Suite | 336-508 sq. ft. with veranda |
$=Specialty dining, surcharge applies
Smeralda and Portofino Restaurant
Main dining rooms located on Raffaello Deck.
Bellagio Restaurant
Main buffet located on Tiziano Deck.
Samsara Spa Restaurant ($)
Samsara Restaurant (by reservation only, with fee except for passengers in Samsara Cabins and Suites)
Club Blue Moon ($)
Fine dining á la Carte restaurant. Surcharge applies.
Urbino Theater
Three-level main showroom.
Capri Lounge
Cabaret -style venue located on Michelangelo Deck.
Grand Disco
Dance club.
Sicilia Casino
Slots, cards, roulette and more.
Capo Colonna
Piano bar.
Club Vicenza
Cocktail lounge.
Isola Bella Lounge
Good for people watching.
Classico L'Aquilla Bar
Intimate quiet lounge.
Wien Wien
Ballroom and café.
Squok Club
Video Arcade Entertainment.
Notable Features
PlayGround
4D Cinema and the latest generation of PlayStation videogames featuring high-tech Virtual Golf and Grand Prix simulators, air hockey tables.
Pools and Jacuzzis
Four Swimming Pools (1 for children and 2 with retractable roof) and 5 Jacuzzi HydroMassage Baths. The Palinuro Pool (waterslide) and the Solarium are located Tiziano Deck. The Positano Pool with magradome and Maratea Pool are located on Giotto Deck.
Sports Court
Basketball, volleyball and more.
Samsara Spa Wellness Center
Full-service spa, salon solarium, and fitness center.
Passenger Services
Wi-Fi connection (subject to a charge), Reception/ Information/Currency Exchange, Shore Excursion Office, Medical Center, Shopping Center/Photo shop, Chapel (Roman Catholic service), Sala Fabergé (Conference Room), Della Rosa Library, Internet point, Card Room, Laundry.