Costa Allegra Cruise Ship Profile
Ship Features, Itinerary, News, Photos, Review, Accomodations, Notable Rooms, Dining Venues, Kid's Areas, Deck Plan, Outdoor Spaces, Smoking Sections
Costa Launches Onboard App for Calls and Texts
posted February 5, 2014
Costa Cruises has announced the launch of "MyCosta Mobile", a new application for smartphones and tablets that is designed to allow Costa guests to call and text onboard at no cost. Read more...
Allegra to be sold
Posted March 9, 2012
According to a report by USAToday Travel, the Costa Allegra will not return to the Costa Crociere fleet due to the costs to repair the damage from the fire. The ship will be sold.
Voyager Will Sail In Place of Allegra
Posted March 8, 2012
Costa Crociere is replacing the Costa Allegra with the 24,400-ton, 927-guest Costa Voyager, starting March 18. Following the incident aboard Costa Allegra Feb. 27, the company has not determined how long it will take to repair and bring Costa Allegra back into service and restore planned cruises. Costa Cruises continues to conduct inspections and technical evaluations to ascertain what caused the generator-room fire.
Guests booked on a Costa Allegra cruise may cancel without penalty and receive a full refund and a voucher equal to 30 percent of the rate paid toward the purchase of a future cruise.
Fire Breaks Out in Generator Room
Posted February 27, 2012
A fire broke out in the generator room and the vessel lost power while sailing more than 200 miles southwest of the Seychelles, and about 20 miles from Alphonse Island in the Southern Indian Ocean. The crew was able to extinguish the fire, and no injuries were reported. The Allegra was towed by a fishing trawler to Port Victoria. The vessel arrived on March 1st to disembark the 627 passengers off the disabled ship.
Solarium Deck
Caracalla Spa, Solarium, Squok Club
Manet Deck
Caracalla Spa, Beauty Salon, Solarium, Jacuzzi, Jogging Track
Rousseau Deck
Passenger staterooms
Degas Deck
Folies Bergeres Showroom, Piazzetta Allegra, Library and Internet Center, Card Room, Murano Grand Bar (midship), Arcade, Karaoke Bar, Photo Gallery, Duty Free Shops, Club Flamenco Casino (aft)
Modigliani Deck
Passenger staterooms, main dining room
Lautrec Deck
Passenger staterooms, information and excursion offices
Gauguin Deck
Passenger staterooms
Van Gogh
Passenger staterooms
Costa Allegra in Shanghai - Photo Source
The play of light on glass and water transforms this magnificent ship into a floating work of art. Carrying only 800 passengers, the intimate Costa Allegra cruise ship is a vessel of imagination and opulence. Peach and rose hand cut Carrara marble, walls finished in the finest woods and decks named after famous impressionist painters. There is a glass atrium three decks high, and a dome that opens up to a 360 degree view of the sky -- day or night. Fountains stream into pools that are at the same time, exquisite skylights for the public rooms below. On the Costa Allegra cruise ship, you will find art and artistry around out every corner.
Costa Allegra off the coast of Korčula, Croatia. Photo source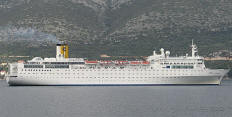 Built: 1969
Launched: 1992
Refurbished: 2006
GRT: 28,500
Length: 616 ft.
Draught: 31.4 ft.
Speed: 23 Knots
Passengers: 784
24-hour room service, satellite TV, mini bar, safe, hair dryer, phone. Cabin voltage 22 V/60 Hz - 110 V/60 Hz.
Additional Amenities for Suite Guests include: daily delivery of the lunch and dinner menus; bathrobe and slippers to use for the duration of the cruise and bath amenity kit (soaps, shampoo etc.)
Stateroom sizes
| | | |
| --- | --- | --- |
| Inside | 103-159 | |
| Outside | *93-152 | |
| Suite | 330-582 | Sq. ft. w/veranda |
* for single cruisers
Amalfi Restaurant
A La Carte restaurant that transforms into a dance club at night; located on Rousseau Deck.
Restaurant Montmarte
Main dining room featuring French cuisine.
Yacht Club
Main buffet located on Rousseau Deck.
The majority of the public rooms and entertainment venues are located on Degas Deck. Walk aft to get to the Casino. The Grand Bar, Duty Free Shops, Photo Gallery and Card Room are located midship. The Main Showroom and Piazzetta Allegra are located forward on Degas Deck.
Folies Bergeres
Main showroom.
Murano Grand Bar
Cabaret style venue.
Club Flamenco Casino
Located on Degas Deck aft.
Piazzetta Allegra
Cocktail lounge.
Squok Club
Video Arcade Entertainment.
Manet Deck
Solarium, Jacuzzi and Jogging Track.
Solarium Deck
Solarium, Caracalla Spa, Squok Club located forward.
Rousseau Deck
Lido Rousseau Pool and Bar, Grand Buffet, Jacuzzi, and Kid's Pool located aft.