Costa Luminosa Cruise Ship Profile
Ship Features, Itinerary, News, Photos, Review, Accomodations, Notable Rooms, Dining Venues, Kid's Areas, Deck Plan, Outdoor Spaces, Smoking Sections
Costa Launches Onboard App for Calls and Texts
posted February 5, 2014
Costa Cruises has announced the launch of "MyCosta Mobile", a new application for smartphones and tablets that is designed to allow Costa guests to call and text onboard at no cost. Read more...
Pietra Di LunaDeck
Samsara Spa
Turchese Deck
Squok Pool (forward), Yoga area, Roller Skating, Jogging Track, Sports Area (aft)
Giada Deck
Samsara Spa, Teen Zone, Squok Club, Dorado Balcony, Club Luminosa, Atrium, Formula 1 Simulator, Putting Green, Virtual Golf (aft)
Aquamarina Deck
Samsara Spa, Beauty Salon (forward), Dorado Pool, Pizzeria, Andromeda Restaurant, Dolphin Pool and Bar
TopazioDeck
Passenger staterooms
Smeraldo Deck
Passenger staterooms
Rubino Deck
Passenger staterooms
Avorio Deck
Passenger staterooms
Agata Deck
Passenger staterooms
Ambra Deck
Phoenix Theater, Antares Piano Bar, Sirus Cafeteria, Galleria Shops, Library, Gift Shop, Atrium, Photo Gallery, Chapel, Art Gallery, Altair Disco, Virgo Bar and Lounge, Taurus Restaurant
Zaffiro Deck
Phoenix Theater, Mizmar Cinema, Card Room, Elettra Grand Bar, Rigel Cigar Lounge, Vega Casino, Arcade, Tour Office, Supernova Bar, Supernova Atrium, Customer Service, Altair Disco, Libra Bar and Lounge, Samsara Restaurant, Taurus Restaurant
Corallo Deck
Phoenix Theater (forward), Passenger staterooms
In the winter, the Luminosa sails from Miami to the Caribbean and Bahamas. At the end of March, she returns to Europe. The first sailings call to major Mediterranean cities. In the summer, she will visit the Norwegian Fjords and other Baltic ports of call. At the end of year, after more Mediterranean sailings, the Luminosa returns to Caribbean sailings in Florida.
CDC Ratings
If link above doesn't open to the report page, close the window and click on link again to access.
2013 Rating 100 (Dec)
2014 Rating 95 (Mar)
Turchese Deck
Squok Club with children's pool and video game entertainment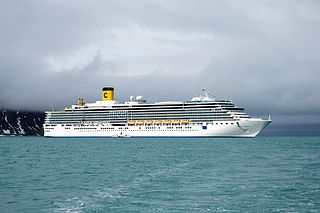 Costa Luminosa is the thirteenth ship of Costa Cruises, part of their five-ship expansion program, which include Costa Pacifica, Costa Deliziosa, Costa Favolosa and Costa Fascinosa. Costa Luminosa and her sister ship, Costa Deliziosa, was ordered in the Fincantieri Marghera shipyard on 12 June 2006.
Costa Luminosa and Costa Deliziosa pioneered in the introduction of a new vessel design, which is a Hybrid; taking the best design elements of Spirit-class and Vista-class cruise ships.
Innovations included are the Samsara Spa, a two-level, wellness facility with gym, a thalassotherapy pool, treatment rooms, sauna, Turkish bath and UVA ray solarium, a retractable glass dome and poolside screen at the pool deck, a Grand Prix race car simulator, an 18-hole championship golf simulator, PlayStation World area, where PS3 consoles are offered, three-level theater and a 4D cinema.
Class: Concordia
Launched: 2009
GRT: 92,600
Length: 959 ft.
Draft: 25.7 ft.
Speed: 23 Knots
Passengers: 2,260
All category staterooms are furnished in a modern, functional style with basic amenities such as a flat-screen satellite TV, room safe, mini-bar, hair-dryer, telephone, Wi-Fi capable and room service.
Stateroom sizes
| | | |
| --- | --- | --- |
| Inside | 160 | sq. ft. |
| Outside | 190 | sq. ft. |
| Balcony | 210 | sq. ft. with veranda |
| Samsara Suite | 600 | sq. ft. with veranda |
Samsara Suites provide direct access to the spa. Rooms are equipped with a kettle to make tea, has a purifying shower filter, and an aromatic essence diffuser. Guests are welcomed with a tea ceremony and have access to a personalized wellness treatment plan, two fitness or meditation lessons, two entries to the UVA Solarium, and two chosen treatments.
$=Specialty dining, surcharge applies
Taurus Restaurant
Two-level main dining room.
Andromeda Restaurant
Main buffet located on Tiziano Deck.
Pizzeria
Located off the Andromeda buffet on Aquamarina deck (amidships).
Sirus Cafeteria
Coffee and chocolate bar.
Samsara Spa Restaurant ($)
Samsara Restaurant (by reservation only, with fee except for passengers in Samsara Cabins and Suites)
Club Luminosa ($)
An à la carte restaurant, Club Luminosa, combines sophisticated design, attentive service and a layout comparable to the world's finest restaurants, with gourmet chefs preparing dishes in the "open" kitchen visible to diners. Surcharge applies.
Phoenix Theater
Phoenix Theater expands over three levels and features a seating capacity of over 800.
Elettra Grand Bar
Cabaret-style venue.
Altair Disco
Dance club.
Rigel Lounge
Cigar bar.
Vega Casino
Slots, cards, roulette and more.
Antares
Piano bar.
PlayGround
4D Cinema and the latest generation of PlayStation videogames featuring high-tech Virtual Golf and Grand Prix simulators, air hockey tables.
Pools and Jacuzzis
Three swimming pools (one for children and one with retractable roof) and four Jacuzzi HydroMassage Baths. The Dolphin Pool and the Dorado Pool are located on Aquamarina deck. A giant movie screen located in the central pool area can be used year-round as the lido has a sliding glass magrodome.
Sports Court
Yoga area, roller skating track, jogging track, basketball, volleyball and more located on Turchese deck.
Samsara Spa Wellness Center
Full-service spa, salon solarium, and fitness center.
Passenger Services
Wi-Fi connection (subject to a charge), Reception/ Information/Currency Exchange, Shore Excursion Office, Medical Center, Shopping Center/Photo shop, Chapel (Roman Catholic service), Sala Fabergé (Conference Room), Della Rosa Library, Internet point, Card Room, Laundry.