Port of Norfolk Information for Cruisers
Terminal location, parking information, transportation options, things to do, weather, special events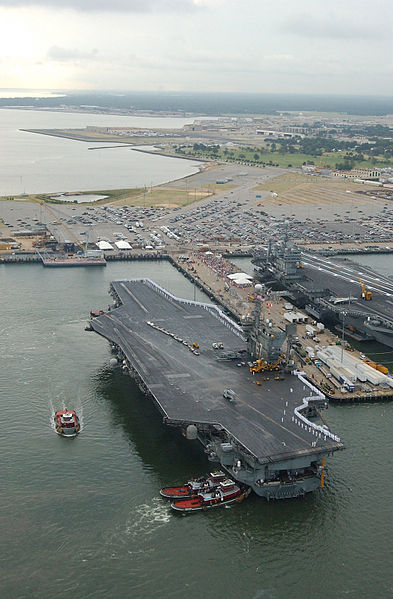 Norfolk, Virginia is a friendly, modern port city nestled where the Chesapeake Bay meets the Atlantic Ocean.
Norfolk is rich with historic attractions, world class museums, and offers unique and fun shopping adventures, all within walking distance or a short bus or car ride of the downtown waterfront.
Terminal Information
Norfolk's Half Moone Cruise and Celebration Center is open for business and welcoming passengers from across the country. The state-of-the-art facility was designed to be much more than just another terminal and boasts one of the nation's largest privately-owned ocean liner collections as well as 400-year-old artifacts from historic Jamestown.
Norfolk's Half Moone Cruise & Celebration Center has gotten a solid thumbs-up from the world's second-largest cruise line, Royal Caribbean International. In a recent ranking, Norfolk's passenger approval ratings are the highest in the country and second in the world, trailing Venice, Italy by only one point. Worldwide port rankings are based on customer satisfaction and the overall experience of Royal Caribbean guests. Frequently ranked in the top five throughout the season, Norfolk jumped to #2 in the world this past week, beating out other top ten ports such as Los Angeles, Miami, Seattle and Barcelona, Spain.
Parking
Cedar Grove Parking Area
Cedar Grove Parking serves Carnival's Glory. Less than one mile from I-264, our Cedar Grove site is conveniently located on Monticello Avenue between Virginia Beach Boulevard and Princess Anne Road in Downtown Norfolk. From Interstate-264, take the City Hall Exit (Exit #10). At the light, turn right onto St. Paul's Boulevard and follow our "Cruise Parking" signs. The parking rate is $15.00 per night for all cruises. No reservations are required and the parking fee can be paid in person upon entering the lot (Visa, MasterCard, American Express, cash and Travelers Checks are accepted). Prices subject to change.
Complimentary shuttles for transportation from parking areas to Half Moone run regularly.
Things to do and see
Williamsburg
Colonial Williamsburg is midway between Richmond and Norfolk on I-64 (exit 238). After exiting, look for the green and white signs for the Visitor Center (address: 101A Visitor Center Drive.) Once you purchase your admissions pass, you can either take the shuttle bus or walk to the Historic Area.
The Historic Triangle Shuttle
Provides transportation from the Colonial Williamsburg Visitor Center to nearby Jamestown and Yorktown. The shuttle is free for ticketed guests and is available from March 1 through October 31.
Old Towne Portsmouth
Take the Paddlewheel Ferry that runs from Portsmouth to Norfolk Waterfront.
Shopping
Chesapeake - Antique Alley - More than 125 stores
Downtown Norfolk. Map

Battleship Wisconsin
Berthed at Nauticus, the Battleship Wisconsin is one of the largest and last battleships ever built by the U.S. Navy. The Battleship Wisconsin, is now included in regular Nauticus admission. Website
Hampton Roads Naval Museum
The Hampton Roads Naval Museum is an official museum of the United States Navy and reports to the Naval History and Heritage Command in Washington, D.C. The museum is dedicated to the study of 235 years of naval history in the Hampton Roads region. Website
Chrysler Museum of Art
Sixty-two galleries for 30,000 works of art from around the world. Free general admission. Website