Port of Boston Information for Cruisers
Terminal location, parking information, transportation options, things to do, weather, special events
More Embarkation Ports
NE Coast USA
Gulf Coast USA
Florida USA
West Coast USA
Caribbean
Getting Around Boston
In good weather, the most affordable and efficient way to navigate Boston is on foot. And the best way to see the most historic sites -- for free -- is along the Freedom Trail. You can start anywhere along the red-brick pathway that winds and bends through historic Boston -- from Boston Common to the Bunker Hill Monument. There are 16 official sites but plenty of fun unofficial stops along the way, too.
Harbor Cruise
One of the quickest, easiest and most affordable ways to get to and from Boston's Logan International Airport is by boat. Water taxis offer service from several spots on Boston Harbor to a dock at the airport, where a free bus shuttle will pick up passengers and take them to their terminals. The ride across the water is just $10 one-way and takes just seven minutes. Website
Port of Boston, MA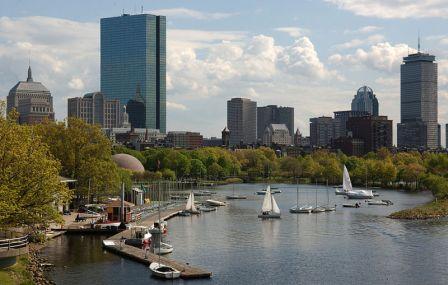 Location
One Black Falcon Avenue, Boston, MA 02210 Tel: (617) 330-1500
The Black Falcon Cruise Port is located less than two miles from Boston's neighborhoods, including historic Back Bay, trendy Newbury Street and Copley Square shopping areas and the city's newest culinary hotspot, the South End - all within walking distance from each other.
Webcam
Boston Harbor Cam presented by SeaTow
Terminal Information
Embarking passengers can enter the terminal as early as 10:30am for security screening and ticketing. Boarding the ship usually starts around 11am.
If you are dropping off or picking up passengers, continue take Drydock Avenue and turn right onto Black Falcon Avenue. Here you will be directed by police officers for designated locations.
The public facilities, operated by the Massachusetts Port Authority, are located in the neighborhoods of Charlestown, East Boston, and South Boston. The Port is conveniently located just 10 minutes from Boston Logan International Airport.
Parking Information
$14.00 per day (rates subject to change by the Port Authority) 5-Story, indoor parking garage. Full payment due upon entering the parking garage. Accepted forms of payment: U.S. Dollars; Visa and MasterCard. No advance reservations required. Handicap Parking available with proof of valid permit.
Port Transportation
If you don't book a ship-sponsored tour, your respective cruise line does offer a shuttle bus service for a fee that will take you downtown. You can also take a taxi, or public transportation.
Trolley Shuttle Service
The Shuttle departs every 15 minutes from the Cruise Terminal on Port of Call days, approximately from the time passengers are first allowed to leave their vessel, until the time advertised by the vessel as the last opportunity to re-board.
Time Zone
EST (UTC/GMT- 6 )
Map Coordinates
42°21'28' N 71°03'42' W
Climate and Terrain
Summers are typically warm, rainy, and humid, while winters are cold, windy, and snowy. Spring and fall are usually mild, but conditions are widely varied, depending on wind direction and jet stream positioning.
Personal Safety
Crime and other hazards in Boston are low for a major American city. Some neighborhoods (especially Roxbury, Mattapan, and Dorchester) are more dangerous than average, and extra care should be taken there. It is even better to avoid walking in these areas at night if possible. Also avoid public parks after dark (except for special events).
Hotels Closest to the Port
Marriott Renaissance Boston Waterfront
The Seaport Hotel
The Westin Boston Waterfront
Intercontinental Boston
Boston Marriott Long Wharf
Things to do in the area
Castle Island
Located in South Boston - watch the boats heading in and out of Boston Harbor. The parks and walking trails around Castle Island are open year round. Website
New England Aquarium
You don't need to pay admission to get up close with one of the most enjoyable attractions: the frolicking harbor seals in the tank outside. Website
The Freedom Trail
Boston's impressive roster of colonial sites includes the Old North Church, the Old State House, the site of the Boston Massacre, and Bunker Hill Monument. You can see them all for free by simply following your feet along the red path of the city's Freedom Trail. Costumed guides lead tours for additional fees, and some sites may charge entry fees. There are 16 sites along the trail.
Park Street Church
The 217 ft. steeple of this church was once the first landmark travelers saw when approaching Boston. Still active in Boston as a Congregationalist church, it continues to hold weekly religious services. The Park Street Church is one of the most historically significant buildings in the story of the Abolition's history of the nation.
Paul Revere's House
This wooden structure, dating back to 1680, is downtown Boston's oldest building still in existence.
Old Granary Burying Ground
See the graves of noted patriots John Hancock, John Adams and Robert Treat Paine. Also buried here are Paul Revere and victims of the Boston Massacre.
Other sites include The Boston Common, The State House, King's Chapel, King's Chapel Burying Ground, Benjamin Franklin's Statue/Boston Latin School, Old Corner Book Store, Old South Meeting House, Old State House, Site of the Boston Massacre, the Old North Church, Copp's Hill Burying Ground, Bunker Hill Monument and the USS Constitution.
Boston Area Events
St. Patrick's Day Celebration
The first ever St Patrick's Day celebration in America happened in 1737 in Boston, and the city still boasts one of the USA's biggest St Patrick's Day parties. The annual parade begins from Broadway at the MBTA Station and goes to Andrew Square, boasting floats, fancy dress and all the usual hullabaloo we've come to associate with this quintessential Irish celebration. Expect marching bands and pipe bands from all over North America.
Boston Wine Festival
Jan-Apr event. More than 50 wineries participate in the annual Boston Wine Festival, held over three months at the Harbor Hotel. Highlights of the festival include famous names from the world of wine, as well as several theme dinners: The Battle of the Cabernets, Meritage Madness and the Rising Stars dinner included.