Long Beach Cruise Ship Embarkation Port
Terminal location, parking information, transportation options, things to do, weather, special events
More Embarkation Ports
NE Coast USA
Gulf Coast USA
Florida USA
West Coast USA
Caribbean
Passenger Feedback
Received: February 7, 2013
"If Carnival spent $40M on this port, they got scammed!!!! We just came from there and it was a disaster. It may be able to handle a small ship (1500 guests or less) for a short cruise (5 days or less), but DEFINITELY NOT the number of passengers trying to get on/off of the Splendor (the 15 day Hawaii cruise). We also witnessed 2 suitcases dropped in the water and no one seemed to care -- btw, they sank." - JH
Personal Safety
Most areas of Long Beach are fairly safe, even after dark. There are two major areas that are not quite as safe and should be avoided after dark. Caution is called for even during the daytime in these areas.
The first of these areas is in the south-western portion of the city. This area is bounded, starting from the south-east corner, by Redondo Blvd. and 4th, running north to the Signal Hill border. Along the Signal Hill border north-west to the 405 Freeway, along the freeway to the western border of Long Beach and Wilmington, down to 4th St.
The second and more dangerous of the areas is North Long Beach (north west of the LGB airport). The approximate boundaries of this area are from Del Amo and Cherry, north to the north border of the city, along the north border to the west border and back south to Del Amo. This area, which borders on Compton, has a reputation for gang activity and is one of the more active police and fire districts in the city.
Getting Around
The Passport
Four bus routes connect tourist and shopping sites. Passport A: Belmont Shore, crosstown from Catalina Landing through Downtown to Alamitos Bay Landing; Passport B: Village Tour, in the Downtown area; Passport C: Pine Avenue/Queen Mary, from Downtown to the Aquarium, Queen Mary, and the cruise ship terminal; Passport D: Los Altos, from Catalina Landing through Downtown to California State Long Beach and Los Altos shopping center.
All four Passport routes converge at the downtown Transit Mall (Pine Ave and 1st St), where one can make transfers. Passport B and Passport C are FREE; Passports A & D are FREE only in the Downtown area between Catalina Landing and Alamitos Avenue.
Aqua Bus
The Aqua Bus connects destinations in Long Beach's Inner Harbor and features six "ports of call": Aquarium of the Pacific at Dock 4, The Queen Mary, Shoreline Village at Parker's Lighthouse, Pine Avenue Circle at Dock 7, and the Hotel Maya. Fare is only $1. Aqua Bus Map PDF.
Service available during the Summer only
Port of Long Beach, CA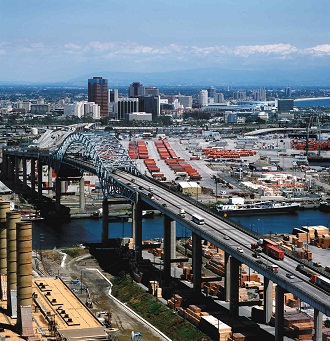 Gerald Desmond Bridge
The Port of Long Beach is the second-busiest seaport in the United States and a key transportation hub in the global trade marketplace. More than $140 billion worth of cargo moves through the Port every year – everything from clothing and furniture to machinery and petroleum. East Asian trade accounts for about 90 percent of the shipments through the Port. The Port of Los Angeles is adjacent to the Port of Long Beach. The two ports compete for business, but cooperate regularly on various areas including security, infrastructure projects and environmental programs. Combined, the number of cargo containers shipped through the two ports rank as the world's sixth busiest port complex.
The Port of Long Beach is located less than two miles southwest of Downtown Long Beach and approximately 25 miles south of downtown Los Angeles.
Carnival Corporation spent $40 million to build a state of the art cruise center at Long Beach. The terminal officially opened in 2012.
Terminal Information
Carnival Cruise Line Terminal
231 Windsor Way
Long Beach, CA 90802 Port website
Carnival Cruise Line homeports in Long Beach
Parking
5-Story, 1450 space parking garage
Full payment due upon exiting the parking garage.
Accepted forms of payment: U.S. Dollars; major credit cards. No advance reservations required.
Oversized vehicles will be charged per parking space.
Handicap parking available with proof of valid permit.
Due to height restrictions in the garage, RV's may have to utilize the adjacent outdoor parking facilities. $15 per day (rates subject to change by Port Authority).
Things to do in the area
Aquarium of the Pacific
Open 9AM-6PM every day, except December 25 and the weekend of the Grand Prix of Long Beach in April. One of the largest aquariums in the United States, its nearly 1,000 species fill 19 major habitats and 32 focus exhibits and take visitors through three regions of the Pacific Ocean: Southern California/Baja, the Tropical Pacific, and the Northern Pacific.
Queen Mary
The Queen Mary is a historic Cunard White Star ocean liner whose past includes being a troop transport in World War II and is listed on the National Register of Historic Places. Several different tours of the ship are offered including a Ghosts and Legends tour. The Queen Mary also boasts a hotel, several restaurants and a shopping promenade.
Russian Foxtrot Submarine
A self-guided tour of a Cold War Soviet submarine. A retired Russian submarine officer is at the submarine five days a week to answer questions. Be aware that the passageways and hatches are very small, so this is not for those who are claustrophobic.
Long Beach Museum of Art
Housed in the historic Elizabeth Milbank Anderson House - built in 1929.
Ranchos los Cerritos Historic Adobe
A two-story Monterey-style adobe home built in 1844. A National, State, and Long Beach Historic Landmark, the site includes historic gardens and a research library. Docent led tours on weekends, 1PM to 4PM, self guided tours W-F.
Naples Island
Take a ride on an authentic Venetian Gondola along the waterways to view million-dollar homes on Naples Island.
Shopping
Shoreline Village
Shoreline Village is a family friendly waterfront shopping, dining and entertainment center that overlooks beautiful Rainbow Harbor. Take Passport C.
East 4th Street
Between Cherry St. and Junipero along 4th St.. Home to independent retro and hipster bookstores, clothing shops, furniture shops, and an Independent movie theater, the Art Theatre. Check out La Bomba for its extensive selection (including a literal mountain of clothes in the back of the store that you literally dig through.) Take Passport B.