Port of Charleston Information for Cruisers
Terminal location, parking information, transportation options, things to do, weather, special events
More Embarkation Ports
NE Coast USA
Gulf Coast USA
Florida USA
West Coast USA
Caribbean
Getting Around Charleston
CARTA (Charleston Regional Transportation Authority) offers a free trolley around the downtown area. Website
The Charleston Water Taxi departs hourly from the Harbor Resort at Patriots Point and from the Maritime Center in Downtown Charleston. Website
Charleston Rickshaw and Charleston Pedicab service offers bicycle taxi service for a ride through the historic downtown area. Website
Charleston Events
Spoleto Festival USA - one of the world's major performing arts festivals. It was founded in 1977 by Pulitzer Prize-winning composer Gian Carlo Menotti, who sought to establish a counterpart to the Festival dei Due Mondi (the Festival of Two Worlds) in Spoleto, Italy. The annual 17-day event showcases both established and emerging artists in more than 120 performances of opera, dance, theater, classical music and jazz.
For more events: Charleston Visitors Bureau
Port of Charleston, SC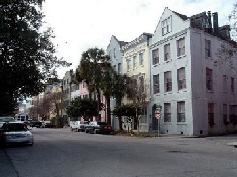 The city of Charleston is located just south of the mid-point of South Carolina's coastline. Charleston is a major tourist destination, with a considerable number of luxury hotels, hotel chains, inns, and bed and breakfasts and a large number of award-winning restaurants and quality shopping.
The city is well-known for its streets lined with grand live oaks draped with Spanish moss, and the ubiquity of the Cabbage Palmetto, which is the state tree of South Carolina. Along the waterfront in an area known as Rainbow Row are many beautiful and historic pastel-colored homes.
Map Links
Note: Maps PDF
Charleston Peninsula Map
Greater Charleston Regional Map
North Charleston Map
Convention Center/Tanger Area
Terminal Information
Location
Union Pier Terminal
32 Washington St., Charleston, SC 29401
Terminal Manager: 843-577-8776
The Port of Charleston's Cruise Passenger Terminal is located in downtown Charleston in the heart of the historic district and within two miles of both Interstate 26 and U.S. Highway 17. The Union Pier Terminal Main Gate will be your entry point. The address of Union Pier is 32 Washington Street.
A well-appointed Visitor Center is Available nearby, as well as many local tour services that will appeal to every interest.
Parking Information
Long-term vehicle storage is available on Port property for cruise passengers' vehicles. Reservations are not required.
Vehicle storage is in a controlled access area available to cruise passengers - not the general public. The site is secured and patrolled by the Port Police during the cruise.
Cash, traveler's checks or personal checks are the current accepted forms of payment. Checks should be made payable to the S. C. State Ports Authority. Checks written on non-U.S. banks and financial institutions are not accepted. A color-coded claim ticket will be given to the driver when payment is received. The color-coded ticket will help identify the storage area on the return date.
Port Transportation
A complimentary shuttle service operates between the vehicle storage areas and the Passenger Terminal. The areas are just a few minutes from the Passenger Terminal, but the shuttle provides a comfortable way for passengers to arrive at the check-in location. Handicap accessible shuttles are also available.
Things to do in the area
Most everything is within easy walking distance from the Port. The passenger terminal is literally in the city's Historic District and only two blocks from Charleston's famous public market. A well-appointed Visitor Center is Available nearby, as well as many local tour services that will appeal to every interest.
Downtown Gateway Walk
4 block historical walk among oak trees and old churches including St. John's Lutheran Church on Clifford St. and - St. Philip's Church on Church St.
Rainbow Row
An area along the waterfront referred to as Rainbow Row for the pastel colors used to paint all of the houses. The houses are located north of Tradd St. and south of Elliot St. on East Bay Street. It is It is a common tourist attraction and is one of the most photographed parts of Charleston.
Mount Pleasant
Tour the historic village settled by colonists in the late 1600's.
For more on what to do: Charleston Visitors Bureau