Cape Liberty Cruise Ship Embarkation Port
Terminal location, parking information, transportation options, things to do, weather, special events
More Embarkation Ports
NE Coast USA
Gulf Coast USA
Florida USA
West Coast USA
Caribbean
Area News
The Bayonne Bridge, an historical civic engineering landmark is the fourth longest steel arch bridge in the world. In December 2010, the Port Authority announced the "Raise the Roadway" program that will raise the height of the Bayonne Bridge approximately 215 feet, an increase that will allow navigational clearance for larger ships.
Getting Around
NJ Light Rail Transit
Port Authority Map
Ferry Commuter Map
The port is located at the former Bayonne Military Ocean Terminal (renamed the Peninsula at Bayonne Harbor) and began operations in 2004. Bayonne is a city in Hudson County, New Jersey.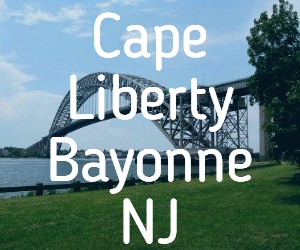 The Bayonne Bridge is the third longest steel arch bridge in the world, and was the longest in the world at the time of its completion in 1931.
Terminal Information
The Cape Liberty Port
4 Port Terminal Boulevard
Bayonne NJ 07002-5038
Phone: 201-823-3737
Fax: 201-823-3878 Website
Cruise ships that home port at Bayonne include Explorer of the Seas, Brilliance of the Seas, Celebrity Summit and Celebrity Silhouette.
The cruise terminal normally opens at 10:30AM to receive departing passengers.
A safe, secured parking facility, operated by Central Parking, is conveniently located adjacent to the cruise terminal. Cash, travelers checks and major credit cards are accepted. No reservations are necessary.
Important: Change In Documentation & Check-In Requirements For U.S. Departures
The U.S. Department of Homeland Security announced new regulations which require all cruise lines to provide final passenger manifests 60 minutes prior to departure from U.S. ports. This means that ALL sailing passengers must arrive at least 90 minutes prior to the scheduled departure time. Terminal doors will be closed 90 minutes prior to scheduled sailing time, late arriving passengers will be denied entry due to these new time restrictions. This is a major change from past boarding practices!
Also...All sailing passengers MUST complete their Online Pre-Registration with the cruise line, no later than 6 days prior to sailing! Anyone who does not pre-register online, must arrive 2 hours prior to scheduled departure time to complete this process, late arriving passengers could be denied boarding.
Time Zone
EST (UTC/GMT- 6 )
Map Coordinates
42°21'28' N 71°03'42' W
Climate and Terrain
Summers are typically warm, rainy, and humid, while winters are cold, windy, and snowy. Spring and fall are usually mild, but conditions are widely varied, depending on wind direction and jet stream positioning.
Webcam Links
Things to do and see
Bergen Point
Bergen Point is a point of land on the north side of the outlet of Kill van Kull into Newark Bay, and the neighborhood that radiates from it in the southwestern part of Bayonne, New Jersey, closest to the Bayonne Bridge.
Constable Hook
The site of two burials grounds known as the Constable Hook Cemetery, and the Bayonne Golf Club, situated at the city's highest point.
Hackensack RiverWalk
An eight mile walkway, following (where possible) the contour of the water's edge, will run between the southern tip at Bergen Point, where it may connect to the Hudson River Waterfront Walkway, and Eastern Brackish Marsh in the north. Existing parks and promenades have been incorporated and some new sections have been built, but large gaps remain.
Hudson River Waterfront Walkway
Part of a walkway that is intended to run the more than 18 miles from the Bayonne Bridge to the George Washington Bridge.
Shooters Island
Closed to the general public, is a 35 acre island (of which 7.5 acres are in Elizabeth) is operated as a bird sanctuary by the New York City Department of Parks and Recreation.
Bayonne Truck House No. 1
Home to Bayonne Firefighters Museum.
Bayonne Trust Company
Home to Bayonne Community Museum.
First Reformed Dutch Church of Bergen Neck
The congregation was established in 1828 and the first church building dedicated on January 11, 1829. The current church was built in 1866 and enlarged in 1890. The building is an example of a bracketed, Italianate-influenced frame church.
Robbins Reef Light
The Robbins Reef Light Station is a sparkplug located off Constable Hook in Bayonne along the west side of Main Channel, Upper New York Bay. The tower and integral keepers quarters were built in 1883. It replaced an octagonal granite tower built in 1839. The U.S. Coast Guard owns and operates the light station.