MSC Splendida Cruise Ship Profile
Ship Features, Itinerary, News, Photos, Review, Accommodations, Notable Rooms, Dining Venues, Kid's Areas, Deck Plan, Outdoor Spaces, Smoking Sections
MSC Splendida
MSC Cruises has laid out a 6-star service for highly-demanding guests who enjoy the pleasures of life with the MSC Yacht Club, a VIP area complete with 99 spacious suites and 24 hour butler service. In the Top Sail Lounge, with its Skydome, guests may also delight their palate under a dome of sparkling stars.
For entertainment, on-board MSC Splendida there are 4 swimming pools, a squash court, the possibility of living the thrills of Formula 1 through a simulator, and more.
MSC Cruises has always been sensitive to environmental issues and MSC Splendida is at the cutting edge ecologically. It is equipped with the most innovative technological systems to guarantee savings in energy and protection of the environment, such as the water processing systems. All of this ensures that MSC Splendida may boast the title of ECO SHIP.
Specifications
Ship Class: Post-Panamax Fantasia
Launched: 2009
Refurbished:
GRT: 138,000
Length: 1,093 ft.
Draft: 27 ft.
Speed: 21 Knots
Passengers: 3,274
Accommodations
Standard Amenities
Air conditioning, telephone - Availability of Internet connection on your own lap top (not included in price), bathroom with shower, mini bar, and safe. Wi-Fi service available in select rooms. All staterooms have satellite TV, mini-bar, safe, radio and 24-hour room service.
Suite Amenities
Additional Suite amenities include spacious wardrobe, bathroom with bathtub, and internet availability.
MSC Yacht Club
99 suites, between 247 and 570 square feet, furnished as a luxurious yacht; a large lounge with a breathtaking view of the sea; a Conciergerie with Swarovski crystal stairs; and other reserved spaces. The One pool (MSC Yacht Club pool) area is located on Sun deck.

Yacht Club Pool
Personal butlers will provide the most exclusive services such as taking care of the luggage, booking excursions, in-suite dining, choice of cigars, liquors and champagne.
Stateroom sizes
| | | |
| --- | --- | --- |
| Inside | 172 | Sq. ft. |
| Outside | 185-218 | Sq. Ft. |
| Balcony | 236 | Sq. ft. w/veranda |
| Suite | 290 | Sq. ft. w/veranda |
Dining Venues
Main Dining Rooms
La Reggia (shown on the left) is a multi-level venue located on Canaletto and Modigliani deck. The Villa Verde offers panoramic views on Modigliani deck. Both serve Italian & Mediterranean fare.

L'Olivo
A-la-carte restaurant on Porto deck. Contemporary Mediterranean cuisine blended skillfully with international influences.

Santa Fe Tex-Mex restaurant
Sample all the tastes of Mexican cuisine: from Texas steaks to enchiladas, fajitas to burritos and tacos, guacamole to tortillas, all accompanied by Mexican beer, Tequila and Margaritas.
Pago Pago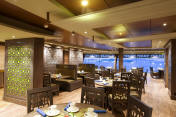 Main buffet
Expresso Coffee bar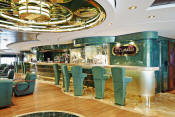 Bora Bora
Pizzeria, casual buffet.
Notable Rooms
Sports Bar
Featuring sporting events when available.
Cinema
High-tech 4D cinema.
Strand Theater
Main show lounge.
Splendida Bar
Located just off the Reggia Restaurant.
Club 33 Disco
Late-night dance club.
Purple Jazz Bar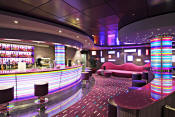 The drinks list of The Purple Jazz Bar is inspired by jazz music: rare whiskies, cognac, aged grappa, the best brands of vodka and gin, and aged tequila.
Royal Palm Casino
Slots, cards, games and more.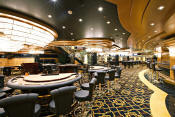 Cigar Bar
The Aft Lounge
Cabaret-style venue for music and dancing.
L'Enoteca
Wine bar.
Top Sail Lounge
MSC Yacht Club members only.
Outdoor Features
Pool Areas
Main pool area includes the Playa del Sol Bar, L'Equatore Pool, Bar del Rico, and Acqua Park with LED TV wall on Rafaello deck.
Playa del Sol aft pool and Movida bar on Leonardo deck.
Kid's waterpark area located on Leonardo deck.
Sports and Fitness
Jogging track, fitness area, sauna, mini-golf, shuffleboard, basketball, Formula 1 Simulator, and video arcade located on Michelangelo deck.
Kid's Program
Play Areas
Video Arcade, Underwater World Children Playroom, and Children's Indoor Playroom.
Children's Club
MSC offers dedicated indoor areas for the kids including a video game room. All entertainment activities, both for younger guests and adults are conducted in all languages to cater to the needs of every guest. As ships vary in size and facilities, kid's activities are not restricted to the Mini Clubs.
MSC's kid's club leaders organize lots of great activities, shows, and games such as treasure hunts, a mini-Olympics, painting courses, dancing, arts, and crafts. Each ship has a cheerful, spacious and safe playroom. Knowing your children are with our expert cruise staff, you can relax and enjoy the pool or unwind with an aromatic massage.
When parents are on excursions ashore, the Mini Club and Juniors Club will remain open for children 3-12 years of age. If parents are ashore or involved in other activities, the kids club leaders will also take youngsters to the buffet or the ship's restaurant for children's meals (from a dedicated Children's Menu).