Cruise Ship Profiles
Ship specifications, photos, itineraries, accommodations, dining venues, notable rooms, activities, children's areas, deck plan, enhancements, incidents, accidents and more.
Itinerary
The MSC Musica sails Mediterranean and South America itineraries. Visit the MSC/USA website for a complete schedule.
Deck Plan
Sport Deck
Solarium
Cantata Deck
Passenger staterooms
Capriccio Deck
Passenger staterooms, Jogging track, Golf Simulator, Kid's Outdoor Pool, Shuffle board, Virtual Games, Kid's Playroom, Q32 Disco
Vicace Deck
Aloha Beauty Farm and Fitness Center, Blue Martini Bar, Copacabana Pool Area, La Laguna Pool Bar, La Spiaggia Pool Area, Cli Archi Cafetteria, Giardino a la carte Restaurant
Virtuoso Deck
Passenger staterooms
Adagio Deck
Passenger staterooms
Minuetto Deck
Passenger staterooms
Intermezzo Deck
Passenger staterooms
Forte Deck
Passenger staterooms
Maestoso Deck
La Scala (upper level), Sanremo Casino, Art gallery, Card room, Library, Kaito Sushi Bar, Cyber Cafe, Havana Cigar Room, Photo gallery, I'Enoteca Wine Bar, Crystal Lounge
Brillante Deck
La Scala, II Tucano Lounge, Blue Velvet Bar, Duty free shops, Shore excursion office, The Golden and Diamond Bar, Le Maxim Upper Restaurant
Grazioso Deck
Teatro La Scala, Medical Center, Passenger staterooms, Reception, Bar Della Cascata, L'Oleandro Restaurant
Andante Deck
Access to tenders
Children's Menu
Italian favorites like pasta and pizza, hamburgers, hot dogs and delicious pastries and desserts. The My Teen Card makes it convenient for kids 12 -17 to make pre-paid purchases while onboard.
MSC Musica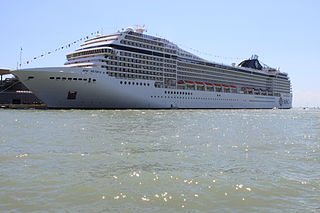 A luxury cruising experience aboard the MSC Musica includes spacious staterooms and suites; the serene Aloha spa with meditation area and expansive fitness center; dining venues that include the luxurious Le Maxim dining room or the exotic Kaito sushi bar, and 10 clubs/bars, such as L'enoteca wine bar or Havana Club cigar room. The elegant design and spacious facilities on MSC Musica also encompass an Internet Café, library, casino and shopping arcade. And for more active pursuits, she offers a tennis court, jogging track and two swimming pools, plus a pool and play area for kids.

Bridge cam
Specifications
Ship Class: Musica
Launched: 2006
Refurbished:
GRT: 92,400
Length: 964 ft.
Draft: 26 ft.
Speed: 23 Knots
Passengers: 2,550
Accommodations
Air conditioning, telephone - Availability of Internet connection on your own lap top (not included in price), bathroom with shower, mini bar, and safe. Wi-Fi service available in select rooms. All staterooms have satellite TV, mini-bar, safe, radio and 24-hour room service. Additional Suite amenities include spacious wardrobe, bathroom with bathtub, and internet availability.
Stateroom sizes
| | | |
| --- | --- | --- |
| Inside | 151 | Sq. ft. |
| Outside | 177-183 | Sq. Ft. |
| Balcony | 213-240 | Sq. ft. w/veranda |
| Suite | 324 | Sq. ft. w/veranda |
Dining Venues
MSC Opera offers 2 main restaurants, an outdoor restaurant, sushi bar. and a-la-carte restaurant.
Main Dining Rooms
L Oleandro Restaurant located on Grazioso deck and Le Maxim Upper Restaurant located on Brillante deck.
Kaito
Sushi Bar.
Giardino
A-la-carte restaurant.
Gli Archi Cafeteria
Outdoor buffet.
Notable Rooms
La Scala Theater
Main show lounge.
Blue
Martini Bar.
Tucano Lounge
Large venue with dance floor.
Q32 Disco
Late-night dance club.
Sanremo Casino
Slots, cards, games and more.
Havana Club
Cigar bar.
I'Enoteca
Wine Bar.
Crystal Lounge
Cabaret-style venue.
Tucano Lounge
Large meeting space off the atrium.
Blue Velvet Bar
Cocktail bar located just off the Tucano Lounge.
The Golden Bar and Diamond Bar
A place for cocktails off the Le Maxim Restaurant.
Cascata Bar
Reception center off the atrium.
Outdoor Features
Main Pool Area
Copacabana Pool Area, La Laguna Pool Bar, La Spiaggia Pool Area located on Vicace deck.
Sports and Kid's Area
Jogging track, Golf Simulator, Kid's Outdoor Pool, Shuffle board, Virtual Games, and Kid's Playroom located on Capriccio deck.
Kid's Programs
Children's Club
MSC offers dedicated indoor areas for the kids including a video game room. All entertainment activities, both for younger guests and adults are conducted in all languages to cater to the needs of every guest. As ships vary in size and facilities, kid's activities are not restricted to the Mini Clubs.
MSC's kid's club leaders organize lots of great activities, shows, and games such as treasure hunts, a mini-Olympics, painting courses, dancing, arts, and crafts. Each ship has a cheerful, spacious and safe playroom. Knowing your children are with our expert cruise staff, you can relax and enjoy the pool or unwind with an aromatic massage.
When parents are on excursions ashore, the Mini Club and Juniors Club will remain open for children 3-12 years of age. If parents are ashore or involved in other activities, the kids club leaders will also take youngsters to the buffet or the ship's restaurant for children's meals (from a dedicated Children's Menu).