MSC Orchestra Cruise Ship Profile
Ship Features, Itinerary, News, Photos, Review, Accommodations, Notable Rooms, Dining Venues, Kid's Areas, Deck Plan, Outdoor Spaces, Smoking Sections
MSC Orchestra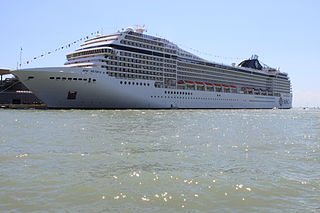 The second of the 'Musica-class' line of cruise ships, MSC Orchestra offers the perfect blend of design, comfort and safety. Airy open spaces and MSC Cruises' signature Italian style make MSC Orchestra a stylish pioneer for future cruise ship projects and designs. This state-of-the art cruise ship offers luxurious accommodations, most featuring private balconies.
The MSC Orchestra boasts 18 decks, the spacious Body and Mind Spa with serene meditation area and a large fitness center overlooking the bow of the ship. You can choose from five restaurants including authentic Italian cuisine and the sophisticated Shanghai, the only Chinese restaurant at sea. Relax in the exotic animal-print Savannah Bar, sumptuous Purple Bar or enjoy Hollywood-style glamour in the chic Zaffiro Bar. Try your luck at the Palm Beach Casino, dance the night away in the disco or take in a show at the Covent Garden Theatre, with a program packed with entertaining shows with music.
Stop by the MSC Orchestra's Internet Café or take part in a game of tennis or basketball. Relax by the stunning Acapulco pool or the Cala Blanca pool with a massive LED screen for watching movies under the stars.

Bridge cam
Specifications
Ship Class: Musica
Launched: 2007
Refurbished:
GRT: 92,400
Length: 964 ft.
Draft: 26 ft.
Speed: 23 Knots
Passengers: 2,550
Accommodations
Air conditioning, telephone - Availability of Internet connection on your own lap top (not included in price), bathroom with shower, mini bar, and safe. Wi-Fi service available in select rooms. All staterooms have satellite TV, mini-bar, safe, radio and 24-hour room service. Additional Suite amenities include spacious wardrobe, bathroom with bathtub, and internet availability.
Stateroom sizes
| | | |
| --- | --- | --- |
| Inside | 151 | Sq. ft. |
| Outside | 177-183 | Sq. Ft. |
| Balcony | 213-240 | Sq. ft. w/veranda |
| Suite | 324 | Sq. ft. w/veranda |
Dining Venues
MSC Opera offers two main restaurants, an outdoor restaurant, Chinese Restaurant, and a-la-carte restaurant.
Main Dining Room
Villa Borghese Lower restaurant and L'lbiscus Upper Restaurant.
4 Seasons
A-la-carte restaurant on deck 13 aft. Contemporary Italian cuisine blended skillfully with international influences.
Shanghai Chinese Restaurant
Here you will experience the best of Chinese dishes from the spicy hot North (Szechuan) to the sizzling sweeter fare of the South (Cantonese), or if you prefer just a snack, try the mid-morning Dim Sum specialties from every region of China. Deck 7 Midship.
La Piazzetta
Outdoor buffet.
Notable Rooms
Covent Garden Theater
Main show lounge
Q32 Disco
Late-night dance club.
Palm Beach Casino
Slots, cards, games and more.
Cubana Room
Cigar room.
La Cantinela
Wine Bar.
Savanna Lounge
Animal print themed bar located just off the main showroom.
Shaker Lounge
Cabaret-style venue.
L'incontro Lounge
Large meeting space off the atrium.
Purple Bar
Cocktail lounge located in the shopping/boutique area.
The Amber Bar and Zaffrio Bar
A place for cocktails off the L'lbiscus Restaurant.
Outdoor Features
Main Pool Area
Barracuda Bar, Acapulco pool, and Cala Blanca pool with a massive LED TV.
Sports and Kid's Area
Jogging track, Golf Simulator, Kid's Outdoor Pool, Shuffle board, Virtual Games, and Kid's Playroom located on Chitarra deck.
Kid's Program
Children's Club
MSC offers dedicated indoor areas for the kids including a video game room. All entertainment activities, both for younger guests and adults are conducted in all languages to cater to the needs of every guest. As ships vary in size and facilities, kid's activities are not restricted to the Mini Clubs.
MSC's kid's club leaders organize lots of great activities, shows, and games such as treasure hunts, a mini-Olympics, painting courses, dancing, arts, and crafts. Each ship has a cheerful, spacious and safe playroom. Knowing your children are with our expert cruise staff, you can relax and enjoy the pool or unwind with an aromatic massage.
When parents are on excursions ashore, the Mini Club and Juniors Club will remain open for children 3-12 years of age. If parents are ashore or involved in other activities, the kids club leaders will also take youngsters to the buffet or the ship's restaurant for children's meals (from a dedicated Children's Menu).