MSC Splendida Cruise Ship Profile
Ship Features, Itinerary, News, Photos, Review, Accommodations, Notable Rooms, Dining Venues, Kid's Areas, Deck Plan, Outdoor Spaces, Smoking Sections
Itinerary
The MSC Fantasia sails Mediterranean itineraries. Visit the MSC/USA website for a complete schedule.
Deck Plan
Sun Deck
The One Pool and Bar, VIP area
Aurora Deck
Passenger Staterooms, MSC Yacht Club, Mini-Golf, Shuffleboard, Baskeball, Formula Simulator, Video arcade
Splendido Deck
Top Sail Lounge, VIP Consierge, MSC Yacht Club, Graffiti, Waterpark and waterslide
Miraggio Deck
Aurea Spa, Salita, Covered pool, Tropici, Bar Delle Fontane, Acqua Park, The Glass Bar, Caffetteria Zanzibar, Caffetteria L' Africana
Arcobaleno Deck
Passenger staterooms
Incanto Deck
Passenger staterooms
Mergaviglia Deck
Passenger staterooms
Sogno Deck
Passenger staterooms
Radiosc Deck
Passenger staterooms
Favola Deck
Passenger staterooms, Atrium
Sublime Deck
Teatro L' Avanguardia (upper level), II Transatlantico, Manhattan Bar, Sports Bar, II Capuccino, La Cantina Toscana, El Sombrero Tex Mex, Gallery Plaza and Photo Gallery, Secondary Lounge/L'insolito Lounge
Magnifico Deck
Teatro L' Avanguardia (level two), Casino delle Palme, Card Room, The Cigar Lounge, Boutique, II Gioello, Piazza San Giorgio, Electronic Shop, Main Foyer - Le Vele, Shore Excursion Desk, Bar Le Vele, Via San Lorenzo, La Caramella, Red Velvet Restaurant (upper level), Panoramic Aft Restaurant - II Cerchio d' Oro
Fantasia Deck
Teatro L' Avanguardia, Passenger Staterooms, Reception Area, Cyberlibrary, Business Center, Fantasia Bar, Red Velvet Restaurant
MSC Aurea Spa
Blending the magic of Balinese massage with the benefits of the latest technology, this sumptuous wellness center offers a plethora of options for unwinding, from saunas and Turkish baths to a fitness center, beauty salon, Thalassotherapy room, relaxation area and massage rooms. Here, in the heart of MSC Fantasia, highly trained Balinese personnel offer traditional Balinese massages and a wide variety of beauty treatments.
MSC Fantasia gives guests the perfect opportunity to relax and restore their natural balance, emerging refreshed and reinvigorated.
Children's Menu
Italian favorites like pasta and pizza, hamburgers, hot dogs and delicious pastries and desserts. The My Teen Card makes it convenient for kids 12 -17 to make pre-paid purchases while onboard.
MSC Fantasia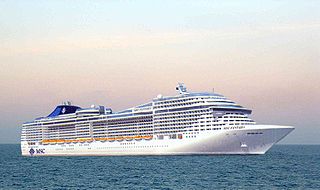 MSC Fantasia is the Flagship for the MSC Fleet. Elegance and class are the elements which distinguish all the new spaces on the flagship, which, as always, have been designed by the studio De Jorio Design International. The most important contemporary design styles dominate all the ship's spaces and reveal the great attention given to detail, and the quality of the materials.
MSC Fantasia is also an entirely ecological ship with environmentally friendly paint, modern technology for the treatment of black and grey waters and a system of energy saving in cabins and common areas.

Bridge cam
Specifications
Ship Class: Post-Panamax
Launched: 2008
Refurbished:
GRT: 138,000
Length: 1,093 ft.
Draft: 27 ft.
Speed: 23 Knots
Passengers: 3,274
Accommodations
Standard Amenities
Air conditioning, telephone - Availability of Internet connection on your own lap top (not included in price), bathroom with shower, mini bar, and safe. Wi-Fi service available in select rooms. All staterooms have satellite TV, mini-bar, safe, radio and 24-hour room service.
Suite Amenities
Additional Suite amenities include spacious wardrobe, bathroom with bathtub, and internet availability.
MSC Yacht Club
99 suites, between 247 and 570 square feet, furnished as a luxurious yacht; a large lounge with a breathtaking view of the sea; a Conciergerie with Swarovski crystal stairs; and other reserved spaces. Personal butlers will provide the most exclusive services such as taking care of the luggage, booking excursions, in-suite dining, choice of cigars, liquors and champagne.
Stateroom sizes
| | | |
| --- | --- | --- |
| Inside | 181 | Sq. ft. |
| Outside | 196-228 | Sq. Ft. |
| Balcony | 250-324 | Sq. ft. w/veranda |
| Suite | 374-561 | Sq. ft. w/veranda |
Dining Venues
Main Dining Room
Two main restaurants. (Lower) Red Velvet Restaurant, located on Fantasia deck, offers a different menu every evening to celebrate an Italian region with its typical cuisine and most renowned wines. Il Cerchio d'Oro, located on Magnifico deck, offers an assorted Mediterranean menu, including light choices and options that are always available, to satisfy those who know what they want each day.
L'Etoile
L'Étoile, the private restaurant at the exclusive service of MSC Yacht Club members, provides guests with a gourmet dining experience principally inspired by the Italian and French culinary traditions. Refined ingredients such as foie gras, truffles and scallops combine with delicacies such as quail eggs, guinea fowl and pigeon breast to create dishes that are both sophisticated and minimalistic. The sparing use of decoration serves as foil to highlight the scrupulously selected raw ingredients.
El Sombreo
Tex-Mex restaurant. Sample all the tastes of Mexican cuisine: from Texas steaks to enchiladas, fajitas to burritos and tacos, guacamole to tortillas, all accompanied by Mexican beer, Tequila and Margaritas.
Zanzibar
Pizzeria, casual buffet.
Africana
Main buffet.
Cappuccino
Coffee bar.
Notable Rooms
Sports Bar
Sports bar featuring sporting events when available.
Cinema
High-tech 4D cinema.
L'Avanguardia Theater
Main show lounge.
Fantasia Bar
Located just off the Red Velvet Restaurant.
Le Vele Bar
Foyer lounge.
Liquid Disco
Late-night dance club.
Transatlantico
Pub with piano.
Manhattan Bar
Jazz club.
Casino delle Palme
Slots, cards, games and more.
Cigar Bar
Cigar room.
L'Insolito Lounge
Cabaret-style venue for music and dancing.
La Cantina Toscana
True connoisseurs can find the most renowned Italian wines at La Cantina Toscana, a wine bar that welcomes guests into an environment inspired by the peaceful Tuscany hills and Chianti vineyards. Every day, special wine tastings are accompanied by different bites of food, such as fried polenta with cream cheese, bruschetta and other specialties.
Top Sail Lounge
MSC Yacht Club members only.
Outdoor Features
Pool Areas
The main pool area includes the Glass Bar, Acqua Park, Fontane Bar, LED TV wall, and Tropici Pool on Miraggio deck. Aft pool- Lido Cantalano on Splendido deck. The One pool (MSC Yacht Club pool) area is located on Sun deck.
Sports and Fitness
Jogging track, fitness area, sauna and mini-golf located on Vivaldi deck.
Kid's Program
Children's Club
MSC offers dedicated indoor areas for the kids including a video game room. All entertainment activities, both for younger guests and adults are conducted in all languages to cater to the needs of every guest. As ships vary in size and facilities, kid's activities are not restricted to the Mini Clubs.
MSC's kid's club leaders organize lots of great activities, shows, and games such as treasure hunts, a mini-Olympics, painting courses, dancing, arts, and crafts. Each ship has a cheerful, spacious and safe playroom. Knowing your children are with our expert cruise staff, you can relax and enjoy the pool or unwind with an aromatic massage.
When parents are on excursions ashore, the Mini Club and Juniors Club will remain open for children 3-12 years of age. If parents are ashore or involved in other activities, the kids club leaders will also take youngsters to the buffet or the ship's restaurant for children's meals (from a dedicated Children's Menu).