Cruise Ship Port of Call
With a unique combination of pleasant climate, beautiful coastline, rich history and diverse culture the Mediterranean region is the most popular tourist destination in the world.
Weekly Features
Weather Tracker
Tropical storm season runs June 1 - November 30
Personal Safety
Barcelona is notorious for pickpockets and bag snatchers, especially in areas teeming with tourists. Avoid flashly clothing or jewelry that draws attention to you and leave valuables in a secure location. Avoid carrying valuables in a bag or purse.
When dining in restaurants or cafés, especially in tourist areas, avoid hanging your bag over the back of your chair or on the floor.
The south end of La Rambla morphs into a red light district during the evening hours. While relatively safe, it can be avoided if it makes you uncomfortable.
Be aware of scams like the "bird poo" or "dropped money" scam. Sometimes pickpockets will work in groups to distract you while they steal money.
By foot
Large areas of the city are easily walkable, like the Las Ramblas and Barri Gotti.
Metro
The subway system is fairly clean and extensive. A Barcelona tourist card is available for unlimited transporation on the metro and bus network. The metro operates from 5am-midnight on most days with extended service on Saturdays.
The above-ground tram system connects the major industrial areas, shopping centers, and residental zones. There are two tram lines in Barcelona.
Bus
The bus system takes passengers to major tourist sites around the city. The Blue Bus shuttle runs to and from cruise port terminals to the Christopher Columbus monument in Las Ramblas.
Taxi
Taxis are available outside the cruise terminal and around the city. A green light on top indicates availablity.
Barcelona Events
Sant Jordi Festival
Catalan celebrates the most romantic day of the year with the annual Sant Jordi Festival. Centered each year around Las Ramblas in Barcelona, the Sant Jordi Festival is Cataluña's own unique version of Valentine's Day.
Sónar Festival
Every June, one of Europe's largest music festivals decends on Barcelona. Over 80,000 music lovers attend the event.
Grácia Festival
Every August the streets of Grácia transform into a outdoor festival.
Festes de la Mercè
The main city September celebrations in honour of Barcelona's patron saint offer a wild variety of events. The Mercè and the other 30 or so neighbourhood festes share many traditional ingredients: dwarfs, castellers (human castles), and gegants (huge papier-mâché/fibreglass giants dressed as princesses, fishermen, sultans and even topless chorus girls), and two unique exercises: the correfoc and the sardana.
A mix of old Gothic spires and modern curves, Barcelona has been a center of trade since the 11th century and is rich in arts, design, and history. As the capital of Catalonia and the Kingdom of Aragon, Barcelona traded hands frequently between warring kingdoms. The modern port infrastructure was cleaned up and modified when Barcelona hosted the 1992 Olympic Games, adding new waterfront space, beaches, a promenade, and a marina able to accomodate up to 11 cruise ships. Today Barcelona is a bustling cruise port popular as a destination and embarkation stop.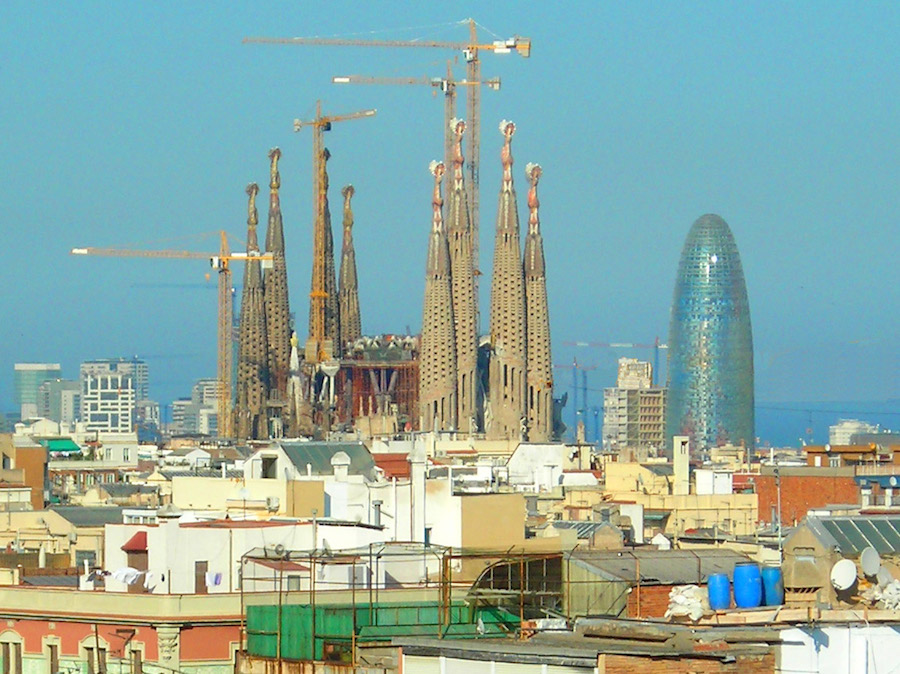 Photo: La Sagrada Familia remains under construction in Barcelona.
Good to Know
Climate
The climate is typical Mediterranean with mild, rainy winter and warm, dry summers. There are extended periods of sunshine throughout the year. Rain is more common in April-June and August-November. Temperatures in the winter average 40F and for summer, expect highs near 82F.
Currency
Spain is part of the Eurozone. Its currency is the euro (€) and can be exchanged at banks or locations in Barcelona City Center and railway stations.
Customs
It is not common to leave a tip when dining out. Taxi drivers don't expect to be tipped, but street performers do.
Catalans usually take an hour lunch break around 1-2 pm. During the summer, stores may be open until 10 p.m.
Language
Barcelona has two official languages: Catalan and Castilian Spanish. English is spoken in tourist attractions, hotels, and restaurants.
Port Information
Port Authority
Port of Barcelona
Local Name: Puerto de Barcelona
Address: World Trade Center
Barcelona Wharf
Barcelona 08039
Spain
Telephone: +34 93 306 88 00 Email: sau@portdebarcelona.cat
Website: www.portdebarcelona.cat

Time Zone
GMT + 1/2 (Daylight Savings) (EST + 6)
Map Coordinates
41° 21' 17" N, 2° 10' 12 E
Terminal Information
Services
The Port of Barcelona has seven international passenger terminals with air conditioning, public telephones, duty-free and souvenir shops. Passengers can exchange currency, take a shuttle bus to city center, or use the taxi rank to secure transporation.
Getting There
The cruise terminals at World Trade Center are 400 meters away from the bus and metro stations. Las Rambla is about fifteen minutes' walk away. Otherwise, the T3 Portbus shuttle moves cruise passengers from the Plaza de Colón in Barcelona to terminals A-D on the Adossat wharf.
Traveling to the cruise port with luggage is not as direct. To arrive by airport using public transport: Take the Aerobus to Plaça Catalunya, then catch the metro from Catalunya to Drassanes. From there walk to the Columbus monument and catch the Blue bus to your cruise terminal.
Taxi ride from the airport to the cruise terminal ruins €25-30 with luggage and other surcharges.
Parking
No long-term parking is available in the terminal area. Extended parking is available at World Trade Center Barcelona with a cruise passenger rate of €75 for 7 days and €10 for each day after.
World Trade Center Phone: +34 93 508 80 62
Other car parks:
Parking Viajeros - Carreras i Candi, 65 (BCN)
8 days: € 67.36 (including transfer) Additional day: € 6.2
3 free days at the end of the cruise trip
Tel.: 618 70 79 70
www.parkingviajeros.com
Parque de Investigación Biomédica, c. Aiguader 88, 08003 Barcelona
Rate: €57 for 8 days or €75 for 11 days
Litoral Puerto, av. del Litoral 34, 08003 Barcelona
Rate: €57 for 8 days or €75 for 11 days
Things to do and see
La Rambla
Stroll along this popular street lined with cafés, kiosks, and street performers. The avenue cuts through the center of Barcelona from the port to Placa de Cataluna to give a feel for all Barcelona has to offer. Stops along the way include Palau Guell, a 19th-century palace designed by Antoni Gaudi.
Placa Cataluna
The circular plaza contains fountains and sculptures and beautiful flora, and it is surrounded by hotels, big stores, and open-air cafés. During the frequent fiesta times, visitors enjoy live music and dancing and happy celebrations.
Barri Gotic
A highlight of a traveler's stop in Barcelona, the well-preserved Gothic quarter of the city is one of Europe's largest and most populated. The Catedral in the quarter is a must-see, and the Museu d'Histoira de la Ciutat was build over a Roman town. In the Salo del Tinnel in the Palau del Rei, Columbus introduced Spain's sovereigns to American natives. Many of the buildings in the Barri Gotic date from medieval days. Remains of the old Roman Wall are still visible. The Medieval Jewish quarter, El Call, is located here.
La Sagrada Familia
The most recognizable landmark in Barcelona was designed by Antoni Gaudi. Construction began in 1838 and continues to this day. The striking towers and Venetian mosaics make La Sagrada an unforgettable sight.
Museu Picasso
Situated in a medieval stone mansion down a narrow street, Barcelona's most visited museum contains 3,000 of Picasso's works. The world-famous artist spent much of his life in Barcelona.