Reported incidents on passenger ships 2013
Things you need to know about cruise ship safety before you leave port
2013 Passenger Ship Incidents
Cruise ship safety information for passengers. Know before you go!
Maritime incidents/accidents involving passenger injuries and/or fatalities are not a common occurrence considering the number of passenger ships sailing worldwide; It's unlikely you will experience any problems during your cruise. Still, only a fool for a passenger would disregard the possible risks associated with a cruise vacation.
A comprehensive list of reported passenger ship incidents and accidents in 2013
Ship Prefix Index
| | | |
| --- | --- | --- |
| MV = motor-driven vessel | SS = steam ship | RV = research vessel |
| MS = motor ship | FV = fishing vessel | SV = sailing vessel |
Posted February 11, 2013
Source: Carnival Cruise Lines


February 10, 2013 – 7.30p EST

This morning the cruise ship Carnival Triumph experienced an engine room fire while the vessel was sailing approximately 150 miles off the coast of the Yucatan Peninsula. The ship's automatic fire extinguishing systems activated and the fire was contained to the aft engine room. At this time, the fire is fully extinguished. There were no casualties or injuries to guests or crew. All appropriate authorities including U.S. Coast Guard have been notified.
The vessel is currently without propulsion and the ship is operating on emergency generator power. The ship's technical crew has determined the vessel will need to be towed to port. A tugboat is en route to the ship's location and will tow the vessel to Progreso, Mexico, which is the closest port to the ship's current location. This will enable us to disembark guests and get them home as quickly as possible. The ship is expected to arrive in Progreso Wednesday afternoon and guests will be flown from there back to the U.S.
There are 3,143 guests and 1,086 crew on board. Guests are being provided with food and refreshments. Another Carnival ship, the Carnival Elation, is currently on scene and transferring additional food and beverage provisions to the Carnival Triumph.
Silver Shadow
Posted January 14, 2013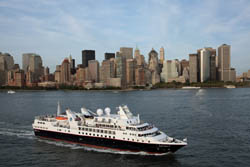 One of our website visitors sent us this message on 1/14/13 at 12 pm EST alerting us to a situation on the Silver Explorer. There has been an incident on the Silver Sea Explorer of its way to Antarctica during an Abercrombie & Kent cruise. At around 5:00 pm Saturday a large wave smashed into the ship, sending a surge of water into the bridge, smashing one of the big windows, injuring four members of the crew, and taking out the electronic suite on the bridge.

Very intense weather. No passengers reported to be injured.
Report confirmed on 1/16/13 by Silverseas.
Related Links:
Weather Updates
Travel Warnings
Safety Overview
Cruise Ship Fires
Sunken Passenger Ships
Sudden Lists/Rogue Waves
Unclassified Incidents
Coronavirus
Norovirus
Incidents 2012
Incidents 2013
Incidents 2014
Incidents 2015