Celebrity Equinox Cruise Ship Profile
Ship Features, Itinerary, News, Photos, Review, Accommodations, Notable Rooms, Dining Venues, Kid's Areas, Deck Plan, Outdoor Spaces, Smoking Sections
CDC Ratings
If link above doesn't open to the report page, close the window and click on link again to access.
2009 Rating 100 (Nov)
2010 Rating 100 (Mar)
2011 Rating100 (Apr)
2011 Rating 99 (Dec)
2012 Rating 97 (Mar)
2014 Rating 92 (Mar)
2014 Rating 97 (Nov)
2016 Rating 100 (Mar)
2017 Rating 100 (Jan)
2019 Rating 100 (Jun)
2020 Rating 98 (Feb)
The Center For Disease Control (CDC) performs unannounced inspections, which are conducted twice a year and required for any cruise ship with an international itinerary calling at a U.S. port. Vessels are evaluated proper food handling, preparation and storage procedures, and overall galley cleanliness. Ships' potable water supplies used in spas and pools are evaluated, as well. CDC Cruise Ship Outbreak Summary
Solstice
Relaxation area
Lawn Club
Sports court, X Club, Fun Factory, Video Arcade, The Lawn Club, Patio on the Lawn, Lawn Bowling
Lido Deck
Sky Observation Lounge, Sky Conference Center, Oceanview Cafe and Bar, Mast Bar and Grill
Resort Deck 16
AquaSpa, Solarium, Persian Garden, AquaSpa Café, Pool, Pool Bar, Sports Pool, Family Pool, Wet Zone, Passenger Staterooms (aft)
Penthouse Deck 11
Relaxation Lounge, Passenger Staterooms, The Library
Sky Deck 10
The Library, Passenger staterooms
Panorama Deck 9
Card room, Passenger staterooms
Vista Deck 8
Passenger staterooms
Sunrise Deck 7
Passenger staterooms
Continental Deck 6
Celebrity iLounge, Passenger staterooms
Entertainment Deck 5
Equinox Theater, Boutiques, Bistro on Five, Café al Bacio & Gelateria, Michael's Club, Ensemble Lounge, Murano Restaurant, Tuscan Grill, Blu, Silk Harvest Restaurant
Promenade Deck 4
Equinox Theater, The Entertainment Court, Celebrity Central, Quasar, Crush, Martini Bar, Gastropub, Silhouette Dining Room (aft)
Plaza Deck 3
Theater, Grand Foyer, Passport Bar, Guest Relations, Silhouette Dining Room (aft)
Shipmates Fun Factory
Activities for kids ages 3-17 featuring Leapfrog Schoolhouse educational tools for knowledge and play.
X Club
Younger cruisers can cut loose and kick back the way they want in our hip VIP area geared specifically for teens. From teen-oriented explorations to the dance club and coffee lounge designed with them in mind, X Club is sure to be a hit with all of our teenage guests. Located on Lawn Club Deck forward.
Find true poolside serenity at the Celebrity Solstice Solarium. Featuring a gorgeous lap pool, sparkling waterfalls, thickly padded lounge chairs, and an adults-only policy.
Patio on the Lounge
Luxury adopts a casual, country club charm at the Patio on the Lawn. Overlooking the beautiful The Lawn Club, it's an ideal place to read the morning paper, your current novel, or enjoy a cup of gourmet coffee with friends.
Resort Deck
Energetic, lively and casual; a large poolside spot for light and refreshing cocktails, frozen specialties and non-alcoholic offerings, from sunup to sundown. The musical program transitions from the latest hits to cool Ibiza Beach and hot Latin House rhythms. Deck includes AquaSpa, Persian Garden Turkish Saunas, Fitness area.
Wet Zone
Located on Resort Deck midship.
The Lawn Club
The Lawn Club is the central element of the top-deck experiences on Celebrity Equinox. The Patio on the Lawn offers elegant yet relaxed sitting areas where luxury meets casual country club charm. Guests can read the morning paper, lose themselves in a good novel, or enjoy a cup of gourmet coffee with friends, courtesy of the patio's coffee cart service.
Lawn Club Deck
The half-acre Lawn Club on Celebrity Equinox invites guests to enjoy bocce ball and croquet, practice their putting, picnic with a basket of wine and cheese, or simply feel the grass between their toes, while sailing the oceans of the world. The area also features the Hot Glass Show, another first in the industry, developed in collaboration with The Corning Museum of Glass.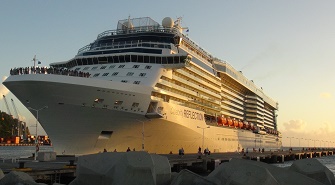 Sister ship, Celebrity Reflection
The Equinox, along with her sister, the Solstice, offer exciting new features such as the half-acre Lawn Club with real grass, a glassblowing show and studio developed with The Corning Museum of Glass, unrivaled dining venues offering trendsetting cuisine and design, and widely varied entertainment, including spectacular new shows in partnership with Poet Theatricals.
Class: Solstice
Launched: 2009
Refurbished: May 2014
GRT: 122,000
Length: 1,033 ft.
Draft: 27 ft.
Speed: 24 Knots
Passengers: 2,850
Standard Staterooms
Every stateroom offers a thermostat controlled A/C, telephone with voice mail, shower, hair-dryer, interactive flat-screen television, mini-bar and safe. Guests receive twice daily room service, a robe, and water & wine glasses.
Stateroom sizes
| | | |
| --- | --- | --- |
| Inside | 183-200 | Sq. ft. |
| Ocean View | 177 | Sq. ft. |
| Verandah | 248 | Sq. ft. w/veranda |
| Suite | 379-1680 | Sq. ft. w/veranda |
Aqua-class Staterooms
Spa-inspired staterooms featuring indulgent amenities like a Hansgrohe® shower tower and custom blended bath products to help you feel restored and renewed. Guests receive complimentary access to the relaxing Persian Garden and priority access to Blu restaurant serving breakfast and dinner. Other special aqua-class perks include daily delivery of bottled water and tea, priority check-in and disembarkation, additional shower amenities , on-demand wellness programming, and an upgraded room service menu.
Suites
Suite accommodations include butler service, personal computer, printer and internet service, personalized stationary, terry cloth robes in your stateroom during the cruise, priority check-in and debarkation, express luggage delivery, dining room seating preference and in-suite dining. Experience full service in-suite dining for all meals, complimentary daily in-suite espresso and cappuccino, afternoon canapés and tea. Suite guests indulge in extra amenities like oversized cotton towels, additional custom bath products, a massaging showerhead, and slippers.
You can see the menus at the Celebrity Dining section of the Celebrity Cruises website – click on specialty dining and scroll down, you will see a list of restaurants on the Celebrity Equinox.
$=Specialty dining, surcharge applies.
Silhouette Dining Room
Experience award-winning cuisine, superlative service, and stunning ocean views in a most refined dining atmosphere. Open for breakfast, lunch and dinner.
Oceanview Café
Grand buffet offering favorites like homemade waffles at breakfast, pizza, salads, sandwiches, meat dishes and more. Located on Lido Deck Midship.
Mast Grill
Comfort food is the focus of this ultra-casual, poolside venue, where the simple, fast and tasty options include burgers grilled to order, tacos, nachos, hot dogs, bratwurst, chicken wings, lamb gyros, Reuben sandwiches, and onion rings. Located on Lido Deck Midship.
Blu Café
Offering healthy and flavorful dishes next to the Aqua Spa. Clean, crisp flavors and inventive cuisine. Tender steak is served with a flavorful truffle vinaigrette instead of a heavy béarnaise. Exclusively for Aqua-Class Guests.
Gastrobar
Gastrobar offers food and beer enthusiasts over 40 handcrafted boutique beers to choose from in addition to Celebrity's varied collection of wines and tasty cocktails with a twist, all perfectly paired with a menu of elevated bar-fare creations.
Murano Restaurant ($)
A twist on the restaurant of the same name on Celebrity Century, and reflective of the specialty restaurants on the cruise line's Millennium-class fleet, Murano presents a blend of classic and modern Continental cuisine. $45 per person.
Café al Bacio ($)
If only your local coffee shop had ocean views like these. Savor a cup of freshly brewed coffee or a delightful liqueur in this lively European style coffee house. A la carte.
Gelateria ($)
Treat yourself to the gelateria, where sumptuous and gorgeous Italian ices and gelatos are prepared afternoon and evening. A la carte.
Tuscan Grille ($)
This lively, contemporary steakhouse serves a succulent selection of pastas, seafood, steaks and salads. The atmosphere is graced with a hint Italy, making it both rustic and sophisticated. $35 per person.
Bistro on Five ($)
The Bistro on Five features a variety of sandwiches, salads, crepes and desserts for both lunch and dinner. $5 per person.
Silk Harvest ($)
Enjoy the cuisines of Vietnam, Thailand, Japan, China and India, served family-style, with built-in lazy-susans and small plates perfect for sharing. Located on Entertainment Deck Aft. $30 per person.
24-hour Room Service
Enjoy breakfast on your veranda or a romantic dinner for two from the resplendent privacy of your stateroom. Complimentary.
Equinox Theater
Main show room offering Broadway and Circus shows, Song and Dance spectaculars.
Michael's Club
Soak up the sounds of a grand piano as you share an intimate nightcap in this locale. The rich tones and deep, welcoming chairs of Michael's Club make it the ideal place to savor a single-malt scotch or late-evening cordial.
Rendez-Vous Lounge
Cabaret style club featuring comedians, singers, magicians, jugglers and more. Includes a dance stage.
Sky Observation Lounge
The floor to ceiling windows will captivate and the expansive space will please you as you relax in the comfy seating all around. The lounge is versatile and can be transformed to suit any occasion.
Patio on the Lounge
Luxury adopts a casual, country club charm at the Patio on the Lawn. Overlooking the beautiful The Lawn Club, it's an ideal place to read the morning paper, your current novel, or enjoy a cup of gourmet coffee with friends.
Sunset Bar
This popular spot on the Solstice Class ships anchors one end of the Lawn Club, the first half-acre of real grass on a cruise ship, on the highest deck. Spectacular views and a casual country club atmosphere make this a relaxing ritual every evening.
Quasar
Dance the night away in a vibrant nightclub designed for those ready to kick back and get down. Quasar is a modern nightclub like no other you will experience on the open seas.
Fortunes Casino
Play craps, poker, blackjack, slots and more.
Martini Bar
The sophisticated Martini Bar offers 20 variations of this famous libation. Located at the Platinum Club on Entertainment Deck 5.
Slush
A frozen drinks venue with a curated menu of flavor-rich and fresh frozen cocktails. Slush has alcoholic and non-alcoholic cocktails with perfectly balanced ingredients ranging from fresh pressed lemon juice, raspberries, cucumbers and mint to Persian lime, Florida Valencia and Hamlin orange juice with organic agave nectar.
Crush
Tucked in a corner of the Martini Bar, Crush takes the frozen bar concept, and the appreciation of fine vodka and caviar, a bit further. The communal table features and ice well right down the center to keep your vodka and caviar selections icy cold during tastings. Try some of the more than 100 intriguing vodkas in our collection.
Ensemble Lounge
Start your evening off right with a soothing backdrop of instrumental or vocal sounds and the palpable air of anticipation as you gather with newfound friends. The lounge is also a great place to drop in for a nightcap and plan your next fabulous evening aboard Celebrity Solstice.
Passport Bar
Escape to the comforting environment of the decidedly casual Passport Bar. Inspired by the relaxed living space of large, oceangoing yachts, the Passport bar is an ideal place to take a break, plan your next excursion, or share stories with others.
Shopping
Onboard shopping features several fine retailers, including a Michael Kors boutique. Purchase products from Chanel, Clinique, Dior, Desigual, and UNOde50.