Disney Wonder Cruise Ship Profile
Ship Features, Itinerary, News, Photos, Review, Accommodations, Notable Rooms, Dining Venues, Kid's Areas, Deck Plan, Outdoor Spaces, Smoking Sections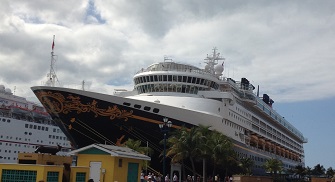 The Disney Wonder is the second cruise ship operated by Disney Cruise Line and was launched in 1999. The Disney Wonder's Godmother is Tinkerbell. The Disney Wonder boasts 11 expansive decks, a total length of 964 feet, and a maximum width of 106 feet. The vessel received many of the upgrades as featured on her sister ship, Disney Magic, during a scheduled drydock in October 2006.
The interior of the Disney Wonder reflects all the majesty and enigmatic beauty of the seas, with its swirling wave patterns, marble accents and touches of Venetian glass adding brilliance to the Art Nouveau décor. A bronze statue of Ariel from the classic animated Disney film The Little Mermaid greets Guests in the lobby—an installment designed by Disney Imagineers to evoke a feeling of adventure. The same sophistication and fun that mark this distinctive part of the ship is found throughout the vessel.
Launched: 1999
Refurbished: 2006
GRT: 83,000
Length: 964 ft.
Draft: 25.3 ft.
Speed: 22 Knots
Passengers: 2,700
Disney Cruise Line accommodations were specifically designed with families in mind. Every room features art deco touches harking back to the cruising era of the 1920s and 1930s. Rooms feature teak accents, crown moldings, and original artwork.
Standard Stateroom Amenities
Queen-size bed or 2 twin beds, a single convertible sofa, and upper-berth pull-down bed. Remote-control flat screen TV, ample closet space, cooling box, in-room safe, phone with voice-mail messaging, individual climate control, iPod docking station, couch, desk, chair, privacy curtain, porthole mirror, and privacy curtain to partition the room. A full bath with vanity, hair dryer, tub, and shower.
Stateroom sizes
| | | |
| --- | --- | --- |
| Inside | 184 - 214 | Sq. ft. |
| Ocean view | 241 | Sq. Ft. |
| Verandah | 246 - 304 | Sq. ft. w/veranda |
| Suite | 614 - 1029 | Sq. ft. w/veranda |
Inside
The Deluxe Interior has a spilt bath to allow multiple people to use the facilities.
Ocean View
The Deluxe Oceanview Stateroom features a designated area to watch TV and movies on a comfortable couch that converts to a bed. Ocean view staterooms have one large porthole or two smaller portholes with views of the sea.
Verandah
Navigator verandahs are fully enclosed with a large, rectangular porthole for views of the sea. The Deluxe Verandah has a spilt bath complete with sinks and the verandah includes deck lights, patio furniture, plexiglass-covered railings, and child-proof locks.
Concierge Suites
In addition to verandah amenities , concierge guests receive pre-arrival services like booking onboard amenities and shore excursions. Guests have access to the onboard concierge lounge where complimentary food and beverages are served all day. The concierge sundeck is a private area to soak up the sun's rays and relax in a secluded area. Guests receive other upgraded amenities like afternoon canapes, fruit, and cookies, a media library, and personal robe and slippers.
Disney's main dining rooms used rotational dining, providing guests with the opportunity to eat in each of the unique dining rooms. The servers follow the guests to each venue. The three themed rotating dining rooms primarily serve dinner between 5:30 p.m. and 6:00 p.m. (Main Seating) and 8:00 p.m. and 8:30 p.m. (Second Seating).
$= Specialty restaurant, surcharge applies
Animator's Palate
A 462-seat, main dining restaurant located on Deck 3, Aft that serves contemporary Pacific Rim cuisine made up of Pacific Island foods, Asian cooking techniques, fresh California fare and a host of other cultural and culinary influences.
Triton's
Located on Deck 3, Midship. Serving contemporary American cuisine for breakfast and lunch in a casual setting, and French-inspired continental cuisine amid a more refined atmosphere for dinner. The restaurant is elegantly themed after the hit Disney movie, Little Mermaid.
Parrot Cay
Located on Deck 3, Aft. Inspired by the relaxed feel of the tropics, Parrot Cay boasts classic American fare for breakfast and lunch, and Caribbean island grill house specialties for dinner.
Beach Blanket Buffet
Indoor/outdoor buffet located on Deck 9, Aft that serves classic American and international cuisine. During breakfast and lunch, Beach Blanket Buffet offers the finest in buffet dining; at dinnertime, the restaurant is transformed into a casual yet elegant sit-down restaurant serving Main Dining specialties.
Goofy's Galley and Pluto's Dog House
Two quick service restaurants for those looking for a quick bite near the Mickey's Pool area. A variety of snacks, sandwiches and beverages are served during lunchtime and late-night hours.
Daisy's Delights
Daisy's De-Lites on the Disney Magic is an outdoor Quick Service dining location on Deck 9, Aft next to the AquaLab pool area, serving breakfast, lunch and early evening snacks. It is open from approximately 11am-7pm every day.
Pinocchio's
Lunch at Pinocchio's Pizzeria is served from approximately 10:45 a.m. to 6:00 p.m. daily, except during visits to Castaway Cay when lunch is served from noon to 3:00 p.m.
Palo ($)
The 130-seat, Adult Exclusive restaurant located on Deck 10, Aft that boasts Northern Italian cuisine for dinner nightly, in addition to brunch on 4-night and longer cruises, and high tea on 7-night and longer cruises. Reservations are required and can be made online or upon boarding the ship. $25 per person surcharge applies for brunch and dinner.
Preludes Lounge
A good meeting lounge outside the Walt Disney Theater serving beverages and snacks. Only open during live show performances.
Room Service
Disney Cruise Line Room Service available 24 hours a day, for breakfast, lunch and dinner. Snacks are also available throughout the day and night. On the final night of your cruise, Room Service is available until 1:30 a.m.
The Walt Disney Theater
Entertainment on the Disney Magic includes an almost endless array of fantastic offerings that everyone in your family is sure to love. Behold Broadway-caliber, song-and-dance spectaculars starring some of your favorite Disney Characters daily in the Walt Disney Theatre.
Diversions
Located on Deck 3, Forward in the Route 66 section. Country club/sports bar/karaoke bar. Families can take part in fun-filled activities or watch a televised sporting event during the day; and adults can sing karaoke or enjoy a cocktail at night.
Buena Vista Theater
Located on Deck 5 is this 268 seat 3-D movie cinema featuring Disney movies.
Wavebands
WaveBands, a club located on Deck 3, Forward in the Route 66 section on the Disney Wonder, is a futuristic-looking venue that resembles the interior of a giant radio. During the day, Guests of all ages can participate in a number of fun-filled games and activities; while at night, adults are invited to mingle over mixed drinks, dance or sing karaoke.
Cadillac Lounge
Cadillac Lounge, a piano bar located on Deck 3, Forward in the Route 66 section on the Disney Wonder, is an intimate spot with a classic Cadillac theme, where adults can listen to live music, enjoy a cocktail and unwind.
Quarter Masters
Arcade located on Deck 9, Midship next to Quiet Cove Pool.
Cove Café
Coffee bar, library, reading room and Internet Café.
Studio Sea
Family entertainment center where the whole family can sing, dance, play, and watch live entertainment all together!
Goofy's Family Pool
Goofy's Pool, one of 3 freshwater pools on the Disney Magic, is a pool designed for families located on Deck 9, Midship, open from approximately 8:00 a.m. to 10:00 p.m. Maximum depth of 4 feet. 2 whirlpool spas, perfect for parents looking to unwind and relax while keeping their children in full view. The Goofy's Pool area includes a state-of-the-art, jumbo 24-by-14-foot LED screen—Funnel Vision—atop the Forward funnel on Deck 9.
Mickey's Pool
Mickey's Pool, one of 3 freshwater pools on the Disney Magic, is a Mickey Mouse-shaped children's pool located at Deck 9 Aft. Designed for kids ages 3 months - 3 years. Open from approximately 8:00 a.m. to 10:00 p.m. Mickey's Pool is heated if the temperature falls below 75 degrees Fahrenheit. Maximum water depth is two feet. Mickey's Pool area includes comfortable deck chairs, available on a first-come, first-served basis. Games and activities are hosted by Cast Members in the Mickey's Pool area at various times daily.
Mickey's Splash Zone
Toddler water playground inspired by Fantasia's Sorcerer's Apprentice. This 385-square-foot extension to the Mickey Pool on deck 9 features star- and moon-shaped interactive fountains, a soft play surface and whimsical splash zones; creating an inviting environment for children not yet toilet trained and in swim diapers.
Mickey's Pool Slide
For children who want to experience a little excitement when cooling down, Mickey's Pool boasts a twisting, one-deck-high yellow slide suspended by a gigantic Mickey Mouse hand. To use the slide, children must be between the ages of 4 and 14, with a minimum height of 38 inches and a maximum height of 64 inches.
The United States Public Health Service requires that only children who are toilet trained be permitted to enter swimming pools onboard cruise ships. Children under 3 years of age who are not toilet trained can make waves at the Splash Zone next to Mickey's Pool. This special play area has been designed exclusively for the enjoyment of children wearing swim diapers.
Coast Guard personal flotation devices (PFDs), water wings and flotation sewn into bathing suits can be brought onboard and are permitted in Goofy's Pool and Mickey's Pool. However, floats, rafts and fun noodles cannot be brought onboard and are not permitted in the pools.