Cruise News Headlines
Disney Cruise Lines News
Disney Cruise Line to Sail First British Isles Itinerary in 2016
posted March 26, 2015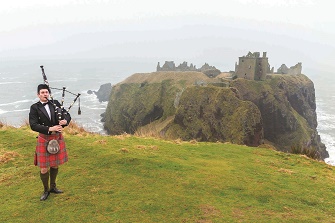 In summer 2016, Disney Cruise Line will debut a new 12-night itinerary to the British Isles, including new ports-of-call in England, Ireland, France and Scotland—where centuries-old castles set the scene for adventures ashore. (Disney Cruise Line)
Disney Cruise Line Named Top Mega-Ship Cruise Line in Travel + Leisure World's Best Awards 2014
posted July 7, 2014
Disney Cruise Line was named Top Mega-Ship Cruise Line and Top Mega-Ship Cruise Line for Families by Travel + Leisure readers in the magazine's World's Best Awards 2014. This is the first time Disney Cruise Line has received the Top Mega-Ship Cruise Line award and the sixth consecutive year it has been recognized as a top cruise line for families.
"We are honored once again to be recognized as the 'World's Best' for families by the readers of Travel + Leisure," said Karl Holz, president of Disney Cruise Line. "This year is extra special because of the additional honor of Top Mega-Ship Cruise Line. These awards really speak to what Disney Cruise Line is all about – creating magical memories for guests of all ages onboard our ships and taking them to fantastic destinations around the world."
Disney Cruise Line Returning to Hawaii, West Coast and Galveston in 2015
posted May 19, 2014
In the fall of 2015, Disney Cruise Line is returning to popular destinations and home ports for limited-time engagements. Two Hawaii cruises, a return to the West Coast with departures from San Diego and a Galveston, Texas homecoming make up a season of special sailings.
Disney Cruise Line will explore the Hawaiian Islands with two special 10-night cruises in September. The Disney Wonder will sail through the breathtaking beauty of the Hawaiian Islands, where guests can experience the famous beaches of Waikiki on Oahu, see the views from high atop the summit of Haleakala Crater on Maui, take in the lush tropical gardens and waterfalls of Kauai and, on Hawaii Island -- the Big Island, explore the natural wonders of the world¹s most active volcano.
- Source: Disney Cruise Line
---
Disney Changes Onboard Booking Policy
posted December 1, 2013
Effective November 12, 2013, Disney Cruise Lines has added an 18-month "use it or lose it" policy to any special onboard discounts on future bookings. The future booking will still exist past the 18-month mark, but any special reduced fare discounts will expire as will any shipboard credits.
Guests with current future bookings will have until November 30, 2015 to use their reserved rooms with all discounts and special shipboard credits before losing the perk.
-Source: DisneyCruiseLineBlog.com