Seabourn Quest Cruise Ship Profile
Ship Features, Itinerary, News, Photos, Review, Accommodations, Notable Rooms, Dining Venues, Kid's Areas, Deck Plan, Outdoor Spaces, Smoking Sections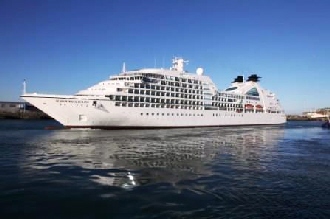 Seabourn Quest is the third iteration of the vessel design that has been called "a game-changer for the luxury segment." Built at the T. Mariotti shipyard in Genoa, she was named in Barcelona on June 20, 2011. Seabourn Quest offers a variety of dining options to suit every taste and every mood, with never an extra charge.
Like her sisters, Seabourn Quest enchants her guests with an array of public areas scaled to encourage a relaxed sociability. One of the most unusual features of Seabourn Quest and her sisters is Seabourn Square, an ingenious "living room" that replaces the traditional cruise ship lobby with a welcoming lounge filled with easy chairs, sofas and cocktail tables. An enclave in its center houses knowledgeable concierges discreetly seated at individual desks, ready to handle all sorts of business or give advice and information. The ship's shops are conveniently located just off the Square and it has its own open terrace aft.
A variety of open terraces are scattered over seven decks, offering places to gather with a few friends or spend an isolated hour with a book. Seabourn Quest offers six whirlpools and two swimming pools, including the Pool Patio, with a pair of large whirlpool spas and a "beach" style pool, a casual Patio Grill and the Patio Bar. On the sun deck above sits Seabourn's popular open-air Sky Bar. High atop Deck 11 is a Sun Terrace with 36 tiered double sun beds. Just aft of that is The Retreat, with shuffleboard courts and a nine-hole putting green. The panoramic Observation Bar on Deck 10 offers forward views over the sea. The Club is a lively spot for dancing before and after dinner, while the larger Grand Salon is used for dancing as well as lectures, production vocal shows, cabaret performances and classical recitals.
Specifications
Ship Class:
Launched: 2010
Refurbished:
GRT: 32,000
Length: 650 ft.
Draft: 21 ft.
Speed: 19 Knots
Passengers: 450
Accommodations
Stateroom Amenities
All accommodations are ocean-view suites of 277 square feet or more, many with balconies. Suites have a stocked bar, flat-screen TV and DVD player and Bose Wave stereo CD player. Guests may enjoy dinner served, course-by-course, in the privacy of their suites.
Suite amenities include complimentary champagne upon arrival, 24-hour room service, personalized stationery, fruit basket replenished daily, fluffy terry-cloth robes, Eqyptian Cotton linens, a fluffy duvet, fine soaps by Hermés, Bijan and L'Occitane, Pure PamperingSM Aromatherapy by Molton Brown, nightly turndown service, daily newspaper, World Atlas, clock/barometer/thermometer and umbrella.
Here, you can recharge in preparation for your next onshore adventure. Your personal stewardess will be happy to see that your every need is taken care of promptly, from chilled champagne on ice and fresh fruit and flowers in your room to canapés and fresh baked pastries to welcome you home from a day ashore.
Wintergarden Suites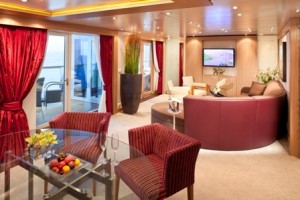 The Grand Wintergarden Suite, the largest of any Seabourn suite, offers 1,182 square feet of indoor space plus two verandas.
The two bedroom, two bathroom suite features a glass-enclosed solarium with tub and daybed, as well as a whirlpool, dining for six, two bars and three flat-screen televisions.
Signature Suites
Located all the way forward on Deck 7, these two beauties have inside space of 907 square feet (84 square meters) and a breathtaking wrap-around veranda of 353 square feet (33 square meters) overlooking the bow. The separate bedroom and pantry/bar are plusses, as are the guest bath, the whirlpool tub in the master bath, a dining table for up to six and the two flat-screen TVs. But the real kicker is the forward view from the curve of windows. Connecting an adjoining V4 suite at the back turns these into a Grand Signature Suite of 1,207 sq. ft.
Five Owner's Suites
760 to 1,062 square feet including veranda (71 - 99 square meters). No photo available.
Owner's Suites feature full length window and glass door to private veranda, dining for four, separate bedroom, guest bath, two flat-screen TVs, pantry with wet bar, convertible sofa for one and whirlpool bath. Complimentary internet/Wi-Fi service.
Penthouse Suite
There are 22 of these on Quest, located on Decks 6, 9 and 10. They are half as large as the Veranda Suites, 436 square feet (40.6 square meters) inside space, and a veranda of 98 square feet (9.1 square meters) In addition to the complete Seabourn suite setup, these also have a dining table that can seat four, a separate bedroom and they have two flat-screen interactive TVs.
Veranda Suite
The most plentiful type of suite on Seabourn Quest is the Veranda Suite, categories V1 through V6. These are located on Decks 5 to 9, and have an inside space measuring 300 square feet (27.7 sq m) plus a private veranda of 65 square feet (6.1 sq m). Among the thoughtful touches that they share with all Seabourn Quest suites are Molton Brown Therapies Range bathroom amenities, plush robes and slippers, a hair dryer, a personal safe, a world atlas, book of short stories and an umbrella.
Seabourn Suite
The minimum category accommodation on board is still a spacious ocean-view suite with 295 square feet (27.5 sq m) of space and a five-foot picture window. There are just eight in category A, all the way forward on Deck 4. Because of the shape of Quest's hull, the first few are slightly smaller, (271 to 283 square feet). There are 18 Category A1 suites, all with the picture window, but further amidships on Deck 4. Like all Quest's suites, they feature walk-in closets, comfortable seating area, dining table for two, one queen-size or twin beds, a fully-stocked bar and refrigerator, writing desk with personalized stationery, a makeup vanity, interactive flat-screen TV with music and movies on demand and a granite bathroom with separate tub and shower.
Dining Venues
Passengers on Quest will savor five-star, all-inclusive dining in four restaurants from the fine-dining Restaurant with menus crafted by Charlie Palmer to the casual, open-air Patio Grill or choose course-by-course dining from the comfort of their suite.
The Restaurant
The ship's main dining venue is an elegant room capable of seating all guests. Breakfasts, luncheons and dinners are served in an open-seating style, inviting guests to dine where, when and with whom they wish at every meal. During extended dinner hours, guests can order from The Restaurant menu and have their meal served by a waiter in their suite. (Deck 3 Midships)
Patio Grill
The Patio Grill is a casual alternative offering poolside dining for luncheons and dinners, as well as freshly baked pizzas from its on-site oven all afternoon.
The Colonade
Indoor/outdoor restaurant serving breakfast, lunch and dinner in an open kitchen. Each evening has a different theme, offering guest an ever changing culinary experience.
Restaurant 2
An intimate alternative dining venue serving innovative small-pates tasting menus for dinners nightly. Reservations are required due to limited capacity, but there is no extra charge. (Deck 8 Midships)
In-Suite Service
If you're in the mood for a late night pizza or just some fresh crudités in your suite, the Quest offers an extensive room service menu around the clock. During dinner hours, you can choose to have dinner served course by course in your suite, complete with fine linens and personal service.