Sapphire Princess Cruise Ship Profile
Ship Features, Itinerary, News, Photos, Review, Accommodations, Notable Rooms, Dining Venues, Kid's Areas, Deck Plan, Outdoor Spaces, Smoking Sections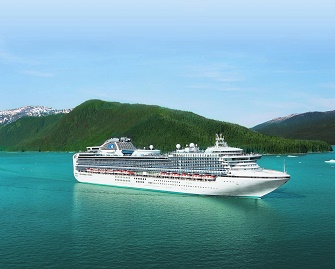 The Sapphire Princess is one of only two Princess ships built in Japan. She is a Gem Class ship - a larger sub-class of the Grand Class ships. Diamond Princess is the sister ship to the Sapphire Princess.
The 116,000-ton Sapphire Princess carries 2,670 guests and, at 952 feet long, has 18 decks and 28 premium suites, with over half of the ship's staterooms featuring private balconies. The ship also includes five pools, a casino, duty-free shops, fitness center and spa, sports deck, children's and teen's centers, library, internet café, art gallery and a golf putting course, among other features.
The Sapphire Princess underwent a drydock period in January 2012.
Ship Class: Gem
Launched: 2004
Refurbished: Jan 2012
GRT: 116,000
Length: 951 ft.
Draft: 26 ft.
Speed: 22 Knots
Passengers: 2,670
Sapphire Princess Bridge Cam and Wedding Cam
Standard Stateroom Amenities
Fresh fruit (by request), evening bed turn-down, chocolates on your pillow, complimentary shampoo, conditioner and body lotion, Waffle weave cloth bathrobes (available upon request from your stateroom steward), bottles of liquor and stateroom bar packages available for purchase at non-duty-free prices through room service or from designated bar locations, private safe and refrigerator, 110-volt, 60-cycle alternating current (AC) with standard U.S. plug fittings, and electric hair dryer.
Stateroom sizes
| | | |
| --- | --- | --- |
| Inside | 168-182 | Sq. ft. |
| Ocean View | 183-200 | Sq. ft. |
| Balcony | 237-277 | Sq. ft. w/veranda |
| Mini-Suite | 354 | Sq. ft. w/veranda |
| Suite | 319-1329 | Sq. ft. w/veranda |
Interior
Interior staterooms come standard with twin beds that convert to a queen, private bathroom with shower, hair dryer, safe, desk, and refrigerator. Some staterooms include pullman beds for extra passengers.
Ocean View
These staterooms come standard with twin beds that convert to a queen, private bathroom with shower, hair dryer, safe, desk, and refrigerator. Some staterooms include pullman beds for extra passengers. Most staterooms will have a picture window, although a few may be port holes.
Balcony
Balcony staterooms come standard with twin beds that convert to a queen, private bathroom with shower, hair dryer, safe, desk, refrigerator, and balcony with patio furniture. Some staterooms include pullman beds for extra passengers. Premium balconies are larger and some are rear-facing staterooms.
Mini-suites
In addition to standard amenities, mini-suite passengers receive a welcome glass of champagne, two televisions, a sitting area with a sofabed, two flat-panel televisions, and a spacious closet. Some mini-suites have a pullman for a fourth passenger. The mini-suite has a private bath and shower.
Suite Amenities:
In addition to standard amenities, suite passengers receive a DVD/CD player and free access to a DVD library, complimentary web access in the Internet Café, laundry and dry cleaning, use of the Lotus Spa Thermal Suite (select ships), one-time free mini-bar setup, walk-in closet with a safe, soundstation with dock for iPod, two flat-panel televisions, upgraded bathroom amenities , and use of the Disembarkation Lounge. In suites with a balcony, the patio furniture accommodates up to four people. Grand Suites include a personal computer. Suites comes with fresh flowers, separate sitting area and coffee table, mini-bar set-up, a pillow menu, bath salts and soothing eye mask, and a private portrait sitting with the photographer. Receive a complimentary corsage on the first formal night, priority reservations, and enhanced turn down service.
($) = Specialty restaurant, surcharges apply
Main Dining Rooms
The International Dining Room offers traditional fixed seating and the Pacific, Santa Fe, Savoy and Vivaldi dining rooms offer anytime dining.
Horizon Court
At the forefront of 24-hour dining, the Horizon Court offers a round-the-clock venue for buffet meals or snacks.
Trident Grill
Poolside joint for burgers, hot dogs and more.
Alfredo's Pizzeria
Introduced in 2011 aboard Grand Princess, Alfredo's will expand to its second location on Sapphire Princess. The sit-down pizzeria serves up an enticing menu of freshly prepared, hand-stretched, individual-size pizzas.
Sterling Steakhouse ($)
Premium cook-to-order aged beef and other steakhouse favorites. *$25.00 surcharge per person.
Sabatini's ($)
With a menu specializing in Italian cuisine and premium seafood, Sabatini's offers a refined yet casual atmosphere that includes extensive personal attention from the ship's top European waiters and perhaps even a song from the pizza chef as he creates Princess' famous pies. * $20 cover charge.
Ultimate Balcony Dining ($)
Ultimate Balcony Dining features a hosted cocktail party, fresh flowers, champagne and a deluxe four-course meal featuring delicate sweet lobster tail or juicy steak among many available delicacies.
Or, opt for a breakfast which includes specialty pastries, fresh fruits, quiche, smoked salmon and other special treats served with a half bottle of French champagne.
Room Service
Princess provides 24-hour room service, enabling passengers to enjoy breakfast, lunch, dinner and snacks in the privacy of their own staterooms or enjoying the view from their balconies. In addition to the always-available room service menu, passengers can also enjoy items from the day's main menu in their staterooms, as well as special room service-only offerings.
* Prices subject to change - updated Dec 2013
Princess Theater
Main show lounge featuring Broadway and Vegas-style productions.
Piazza Atrium
The ship's atrium space was redesigned in 2012 to include this signature Princess feature – a European-inspired social hub of the ship combining always-changing quick bites and light meals, beverages, entertainment, shopping and guest services. The Piazza features the International Café for pastries, fresh panini sandwiches, salads, fresh-baked cookies and a variety of coffee drinks. Passengers will also enjoy a new Vines wine bar offering a selection of more than 30 wines by the glass, plus a selection of tapas and sushi, and a wine shop where passengers can purchase their favorite bottle.
Explorer's Lounge
Featuring nightclub-style performances.
Skywalkers
Top deck observation area by day and dance club at night.
Gatsby's Casino
A full service casino with slots, cards, roulette and more.
Club Fusion
An exciting, modern dance Club.
Speakeasy
Cigar Bar and one of the designated smoking areas on the ship.
Crooner's Lounge
Martini bar.
Wheelhouse Bar
Nautical themed lounge. On sea days, Ruby Princess' Wheelhouse Bar is transformed into an authentic English-style pub, serving a selection of traditional fare. A menu of British favorites, including bangers & mash, fish & chips, ploughman's lunch and cottage pie, will complement a selection of traditional pub brews such as Stella Artois, Bass Ale or Guinness. Pub lunch meal service is free of charge and will run from 11:30 a.m. to 2:30 p.m.
The Ultimate Ship Tour
A new exclusive opportunity to experience an array of "back of house" areas that are key to a ship's daily operations, the Ultimate Ship Tour will give passengers the unique opportunity to explore beyond the public areas with visits to the ship's engine control room, medical center, print shop, laundry, photo lab, funnel, bridge and other spaces. In addition to getting a rare insider's view of many areas typically seen only by the ship's crew, participants will receive a variety of themed mementos at many of the stops along the route.
Enrichment Program
A number of new ScholarShip@Sea enrichment programs debuted aboard Ruby Princess including: Navigation@Sea focuses on the history of navigation; Mixology@Sea offers a hands-on course taught by the ship's bar manager; Astronomy@Sea program explores the night sky through a telescope on the top deck; Art History@Sea: Botticelli to Warhol, The Evolution of Art makes 500 years of art come to life with a special hour-long presentation.
Movies Under the Stars
The giant poolside movie screen showcases feature films, concerts, awards shows and sports events, and passengers can enjoy their viewing on padded loungers under warm, fleece blankets. Complimentary popcorn and other treats enhance the al fresco entertainment experience.
Main Pool Area
Calypso Pool and Hot Tubs and Neptune's Pool and Hot Tubs on Lido deck (midship).
Terrace Pool
Intimate pool area and sun deck space located on Riviera Deck (aft).
Lotus Pool and Lotus Spa
Spa, Lotus Spa Pool and Hot Tubs, Swim-against-the-current pool.
Please note: To participate in the Youth Program, children must be at least 3 years old and potty trained. However, children under 3 are welcome to join in the fun if supervised by a parent at all times.
Wizards Academy
This enriching new program lets children explore the connection between science and magic in a fun and participative environment. Kids will also enjoy activities and projects from popular arts and crafts company Klutz, or participate in Yoga for Kids, a healthy and fun course designed specifically for children.
Princess Pelicans
Ages 3-12
Kids-only dance parties, movies and cartoons, ice cream and pizza parties, t-shirt coloring, pajama parties, fun fairs, and art projects.
Shockwaves
Ages 8-12
Kids-only dinners, dance parties, movies, video games, scavenger hunts, karaoke and talent shows, sports tournaments, California Science Center workshops, Jr. CHEF @Sea, Klutz®projects, and theme nights.
Teen Lounge
Ages 13-17
Teens-only dance parties, late-night movies, sports tournaments, casino night, talent shows, formal dinners, DJ workshops, PlayStation® and Wii® equipment, foosball tables and more.
No signing in or out of the club required.