Norwegian Spirit Cruise Ship Profile
Ship Features, Itinerary, News, Photos, Review, Accomodations, Notable Rooms, Dining Venues, Kid's Areas, Deck Plan, Outdoor Spaces, Smoking Sections
Norwegian Cruise Lines Announces New Dining Plan
posted January 14, 2014
Norwegian Cruise Line today introduced an all-new way for guests to have access to one of Norwegian's specialty restaurants every night of their cruise. Called "Norwegian's Ultimate Dining Package," this new program provides the opportunity for guests to experience each of the line's most popular specialty restaurants. Read more...
Norwegian Spirit sails the Mediterranean leaving from Barcelona, Spain and Venice, Italy. Visit NCL.com for the complete schedule.
The Norwegian Spirit sails alternating seven-day Western Caribbean and Eastern Caribbean itineraries. Western Caribbean ports of call will include Cozumel, Mexico; George Town, Grand Cayman; Ocho Rios, Jamaica; and Great Stirrup Cay , Bahamas. The Eastern Caribbean itinerary stops in Nassau, Bahamas; St. Thomas, U.S. Virgin Islands; and Tortola, British Virgin Islands.
Norwegian Spirit will offer a series of 7-10 day Eastern and Western Mediterranean sailings from November 2016 to May 2017 departing from Barcelona, Venice, and Istanbul. Ports of call vary by sailing depending on length but include Zadar, Croatia; Iraklion, Crete, Athens (Piraeus) and Rhodes, Greece; Ephesus (Kusadasi), Turkey; Naples, Florence/Pisa (Livorno), Palermo, Sicily and Rome (Civitavecchia), Italy; Monte Carlo, Monaco; Palma, Majorca, and Valencia Spain; Marseilles, France; and Valletta, Malta.

On December 27, 2016 and March 12, 2017 Norwegian Spirit will sail a 10-Day Canary Islands and Morocco itinerary. Her stops will include Tangier, Morocco; Las Palmas and Santa Cruz de Tenerife, Canary Islands; Funchal, Madeira; and Granada (Malaga) and Alicante, Spain.
Updated February 2016
Deck 13
Celebrity Teen Disco, Bier Garten Grill, walking track, basketball court, golf driving net
Deck 12
Galaxy of the Stars Lounge, Tivoli Pool, Aquaswim, Hot tubs, Roman Spa & Fitness Center, The Smoking Room, beauty salon, library, writing room, card room, La Trattoria, Raffles Court & Terrace
Deck 11
Passenger staterooms
Deck 10
Buccaneer's Wet & Wild, video arcade, child care center, passenger staterooms
Deck 9
Passenger staterooms
Deck 8
Champagne bar, Stardust Theater, duty free shops, galleria, photo gallery, Shogun Asian Restaurant, Sushi and Sashimi Bar, passenger staterooms
Deck 7
Maharini's Lounge & Nightclub, Grand Centrum, Shanghai Bar, Henry's Pub, The Café, Stardust Theater, Karaoke Rooms, Le Bistro, Cagney's Steakhouse, Blue Lagoon Café
Deck 6
Windows Restaurant, The Garden Room Restaurant, passenger staterooms
Deck 5
Passenger staterooms
Deck 4
Passenger staterooms
CDC Ratings
If link above doesn't open to the report page, close the window and click on link again to access.
Jan 2009 Rating 96
Oct 2009 Rating 99
Apr 2010 Rating 99
Oct 2010 Rating 100
May 2011 Rating 97
Oct 2011 Rating 92
Dec 2015 Rating 100
Kids Only Areas
Celebrity
Teen disco
Charlie's Child Care Center
There's a cinema, computer, an arts & crafts section and even quiet spaces with a nursery and a sleep/rest area too.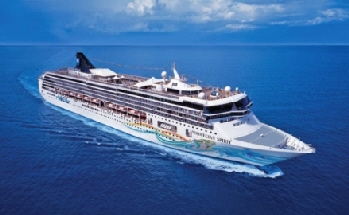 In 2004, Norwegian Cruise Line (a subsidiary company owned by Star Cruises) was planning to launch Pride of America. However, just prior to completion, the vessel partially sank when a storm hit the Lloyd Werft shipyards. To meet the already booked cruises for Pride of America, SuperStar Leo was transferred to the NCL fleet, and after only two weeks of refits, emerged as Norwegian Spirit.
Norwegian Spirit is the first ship of this design. She was followed by SuperStar Virgo, her twin sister ship which is with Star Cruises. No other ships of this particular design were constructed.
Ship Class: Spirit
Launched: 1998
Refurbished: 2005, 2008
2011 - Norwegian Spirit entered a 13-day dry dock on September 25, 2011 in Mobile, Alabama. New enhancements includef outfitting the entire ship for WiFi; laying new carpet; installing flat screen televisions; and upgrading the Stardust Theater and the ship's action station restaurant Raffles.
GRT: 75,500
Speed: 24 Knots
Passengers: 2,224

Bridge cam
Every bed, in every stateroom, on every ship has upgraded linens, pillows, mattresses and memory foam mattress toppers. NCL offers Improved room service menu with more options.
All cabins are furnished with cherry wood finishing, television, refrigerator, safe, duvet, bath with shower and hair dryer.
Two 4,390 square foot Garden Villas - Three separate bedrooms, private garden with hot tub, and access to a private courtyard with pool.
Stateroom sizes
| | | |
| --- | --- | --- |
| Inside | 138-144 | Sq. ft. |
| Outside | 152-169 | Sq. ft. |
| Balcony | 207 | Sq. ft. w/veranda |
| Suite | 384-400 | Sq. ft. w/veranda |
| Garden Villa | 5850 | Sq. ft. w/veranda |
Interior
Staterooms have two lower beds that convert into a queen-size bed and additional bedding to accommodate up to two more guests. Access to room service is included.
Ocean View
Includes two lower beds that convert into a queen-size bed and additional bedding to accommodate up to two more guests. Rooms are equipped with a picture window or a porthole. Some may have an obstructed ocean view.
Balcony
These staterooms have two lower beds that convert into a queen-size bed and a pull out sofa to accommodate one more. Includes a sitting area, floor-to-ceiling glass doors and a private balcony with an amazing view. A connecting stateroom is able to fit larger families while some staterooms include a pullout sofa.
Suite
All suites and penthouses include a luxury bath with shower, a balcony, butler and concierge service. Family suites sleep up to six guests with a queen-size bed that converts to two lower beds, a sofa bed and additional bedding to sleep two more. There is a living and dining area. Penthouse suites sleep up to 3-4 guests with a separate bedroom, living, and dining area.
$= Specialty restaurant. Surcharge applies.
The Garden Room and Windows Restaurant
Main dining rooms featuring a five-course, gourmet meal.
Blue Lagoon Restaurant
24-hour food court located on Deck 7.
Bier Garten
At the Bier Garten on the terrace where you can enjoy bratwurst and sauerkraut to name a few German delights and of course beer. Located on Deck 13.
Shogun Asian Restaurant
Japanese, Chinese & Thai cuisine. Also featuring a Sushi and Sake bar offering items a la carte.
La Trattoria ($)
Enjoy pasta with a choice of seven savory sauces in a casual atmosphere. There are also crispy fresh salads, pizza, authentic Italian desserts, a fine wine list and espresso drinks to top off the meal. $15 per guest.
Cagney's Steakhouse ($)
Select from choice cuts of Black Angus perfectly prepared like traditional T-bone or tender Prime Rib. Or, order our made-from-scratch jumbo crab cakes and a side of truffle fries. $30.00 per adult, $15 per child.
Raffles Court & Terrace
Indoor-outdoor main buffet located on Deck 12.
Le Bistro Restaurant ($)
Serving modern French gourmet fare surrounded by the art of Monet and Renoir . $20.00 per adult guest, $10 for children.
Teppanyaki ($)
Sit around a lively shared table as a skillful chef slices, chops and grills steak, seafood and chicken on a large steel grill right before your eyes. $25 for adults, $12.50 for children
24/7 Pizzeria
Pizza Delivery Service 24 hours a day. Delivered directly to your table, your stateroom, or your favorite bar or lounge. Just ask your server or call room service to place your order. $5.00 per guest.
Ultimate Dining Package ($)
On three to six day voyages, guests can dine anywhere throughout their cruise at a set price of $59 per person; for seven-day voyages, the package is $119 per person; $149 per person on eight to 10 day cruises; $199 per person for cruises of 10 to 15 days; $259 per person during cruises of 16 days to 25 days; $299 per person during cruises of 26 days to 35 days and $349 per person during cruises of 36 days to 45 days.
Room Service
Room Service is available 24-hours a day (There will be a delivery charge from Midnight - 5 am).
Stardust Theater
Main showroom located on decks five, six and seven.
Maharini's Lounge
Cabaret-style venue located on Deck 7.
Galaxy of the Stars
Observation Lounge during the day and dancing by night.
The Smoking Room
Cigar lounge.
Champagne Charlie's
Champagne bar.
Henry's English Pub
Fish n' Chips, dartboards
Maharajah's Casino
Slots, roulette, cards and more.
Tivoli Pool and Hot Tubs
Main pool and bar area located on Deck 12.
Buccaneer's Wet & Wild
Buccaneer's Wet & Wild pool features slides, paddling pool and a hot tub just for kids.
Aquaswim
Jet exercise pool located on Deck 12.