Crystal Serenity Cruise Ship Profile
Ship Features, Itinerary, News, Photos, Review, Accommodations, Notable Rooms, Dining Venues, Kid's Areas, Deck Plan, Outdoor Spaces, Smoking Sections

Current location and ship cams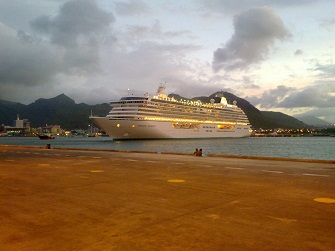 Crystal Serenity offers one of the highest space ratios of any luxury ship. In November 2008, Crystal converted 12 of Crystal Serenity's deluxe staterooms into eight plush Penthouses, further increasing the space ratio on the ultra-luxurious vessel. A massive redesign of her 531 Deluxe Staterooms, Penthouses and Penthouses Suites, retail centers, expansive outdoor pool deck and other design projects took place during the Spring of 2011.
2013 Refurbishment
Crystal Serenity emerged from a $17 million redesign with chic new Crystal Penthouses (the coveted top accommodations) and dramatically transformed indoor/outdoor casual dining spaces, including the Trident Grill, Scoops ice cream bar, Tastes Bar, Lido Cafe, and Tastes restaurant, featuring a brand new global-inspired evening menu. Cruise industry-firsts include a chef's herb garden as part of vibrant "vertical walls" of greenery and 70 new PURE hypoallergenic staterooms.
From the top deck to its hull, Crystal Serenity underwent a comprehensive maintenance, with deep cleaning, mechanical updates, and environmental upgrades implemented throughout the ship's interior and exterior spaces. Palm Court boasts a new dance floor, specialty restaurant Prego was warmed with new colors, and even the "behind the scenes" Tender Boarding area reveals a welcoming new look.
Launched: 2003
Refurbished: November 2013
GRT: 68,000
Length: 781 ft.
Draft: 25 ft.
Speed: 22 Knots
Passengers: 940
All staterooms include refrigerators with complimentary bottled water & soft drinks, sitting area, Queen or twin-sized beds, depending on preference, 100% Egyptian cotton sheets, down pillows, plush duvets, and featherbeds, large closets with shoe rack, personal security safe, shower, bathtub, double sink, makeup mirror and a telephone in bathroom, two hairdryers, frette bathrobes, slippers, umbrella, & Aveda bath products, TV Channels - CNN , CNBC, FOX News and ESPN.
In addition to the above amenities, suite passengers receive welcome champagne & fully-stocked complimentary in-room bar upon embarkation, personal butler service; larger veranda, guest bathroom, pantry, library & private workout room, full Jacuzzi bathtub, separate shower, vanity in dressing area & walk-in closet, flat-screen television, CD/DVD player & cordless phone, personalized stationery & Binoculars.
All of Crystal Serenity's Deluxe Outside Staterooms, Penthouses, and Penthouse Suites sport new, floor-to-ceiling tufted headboards, bedside cabinets, wallpaper, sofas, curtains, pillows, and custom carpets in contemporary lines and classic stone, silk, velvet, leather, and crisp linen textures. New modern lighting features and electronic "do not disturb" and doorbell system will allow guests greater personalization of their home-away-from-home.
| | |
| --- | --- |
| CAT C Deluxe Stateroom | CAT AB Deluxe Verandah |
| Penthouse suite | |
Stateroom sizes
| | | |
| --- | --- | --- |
| Deluxe | 226 - 269 | |
| Penthouse | 269-403 | Sq. ft. w/veranda |
| Suites | 538-1345 | Sq. ft. w/veranda |
$=Specialty dining, surcharges apply
Crystal Dining Room
Distinctive international cuisine and a world-renowned wine list offering traditional and reservation only seating. Traditional evening seating times of either 6:15pm (Main) or 8:30pm (Late). Open Dining by Reservation is offered in addition to Classic Main and Late seatings.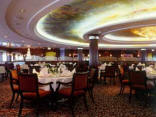 Lido Café & Gardens
Breakfast and lunch in a casual atmosphere. Pick up custom-made pastas or a fresh salad.
Silk Road & Sushi Bar
Contemporary Asian dining created by master chef Nobu Matsuhisa of restaurant Nobu fame.

The Vintage Room ($)
New classic boardroom and wine cellar for winemakers dinners. Taste wines paired with delicious culinary creations of famed visiting chefs. $210 per person, or $1,200 for private room seating 2-12 persons.
Palm Court-Afternoon Tea
Enjoy the refined elegance of a proper English tea at the Palm Court.
Prego Restaurant
Classic Italian cuisine in a Venetian atmosphere inspired by Piero Selvaggio's acclaimed restaurants, complemented by wines also selected by this legendary restaurateur.
Trident Bar & Grill
Hot dogs, hamburgers, pizza, sandwiches, wraps and fruits is open throughout the afternoon. On select evenings, the Trident Grill offers casual dinners at a relaxing setup around Neptune Pool with exciting selections served in a comfortable ambiance. Dress is casual and reservations are not required.
Scoops
Complimentary ice cream and frozen yogurt bar.
Tastes
Poolside open kitchen aft of the Trident Bar & Grill elevates lunchtime and casual evening dining to a sophisticated international meal. Dine al fresco on a changing menu of international cuisines.
The Bistro
A Parisian-style café serving international coffees, cheeses, and wines by the glass.
24-Hour Room Service
At sea or in port, you may enjoy breakfast, lunch or dinner in the comfort of your own room.
Galaxy Lounge
The Galaxy Lounge with horseshoe shaped seating features a full orchestra, six-piece dance band, and strolling trio.

Stardust Club
Cabaret-style venue featuring a dance floor, circular bar and ocean views.

Connoisseur Club
Cigar and cocktail lounge.
Pulse Disco
Dance Club.

Avenue Saloon
Piano and Jazz club.
Hollywood Theater
Movie cinema.
Crystal Cove Bar
Lounge featuring soft piano music.
Crystal Plaza
Atrium lobby area with comfortable seating.
Crystal Casino
Slots, cards, games and more.
Crystal Spa
Feng Shui designed Salon & Fitness Center.
Computer University@Sea®
24-hour Internet and e-mail access.