St. George's Bermuda Cruise Destination
Cruise Ship Port of Call information like Port News, Weather, Transportation Options, Things to Do and See, Area Events, Medical Care, Crime and Safety Review
St. George Weather
Bermuda has a mild, humid subtropical maritime climate though gales and strong winds are common in winter. The peak hurricane season runs from June 1 to November 30.
Getting Around
Ferries, buses, taxi cabs, and bicycle and moped rentals are readily available from King's Square.
Shopping
Bermuda can be expensive. Because of Bermuda's steep import tax, all goods sold in stores that come from off the island carry a significant markup. When buying groceries or other (non-souvenir) items of that nature, be aware that the best prices are usually away from the more "touristy" areas. For example, one cup of yogurt might cost about $1.60 at a grocery store near hotels; it will cost 25% less at a grocery store further from the tourist attractions, and only 10 cents more than in the United States. When buying these sort of things, go to where the locals go.
St. George's, Bermuda
Bermuda, consisting of about 138 islands and islets, is located in the North Atlantic Ocean about 769 miles (1238 km) (669 nautical miles) from New York City.
St. George (often called St. George's, a confusion with the parish it is in) is the second town and former capital of Bermuda. St. George's Parish encompasses the area around the historic Town of St. George as well as the island of St. David's across its harbor.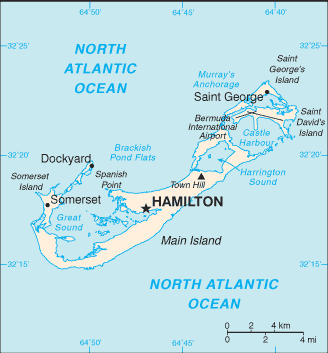 St. George is described as the oldest, continually inhabited English settlement in the new world. It was founded in 1612 and served as the capital of Bermuda until eclipsed by Hamilton in 1815. St. George looks very much like it did 250 years ago. In fact, because of its many heritage buildings, it was declared a UNESCO World Heritage Site during the 1990s.
Good to Know
Time Zone
AST (UTC-4)
Port of Entry
Market Wharf at King Square, Saint Georges Harbor is in the center of the shoreline of Saint Georges Town directly opposite Ordnance Island. It is approached around the eastern end of Ordnance Island. Cruise ships must enter the narrow (220 ft.) Town Cut channel to reach the pier in St. George. Only ships less than 700 ft. in length can safely dock - a narrow opening and unfavorable wind patterns make the channel difficult and dangerous for cruise ships to navigate.
Ships dock in Hamilton and cruise lines transfer passengers to St. George by tender or bus.
Things to do and see
King's Square
The original main square of St. George. From here you can see the Town Hall, the Visitor's Service Bureau and Ordinance Island across the small bridge directly to your south.
Ordnance Island
Ordnance Island lies in St. George's Harbor and is reached by a small bridge. It holds a replica of the Deliverance (one of tow ships built by the shipwrecked settlers) and a life-size bronze statue of their commander, Sir George Somers, by Desmond Fountain.
St. Peter's Church
The oldest surviving Anglican church in continuous use outside the British Isles.
State House
The State House (1620) in St. George's was the first purpose-built home of the House of Assembly, which then constituted the only chamber of the Parliament of Bermuda. Other than fortifications, it was Bermuda's first stone building.
Tucker House Museum
The museum features a collection of Tucker family artifacts (1775 until 1809) including china, glassware, linens, furniture, art and more. Located on Water Street in the heart of St George's.