King's Wharf Cruise Ship Port of Call
Cruise Ship Port of Call information like Port News, Weather, Transportation Options, Things to Do and See, Area Events, Medical Care, Crime and Safety Review
About Bermuda
Time Zone
AST (UTC-4)
Bermuda is a British Overseas Territory in the North Atlantic Ocean. Bermuda makes up the easternmost point of the so-called "Bermuda Triangle," a region of sea in which a number of aircraft and surface vessels have allegedly disappeared under mysterious circumstances.
Although the island is an associate member of the Caribbean Community (CARICOM), it is not actually in the Caribbean Sea and has a different climate. It is much farther north, but the warm waters of the Gulf Stream help give it a quasi-tropical atmosphere.
Bermuda, consisting of about 138 islands and islets, is located in the North Atlantic Ocean about 769 miles (1238 km) (669 nautical miles) from New York City.
King's Wharf, Bermuda
Cruise Line's call this port call destination, King's Wharf. Ships dock at the old Royal Naval Dockyard on Ireland Island located in Sandys Parish.
The Royal Naval Dockyard in Bermuda was the principal base of the Royal Navy in the Western Atlantic. After the closure of most of the base as an active naval dockyard in 1957, the base fell into a state of disrepair. Storms and lack of maintenance caused damage to many buildings. Beginning in the 1980s increased tourism to Bermuda stimulated interest in fixing up the dockyard and turning it into a tourist attraction. Currently, cruise ships regularly land at the dockyard during summer months.
Good to Know
Port of Entry
There are two berths - King's Wharf and Heritage Wharf (added 2009) The berths are situated in the historic naval dockyard complex at the extreme 'western' end of Ireland Island, beyond Somerset. This is currently the only location in Bermuda that can accommodate the largest of cruise ships.

Bermuda has a mild, humid subtropical maritime climate though gales and strong winds are common in winter. The hurricane season is from June to November. The islands receive ample rainfall but no rivers or freshwater lakes. As a result drinking water is collected on the roofs of all buildings (by law) and in special catchment areas, and stored in tanks under the ground for each home or property.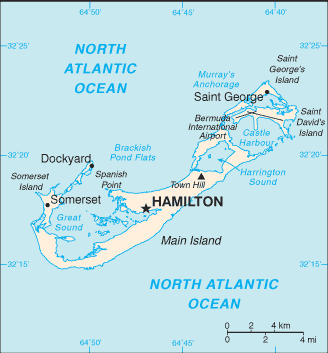 Getting Around
It is not possible to rent a car on the island; however, visitors can hire scooters for use as private transport, or use public transport. Ferries, buses and the Bermuda Train are easily accessible.
Shopping
Bermuda can be expensive. Because of Bermuda's steep import tax, all goods sold in stores that come from off the island carry a significant markup. When buying groceries or other (non-souvenir) items of that nature, be aware that the best prices are usually away from the more "touristy" areas. For example, one cup of yogurt might cost about $1.60 at a grocery store near hotels; it will cost 25% less at a grocery store further from the tourist attractions, and only 10 cents more than in the United States. When buying these sort of things, go to where the locals go.
Things to do and see
Royal Naval Dockyard

Attractions include museums, restaurants, shopping, transportation hubs and more. Royal Dockyard map pdf.