Bermuda Cruise Ship Destination Port
Cruise Ship Port of Call information like Port News, Weather, Transportation Options, Things to Do and See, Area Events, Medical Care, Crime and Safety Review
Maps Medical Services Getting Around
Bermuda, consisting of about 138 islands and islets, is located in the North Atlantic Ocean about 769 miles (1238 km) (669 nautical miles) from New York City.
Although the island is an associate member of the Caribbean Community (CARICOM), it is not actually in the Caribbean Sea and has a different climate. It is much farther north, but the warm waters of the Gulf Stream help give it a quasi-tropical atmosphere. Bermuda has a mild, humid subtropical maritime climate though gales and strong winds are common in winter. The hurricane season is from June to November.
Bermuda is a British Overseas Territory in the North Atlantic Ocean. Bermuda makes up the easternmost point of the so-called "Bermuda Triangle," a region of sea in which a number of aircraft and surface vessels have allegedly disappeared under mysterious circumstances.
The islands have ample rainfall but no rivers or freshwater lakes. As a result drinking water is collected on the roofs of all buildings (by law) and in special catchment areas, and stored in tanks under the ground for each home or property.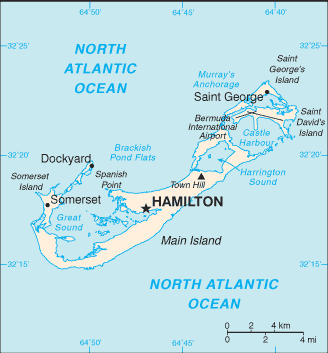 Bermuda Island Map pdf
Bermuda Ferry Map pdf
Hamilton Bermuda pdf
Royal Dockyard pdf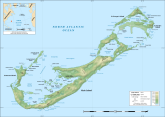 Adequate medical care is available for routine procedures, though extremely expensive.
There is one hospital on the island, the King Edward VII Memorial, with emergency services, including a decompression chamber. The hospital performs general surgery and has an intensive care unit. Serious or complex medical problems will likely require medical evacuation to the United States. Air Ambulance service is available to additional medical services on the East Coast of the US. Most Bermudian health care providers including the local hospital do not accept overseas insurance and will expect payment at the time of service.
There is no government-funded National Health Service.
Bermuda has a moderate but growing crime rate. Recent crime statistics can be viewed at the official website of the Bermuda Police Service. Examples of common crimes include theft of unattended baggage and items from rental motorbikes, purse snatching (often perpetrated by thieves riding motorbikes), mugging, and theft from unsecured hotel rooms. Valuables left in hotel rooms or left unattended in public areas are vulnerable to theft. Criminals often target visitors on rental motorbikes and at popular tourist attractions.
Travelers should note an increase in gang presence and illegal drug activity in Bermuda. There have been no reports of gang violence targeted towards visitors to Bermuda, although gunfire between gang members has occurred throughout the island.
The back streets of the city of Hamilton are often the setting for nighttime assaults, particularly late at night after the bars close. Travelers should exercise caution when walking after dark or visiting out-of-the-way places on the island as they can be vulnerable to theft and assault, and because narrow and dark roadways can contribute to accidents. In the past, there have been reports of sexual assault and acquaintance rape and occasional use of "date rape" drugs.
Bermuda has zero tolerance for possession or importation of controlled substances, and possession or importation of dangerous weapons including stun guns and pepper spray. Violations have resulted in fines and prison sentences. Cruise ships and cruise ship passengers visiting Bermuda are searched by Bermuda Customs officials and persons with controlled substances are fined, imprisoned and/or not allowed to re-board the ship.
Recent changes to Bermuda's laws allow police to require DNA testing for certain criminal offenses.
If you are arrested in Bermuda, authorities of Bermuda are required to alert the U.S. Consulate in Hamilton of your arrest. If you are concerned that the Department of State may not be aware of your situation, you should request the police to notify the U.S. Consulate General in Hamilton of your arrest.