Ketchikan, Alaska Cruise Destination Port
Cruise Ship Port of Call information like Port News, Weather, Transportation Options, Things to Do and See, Area Events, Medical Care, Crime and Safety Review
The Gulf of Alaska is an arm of the Pacific Ocean defined by the curve of the southern coast of Alaska, stretching from the Alaska Peninsula and Kodiak Island in the west to the Alexander Archipelago in the east.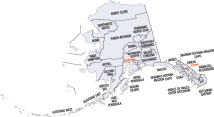 Ketchikan is the first stop for many Alaskan cruises. It is one of the most Southeastern cities in Alaska. As of 2010, Ketchikan had an estimated population of 7,368 within the city limits. Ketchikan's economy is based upon tourism and fishing and serves as both an air and marine transportation hub for southern Southeast Alaska. The city is the gateway to the Misty Fjords National Monument, which is a beautiful area known as "The Yosemite of the North".
Port Information
Port of Entry
The large cruise ships call at one of the four cruise ship berths; berths 1-3 are located in downtown Ketchikan, while berth 4 is further north at Newtown. If there are more than four ships visiting Ketchikan at the same time, the additional ships will anchor in the Ketchikan Creek and passengers will take a short tender trip to the downtown pier.
Map Coordinates
55° 21′ 0″ N, 131° 40′ 24″ W
Time Zone
Alaska Standard Time (- 4 EST) (UTC−09:00)
The Alaska Time Zone observes standard time by subtracting nine hours from Coordinated Universal Time. During daylight saving time its time offset is eight hours (UTC−08:00).
Maps
State of Alaska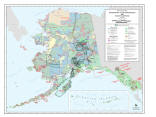 Alaska Regions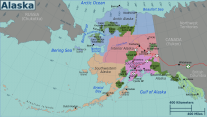 Things to do and see
Learn about Ketchikan's historic lumberjack history at the fun Great Alaskan Lumberjack Show or spend the afternoon on a kayak trip. or choose a half-day guided sport fishing trip. Ketchikan is known as the "Salmon Capital of the World" and has the world's largest collection of standing totem poles - located at three major locations: Saxman Village, Totem Bight, and the Totem Heritage Center.
Misty Fjords National Monument
Take an excursion boat or plane to the 2.3 million acre Misty Fjords National Monument with its majestic fjords. The National Monument and Wilderness Area is administered by the US Department of Agriculture U.S. Forest Service and located 40 miles east of Ketchikan, Alaska, along the Inside Passage coast in extreme southeastern Alaska.