Juneau, Alaska Cruise Ship Destination Port
Cruise Ship Port of Call information like Port News, Weather, Transportation Options, Things to Do and See, Area Events, Medical Care, Crime and Safety Review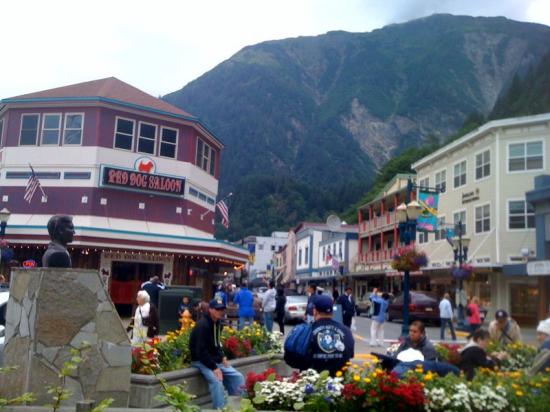 The area of Juneau is larger than that of Rhode Island and Delaware individually and almost as large as the two states combined. Downtown Juneau is nestled at the base of Mount Juneau and across the channel from Douglas Island. Atop these mountains is the Juneau Icefield, a large ice mass from which about 30 glaciers flow. Two of these glaciers, the Mendenhall Glacier and the Lemon Creek Glacier, are visible from the local road system. The Mendenhall Glacier has been generally retreating; its front face is declining both in width and height."
The current Alaska State Capitol is an office building in downtown Juneau, originally built as the Federal and Territorial Building in 1931. Originally housing federal government offices, the federal courthouse, and a post office, it became the home of the Alaska Legislature and the offices for the governor of Alaska and lieutenant governor of Alaska.
Need To Know
Time Zone
Alaska Standard Time (- 4 EST)
Climate
Juneau features a cool temperate climate. The city has a climate that is milder than its latitude may suggest, due to the influence of the Pacific Ocean.
Getting Around
Juneau is accessible only by sea or air. Cars and trucks are transported to and from Juneau by barge or ferry. Local government operates a bus service under the name Capital Transit. There are also several taxicab companies, and tour buses.
Learn about natural hazards common to Alaska
Things to do and see
Explore the city
Explore the city and its colorful waterfront.
Sightseeing by Helicopter
Take a helicopter flightseeing tour to the Juneau Ice field, go glacier trekking, have a flightseeing tour with a glacier landing or take a dog sled ride on the ice field.
Mt. Roberts
Take the tram to the top of Mt. Roberts for an eagle's eye view of the surrounding area.
Alaska State Museum
A visit to the , the City Museum, McCauley Salmon Hatchery
AJ/Gastineau Mill & Mine
Take a tour of the historic mill and and gold mine.
Mendenhall Glacier
The Glacier is located just 12 miles from downtown Juneau.