Silver Whisper Cruise Ship Profile
Ship Features, Itinerary, News, Photos, Review, Accommodations, Notable Rooms, Dining Venues, Kid's Areas, Deck Plan, Outdoor Spaces, Smoking Sections
CDC Ratings
If link above doesn't open to the report page, close the window and click on link again to access.
2010 Rating 97 (Sep)
2011 Rating 99 (Feb)
2011 Rating 94 (Sep)
2012 Rating 91 (Jan)
2012 Rating 98 (Oct)
2013 Rating 94 (May)
2015 Rating 99 (Oct)
2016 Rating 97 (Jan)
2017 Rating 88 (Jan)
2019 Rating 96 (Oct)
Deck Plan
Deck 10
The Spa, Beauty Salon, Fitness Center, Observation Lounge
Deck 9
Golf Cage, Deck area with open view of the swimming pool, Veranda Suites
Deck 8
Panorama Lounge, Internet Cafe, Library, Pool, Veranda Suites, Grand Suite
Deck 7
La Terrazza, Le Champagne, Conference Room, Medallion Suites, Owner's Suites, Silver Suites, Veranda Suites, Royal Suite, Grand Suite
Deck 6
Athenian Show Lounge (upper level) Veranda Suites, Royal Suite, Grand Suite
Deck 5
The Bar, Show Lounge, Lobby, Casino, Boutique, Terrace Suites, Veranda Suites
Deck 4
The Restaurant, Laundry, Vista Suites
Kids
Professional care and supervised activities for kids aged 3-12 years.
Outdoor Features
The Pool Deck
Plenty of teak chaise lounges and plenty of attentive service. Two whirlpools and a poolside bar encourage conversations and camaraderie. The resort-style pool is refreshing in warmer climates, heated for cooler weather.
Golf Cage and deck area overlooking the pool on deck 9.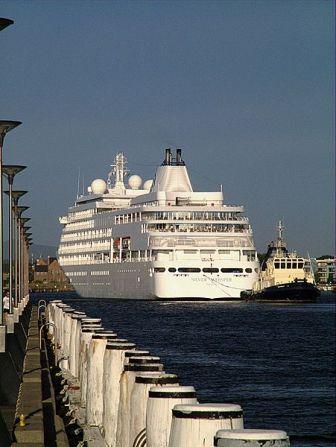 Silver Whisper offers its guest the ultimate in intimate Italian Cruising – six-star service, fewer guests, more space and the ability to slip into exotic ports off the beaten path. Each all ocean-view suite provides a sumptuous retreat. Each public space is intimate yet inviting.
The Silver Whisper received a major upgrade during a drydock during June 2010. Besides stateroom enhancements (detailed below), additional upgrades include The La Terrazza, the Panorama Lounge, Reception area, Spa, Card Room and Conference Room received new upholstery, carpeting, curtains and wall treatments; new carpet was laid in the Observation Lounge and new wood flooring in the Spa; The Restaurant's hardwood floor was completely reconditioned and polished and the chairs dressed in new upholstery; upgraded sound system was added to the Show Lounge, Panorama Lounge and La Terrazza; new carpet was installed in all corridors, landings and staircases; the jogging track features all-new artificial turf, and the pool area has been outfitted with new deck furniture, plus a new sound and light system for evening entertainment and outdoor shows; the pool itself has been upgraded inside and out with new tiles; a large awning was installed over the outdoor dining section of La Terrazza; the Pool Grill, sporting a new awning as well, will become The Grill for evening dining featuring the popular new Black Rock cooking concept that debuted aboard Silver Spirit.
Specifications
Ship Class:
Launched: 2001
Refurbished: 2010
GRT: 28,258
Length: 610 ft.
Draft: 19.6 ft.
Speed: 21 Knots
Passengers: 382
Accommodations
The Silver Whisper received a major upgrade during a drydock during June 2010.
Staterooms received new carpets, headboards and curtains; sofas and chairs feature new upholstery; each suite has a new mattress custom-made exclusively for Silversea; new memory foam pillow top that covers the mattress when configured as a queen-sized bed. The larger suites also received upgrades including new veranda furniture and a new state-of-the-art home audio system. All suites feature new alarm clocks with iPod docks -- as will all ships in the Silversea fleet.
Stateroom Amenities
Large picture window providing panoramic ocean views, twin beds or queen-sized bed, Sitting area, Remote-controlled television with DVD and satellite reception, Direct-dial telephone, Champagne upon arrival and replenished as you desire, Beverage cabinet stocked daily on request with your selection of wines, spirits and beverages, Fresh fruit and flower arrangements, European bath amenities, Fine bed linens, plush robes and slippers, Choice of pillow, Spacious wardrobe and full-length mirror, Writing desk with personalized stationery, Dressing table and hair dryer, Marbled bathroom with full-sized bath, Twice-daily suite service with turndown every evening, Daily news summary. All suites havae butler service, binoculars, and wi-fi access. Some Vista Suites accommodate three guests.
Stateroom sizes
| | | |
| --- | --- | --- |
| Vista Suite | 287 | Sq. ft. |
| Terrace Suite | 287 | Sq. Ft. |
| Veranda Suite | 344 | Sq. Ft. |
| Medallion Suite | 521 | Sq. Ft. |
| Silver Suite | 653-701 | Sq. ft. w/veranda |
| Royal Suite | 967-1007 | Sq. ft. w/veranda |
| Owner's Suite | 919 | Sq. ft. w/veranda |
| Grand Suite | 941-1090 | Sq. ft. w/veranda |
Dining Venues
The Restaurant
Sophisticated elegance. Impeccable service. Contemporary international cuisine for breakfast, lunch and dinner.
La Terrazza
An indoor/outdoor restaurant with spectacular ocean views. Casual buffet-style dining for breakfast and lunch. Authentic Italian cuisine served a la carte for dinner. Reservations are suggested.
Pool Grill
Casual poolside dining for lunch and dinner — including grilled meats and fresh-from-the-oven pizza. In the evening, the top deck is transformed into The Grill – an intimate al fresco eatery featuring a preheated volcanic rock brought to your table, allowing you to cook such delicacies as steak, veal, pork, lamb, salmon, fish or prawns exactly to your liking right at your own table.
Le Champagne
Indulge in an evening where fine wines are complemented by a set tasting menu of regionally inspired dishes. An extraordinary six-course experience celebrating the world's most distinguished wine regions. Surcharge applies.
Room Service
Complimentary 24-hour room service is available on all Silversea voyages. Selections from The Restaurant menu are served course by course during regular dining hours.
Notable Rooms
Athenian Show Lounge
Sophisticated performances from full-scale production shows to classical soloists located on decks 5 & 6 (aft).
Panorama Lounge
The Panorama Lounge is specially designed to provide an uninterrupted view of the day's destination from the comfort of the luxury cruise ship's interior. Unwind, enjoy afternoon tea, listen to the pianist and watch the setting sun.
The Bar & Casino
Piano recitals, jazz and cabaret music located on deck 5 near the casino, featuring slots, craps, roulette, and more.
Connoisseur's Corner
Cigar bar and cocktail lounge.
Fitness Center & Spa
The Fitness Centre on board this luxury cruise ship is equipped with free weights, weight machines, state-of-the-art treadmills, elliptical trainers and recumbent and upright bicycles. Classes in aerobics, yoga, Pilates and circuit training are led by the onboard fitness trainer and are always complimentary. Personal training, body composition analysis and specialty classes are available at an additional charge. The Relaxation Area, Beauty Salon, and The Spa are located on deck 7. Complimentary steam rooms.