Singapore Cruise Ship Destination Port
Cruise Ship Port of Call information like Port News, Weather, Transportation Options, Things to Do and See, Area Events, Medical Care, Crime and Safety Review
Southeast Asia Port Calls
Penang
Bali
Banlok
Ho Chi Minh City
Ko Samui
Kuala Lumpur
Manila
Nha Trang
Phuket
Semarang
Singapore
Surabaya
Personal Safety
Singapore is a very clean and safe city to visit. It is important to be aware of its laws and penalties. Keep in mind that even minor offenses have strict punishments. For example, spitting on the sidewalk results in a fine over $600. Avoid jaywalking, littering, chewing gum. and smoking in a public place. Always flush the toilet after you have finished.
Exercise normal caution that you would observe while travelling. Be aware of your belongings and don't leave your bags unattended. Secure all your valuables and be vigilant.
Getting around Singapore
By foot
It is easy to navigate within neighborhoods if you are looking to see a cluster of sights, but to walk from area to area in the tropical heat can be a challenge if you're not used to the humidity.
Taxis
A taxi is the easiest way to get around Singapore. Prices are fair and the drivers speak English. They are relatively easily to find in more urban areas, but not as much in outlying districts. Trips during peak hours (M-F 7-9:30am, M-F 5-8pm) are an additional 35% of fare price. There are additional fees for passing through certain areas of the city, such as the Central Business District, or for using some expressways.
Public Transport
The Mass Rail Transit (MRT) system covers the main area of the city and out to more remote parts of the island with public buses running routes in between. It has a reputation for being clean and efficient. The Singapore Tourist Pass allows for unlimited travel on MRT trains and public buses for 1, 2, or 3 days. The cost is S$8 per day, with a refundable S$10 deposit. Otherwise, an EZ-Link fare card will be needed. Maps and rates for the rail are posted in stations.

Area Events
Formula 1 Grand Prix
The Formula 1 Grand Prix zips to Singapore in September. It's the only night race in the series as it zooms around the Marina Bay Street Circuit during a week-long festival.
Singapore Food Festival
Held annually in July, the Singapore Food Festival is a celebration of local food. Festival highlights include, food carnivals, trails, workshops, as well as joint food-oriented promotions.
Singapore Arts Festival
The annual two-week long festival, held between March-April, aims to make Singapore the fashion capital of the Southeast Asian region. The Festival highlights include showcasing international and local designers' collections, fashion shows, exhibitions and related fashion fringe events.
Singapore
Asia's exotic ports of call stretch across a vast region from the Indian to Pacific Ocean. Cruises visit modern metropolises, healing temples, ancient cities, centers of unique cuisine, and more.
One of the world's smallest countries, Singapore is the melting pot of Southeast Asia, with immigrants from China, Malaysia, Tamil, Indonesia and more. The island has long been a trading post, including for the British Empire. Today the island city/country of Singapore is a cosmopolitan metropolis mixing the old and the new. The city has a reputation for strict laws, but in recent years has begun to ease up on certain restrictions as its tourism industry continues to boom. The city is focused on supporting its growing arts scene and on sports tourism, with a new sports hub opening in late 2014.
Featured Article: 8 Reasons to Highlight Singapore on Your Next Cruise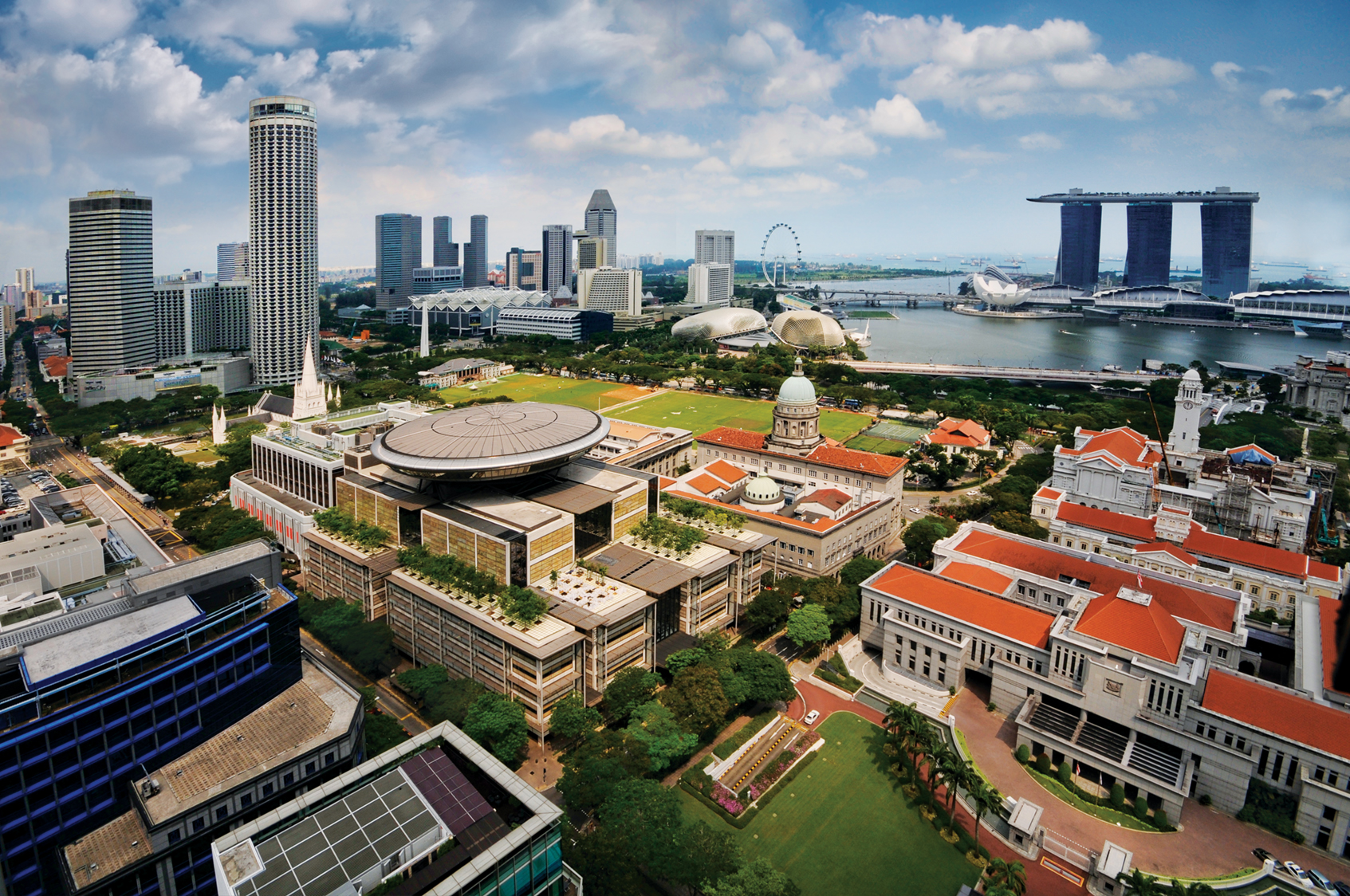 Good to Know
Time Zone
UTC/GMT + 8 hours
Time Zone: SGT
Map Coordinates
1°17′22″ N, 103°51′00″ E
Climate
Singapore is a tropical city with a consistent humid climate and a monsoon season from November to March. However, due to its location, it rains nearly everyday somewhere in Singapore. Average high temperature is 87F, with only a slight variation between winter (84F) and summer (90F).
Terrain
Singapore is a flat city no higher than 50 feet above sea level. It is surrounded by water.
Currency
The national currency is the Singapore dollar (S$). See www.xe.com for current exchange rates. Most major credit cards are accepted.
Port Authority
Local Name: Port of Singapore
Authority: Maritime and Port Authority of Singapore (MPA)
Address: 460 Alexandra Road
#19-00 PSA Building
Singapore 119963
Singapore
Telephone: 6375 1639
Email: qsm@mpa.gov.sg
Website: www.mpa.gov.sg
Size: Large
Coordinates: 1° 17' 34" N, 103° 43' 31" E
Other
Singapore encourages its citizens to speak English. Street signs and menus are often in English.
Tipping is appreciated but is not a common practice in Singapore and most of the restaurant already levy a 10% service charge on customes bills.
Terminal Information
Singapore has two cruise terminals: Singapore Cruise Terminal and Marina Bay Cruise Center. Both are close to local attractions and within half-an-hour of the airport.
Singapore Cruise Center
The Singapore Cruise Center was revitalized in 2012. There are three terminals: Harbourfront, Tanah Merah, and Pasir Panjang. Over a million cruise passengers are serviced by the Harbourfront Terminal a year. In the terminal are convenience stores, dining, and duty-free shopping areas. There is a money exchange, ATMs, VIP lounge, courier service, and information counters.
Marina Bay Cruise Center
Marina Bay Cruise Center opened in 2012. It is located within the new downtown area of Marina Bay. Terminal services include free, unlimited wireless internet, luggage holding, CruiseFly, dining, convenience stores, currency exchange, ATMs, a VIP Lounge, and a Visitor Center.
The Marina South Pier Mass Rapid Transit station will open in 2014 and move passengers to and from the cruise terminal.
History
Singapore's location as an island at the tip of Malay Peninsula has made it a trading hub for centuries. Singapore was ruled by the kids of Singapura until the British Empire negotiated a trade treaty with the local rulers in the 19th century. The area became the center of government for the Straits Settlements of Penang, Malacca, and Singapore. During this time of increase seafaring and trade, the country attracted immigrants from Malaysia, China, and India.
Singapore was attacked by the Japanese in World War II, putting an end to the region's success as a trade hub. It was occupied by the Japanese for over three years until it was handed over to the British Military Administration after the surrender. The Straits Settlements were dissolved and Singapore became a colony of the British Crown.
A wave of nationalism led to the country's first elections in 1959. A failed merger with Malaysia led to the country's independence in 1965.
Shopping
Shopping malls are abundant and popular in Singapore. Listed below are just a small sampling of the many shopping districts and mall available.
The Shoppes at Marina Bay Sands is the largest luxury mall in Singapore. Find international brands and emerging new labels in the floating Crystal pavilion adjacent to the open design mall.
Orchard Road is a popular shopping destination with several areas to explore. ION Orchard spreads shopping across eight levels. The venue mixes luxury and high street brands with an art gallery, casual and fine dining. Knightsbridge includes a four-star hotel, French retailers, and popular American labels. Tanglin Shopping Center features specialty stores selling clothes, accessories, and art and crafts.
VivoCity is Singapore's largest shopping mall is connected with the Singapore Cruise Terminal and has a variety of dining and shopping options.
Mustafa Centre is open twenty-hours and sells everything from essentials to local jewelry. The Center is packed and crowded, but that's part of the experience.
Things to do in the area
Hawker Centers
Tour Asian cuisine in the famous hawker centers. These huge food complexes are made of street hawkers that specialize in one dish. Order char kway trow, Singapore's favorite noodle dish. Don't forget to try the Singapore chili crab dish, too. There's plenty of satay, rojak, and other Asian favorites, all for around $5 USD. Try the Old Airport Hawker Center, La Pau Sat, or Maxwell, but there are plenty other hawker centers, too.
Marina Bay Sands Resort
The breath-taking views from the Sands SkyPark are accompanied by lush gardens, restaurants, nightclubs, and it's all made by possible by one of the world's greatest engineering accomplishments. The SkyPark spans across world's longest suspended and unsupported cantilever. The true highlight is the infinity pool vanishing into the shimmering skyline. But Marina Bay isn't just an astonishing SkyPark: chance lady luck in a Casino spanning four levels, attend a convention in one of the five floors of exhibition space designed to fit up to 11,000 delegates, or indulge at the luxurious Shoppes of Marina Bay featuring the world's top end designers. Marina Bay Sands is a all-in-one attraction adjacent to the Marina Bay Cruise Terminal.
Singapore Zoo
The unique Singapore Zoo is based on an open concept where animals live in specifically designed habitats where barriers are concealed in vegetation and landscape design. The tropical zoo mimics a rainforest environment and is home to over 2500 specimens.
Night Safari
Skip the heat of the day and see the animals comes alive after the sun goes down. You won't see Tigers lazily lounging in the shade to escape the tortuous midday tropical sun on this Safari. As the world's first nocturnal zoo, the Night Safari is the #1 attraction in Singapore. Explore seven different geographical zones designed to simulate the animal's natural habitat by foot or by tram. Singapore's Night Safari is a great family excursion.
Sentosa
Sentosa is an island resort home to themed attractions like Universal Studios Singapore and Adventure Cove Waterpark. Stay at five-star hotels, relax at spa retreats or on the beaches. Sentosa is home to two golf courses and is home to HSBC Women's Champions and the Asian Tour. Fort Siloso is a World War II-era fort open for tours. The island is home to luxury shopping and dining experiences.
Imbiah Lookout
Also on Sentosa Island is Imbiah Lookout, is a modern fun-filled location with ten attractions. A cable car offers a 1.6 kilometer ride to/from Sentosa where visitors can get breathtaking views of the lush vegetation and beautiful coastline. The Tiger Sky Tower is the Port of Singapore's tallest observatory tower. At 131 meters above sea level, you can see as far as the neighboring Malaysian and Indonesian islands during both the day and the night. Imbiah Lookout is also home to the Sentosa Luge and Skyride, the first luge in Southeast Asia, a gravity ride with steering and brakes where riders can go as fast or slow as they want.