Lihue Kaui Cruise Ship Destination Port
Cruise Ship Port of Call information like Port News, Weather, Transportation Options, Things to Do and See, Area Events, Medical Care, Crime and Safety Review
Whale watching
Whale watching boats leave multiple times a day from Po'ipu and the dock at Nawiliwili.
Scuba Diving
Kauai is a leading destination for scuba divers, with many beautiful, relatively unspoiled coral reefs and a variety of fish not found anywhere outside the Hawaiian archipelago. Dive boats leave daily from Po'ipu. Shorter trips typically involve two dives at locations off the south shore.
Kilauea Point Lighthouse
The lighthouse was built in 1913 and had the largest lens of its kind; it guided ships between North America and Asia until its light was replaced by a beacon in the 1970s.
Located in a national wildlife refuge which is a nesting ground for a diverse collection of seabirds, the only one of its kind in the islands.
The eight main islands of the state of Hawaii include: Maui, Oahu, Kahoolawe, Lanai, Molokai, Kauai, Niihau and Hawaii (the Big Island)
Lihu`e is located on the island of Kauaʻi in the ancient district of Puna, the southeastern coast of the island, and land division of Kalapaki. Lihu`e is the civic and commercial center of the island, host to the island's main airport, county offices, and largest shopping mall (Kukui Grove Center).
Kauaʻi is the northwestern most, and oldest of the Hawaiian Islands. It is smaller, less populated, more rural, and more laid back than the other Hawaiian Islands. The north, and east side of the island (windward side) receives the most rain and offers a tropical landscape.
Good to Know
Port of Entry
The main seaport for Kauaʻi is Nawiliwili Bay, located about 2 miles south of Lihu`e.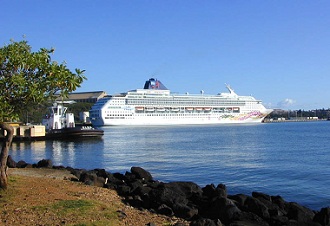 Port of Nawiliwili Source
Time Zone
HAST (UTC - 10)
Map Coordinates
21.57'33°N, 159.21'10°W
Things to do and see
Kapa`a
Located on the east side of Kau'i, about a 20 minute drive north of Lihu`e, is the largest population center on the island. It anchors what is known as the Coconut Coast, which hosts many inexpensive to moderately priced resorts and strip malls along the highway. The corridor between Lihu`e and Kapa`a is the island's most congested.
Mt. Hā'upu
Visible from as far as sixty miles at sea, Mt. Hā'upu was an important navigational landmark for traditional Hawaiian fishermen in canoes.
Hulē'ia National Wildlife Refuge
Located on the southeast side of Kaua'i, Hulē'ia National Wildlife Refuge lies adjacent to the famous Menehune Fish Pond, a registered National Register of Historic Places. The Hulē'ia Refuge is approximately 241 acres and was purchased from the Grove Farm Corporation in 1973 to provide open, productive wetlands for five endangered Hawaiian waterbirds that rely on the Hulē'ia River Valley for nesting and feeding habitat. In order to protect the endangered species that live in Hulē'ia National Wildlife Refuge, it is closed to the public but can be viewed at an overlook maintained by the State of Hawai'i at the historic Menehune Fish Pond.
Kilauea Point National Wildlife Refuge
Established in 1985 by the U.S. Fish and Wildlife Service. The ocean cliffs and open grassy slopes of an extinct volcano provide breeding grounds for native Hawaiian seabirds and nene, the endangered Hawaiian goose. Kilauea Point offers the opportunity to view red-footed boobies, Laysan albatrosses, wedge-tailed shearwaters, and other seabirds in their natural habitat. The National Marine Sanctuary waters surrounding the refuge are home to Hawaiian monk seals, green turtles, and, in winter, humpback whales.
Allerton and McBryde National Tropical Botanical Gardens of the Pacific
The National Tropical Botanical Gardens on Kauai consist of three separate gardens: McBride, Allerton, and Limahuli. The spectacular gardens contain plants native to Hawaii, endangered species, and imported species. Allerton Garden and McBride Garden, on the south shore, are accessible by tour bus from the visitor's center. Limahuli, on the north shore, is located in a spectacular spired valley and contains native plants as well as plants significant to early Hawaiian inhabitants.
Wailua Falls
Triple waterfall, once the site of thrilling cliff diving. It's a short drive from Lihue on a dead end road.
Beaches
Po`ipu
Located on the south shore of Kaua'i, Po`ipu features beautiful beaches with excellent swimming, snorkeling and surfing opportunities. Po`ipu is the major visitor destination for the island.
Kauapea Beach
Kauapea Beach, popularly known as Secret Beach, is located on the north shore of Kaua'i, approximately one-half mile northwest of the town of Kilauea, situated between the Kilauea Lighthouse and Kalihiwai Valley. This rustic, scenic beach is not recommended for inexperienced swimmers. Secret Beach has for many years attracted nude sunbathers, particularly toward the east and west ends of the beach.
Hanalei Beach
Located on the north shore of Kaua'i, Hanalei Bay is a crescent shaped bay known for its sandy white beaches and world class surf.
Lumahai Beach
Located between Hanalei and Haena beaches on the north shore of Kaua'i - accessible by a short hike through a tropical path. This secluded beach is perfect for people who want a more private experience.
Maha'ulepu Beach
Located on the south shore of Kaua'i, Maha`ulepu is private property owned by Grove Farm Company. Grove Farm allows daytime vehicle access through the valley to a dirt road that skirts the shoreline, with a gated entry that is locked at night. This beach access is used by both residents and visitors. Note: Maha`ulepu is a sacred place to native Hawaiians, especially the extensive dunes which are burial places. Please remember that you are always in or near a cemetery when you are at coastal Maha`ulepu.
Glass Beach
Located in Hanapepe Bay near Port Allen Harbor Glass Beach is covered with millions of sea glass pieces - brown, aqua-colored, clear and blue. Not a swimming beach. Look-out for strong currents, sudden drop-offs and slippery rocks.