Genoa Cruise Ship Destination Port
Cruise Ship Port of Call information like Port News, Weather, Transportation Options, Things to Do and See, Area Events, Medical Care, Crime and Safety Review
Genoa, Italy
Genoa, Italy has a rich history and was named one of Europe's capitals of culture in 2004. The city has a charming small-town atmosphere despite its large size.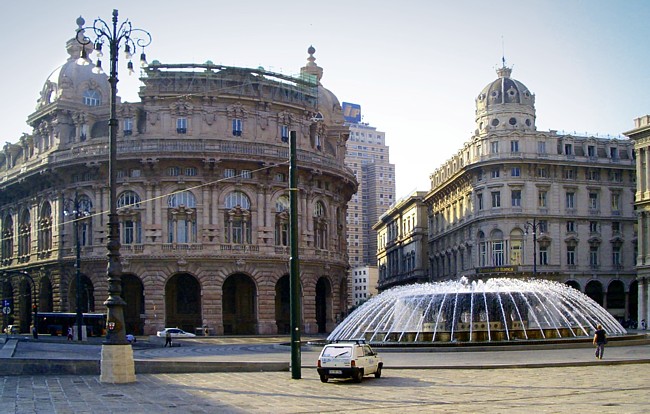 Port Authority
Local Name: Autorita Portuale De Genova
Address: Palazzo SanGiogio
Via della Mercanzia 2
Genoa, GE 16123
Italy
Telephone: 39 010 241 2793
Size: Large
Coordinates: 44° 24' 17" N 8° 54' 59" E
Terminal Information
Ponte Andrea Doria is fitted with a modern, functional and well-equipped terminal. The two berths, in terms of length and draught features, can host ships of the latest generation in complete safety and handle an overall movement of up to 10,000 passengers a day. With the moving of the adjacent Cesare Imperiale viaduct inland, ample parking areas have been created for the coaches and cars being used by cruise goers.
Ponte dei Mille
is a modern and comfortable space dedicated to the cruise terminal. The terminal can host three cruise ships at the same time with an overall daily movement of up to 12,000 passengers.Inside the terminal there is the control room, through which the entire area managed by Stazioni Marittime S.p.A. is monitored 24 hours a day.
Parking
Addresses of parking facilities:
Garage Ponte Dei Mille
16126 Genova
Tel. 0039 010 2462613 - Fax 0039 010 256019
www.garagepontedeimille.it
Autosiloport
Ponte dei Mille 16126 Genova Tel. 0039 010 2758482 - Fax 0039 010 256019
e-mail:autosiloport_ge@libero.it
Things to do in the area
Genoa Aquarium
The Genoa Aquarium is the second-largest in the world. The spacious tanks hold over 600 species and aim to re-create the Mediterranean environment.
Strade Nuove
Today listed as a UNESCO World Heritage site, these 16th and 17th century palaces are worth a visit. A few are now art galleries for some of Italy's master painters like Rubens, who was inspired by the palaces.
Galata Museo de Mare
The Genoa Maritime Museum looks back on Genoa's sea-faring history. Christopher Columbus hailed from Genoa.