Port of Shanghai Information for Cruisers
Terminal location, parking information, transportation options, things to do, weather, special events
Good to know
Language
The official language is Chinese Mandarin, although there is a local dialect called Shanghainese spoken by roughly 14 million people. English is spoken in large hotels, shops, restaurants, and major tourist attractions.
Visas
Visitors to China will need a visa. The number of entries depends on how many times your ship leaves China and enters a non-Chinese port. Supply your entire itinerary when applying to the Chinese consulate.
International Cruises
Travelers booked on international cruises must arrive at the cruise terminal two hours in advance.
Purchases
Be careful when purchasing goods in Shanghai. Whole markets are dedicated to selling fake goods. Counterfeit electronics are prevalent. Check the quality of the items you purchase carefully as there are good and poor reproductions of high-end goods.
Currency
China uses the Yuan (CNY) also known as the Renminbi (RMB). Money can be exchanged at any bank with a passport for withdrawn via ATM. All currency exchanges offer a standardized exchange rate. See www.xe.com for current exchange rates.
Tipping
Tipping is not a common anywhere practice in Shanghai.
Getting around Shanghai
By foot
Shanghai is an extensive city. Walking from district to district could be exhausting, but once in once you reach a destination, it is very walkable. There are clear pedestrian walkways on busy streets.
Taxis
Taxis are cheap and easy to find. They are color-coded according to the company. Red taxis are independent operators and have a reputation for ripping off tourists. Ensure the driver is using the meter and provides a receipt. Make sure your destination is written out in Chinese as many do not speak English.
Public Transport
The metro (MRT) is fast and clean. Destinations are written and announced in Chinese and English. Detailed maps are available at tourist information sites, hotels, and stations. Ticket machines excepts only coins.
Buses are also easy to use and an extensive network. However, signs and announcements are not in English. For touring sites, use sightseeing tours with English-speaking commentary.

Area Events
Chinese New Year
Following the lunar calender, the two-week Chinese New Year is a can't miss festival. Colorful lanterns, dragon and lion dances, and other decorations dot the city.
Peach Blossom Festival
Each spring (late March/April) Shanghai celebrates the beautiful blossoms with folk music and festivals in parks around the city.
Longhua Temple Fair
Varying according to the lunar calendar, this fair has been going on for 400 years. Pilgrims come to pray to Buddha. Opera and folk art performances correspond with the fair.
Tourism Festival
Each September, Shanghai showcases its tourism activities related to entertainment, shopping, dining, and exhibitions. The cruise ship parade features decorated ships sailing the Huangpu River amongst floats and fireworks.
Shanghai, China
An epicenter of commerce and tradition, the dynamic seaport city of Shanghai is perched on the Yangtze River delta. China's largest city is a Western-style metropolis of color-changing skyscrapers. The port is one of the world's most popular shopping centers. Oasis of temples and tea houses are tucked between modern developments, restaurants offer Chinese cuisines both near and far, and a sleek transportation system links it all. Stay longer to add a Yangtze River cruise or just to explore the Chinese hub of Shanghai.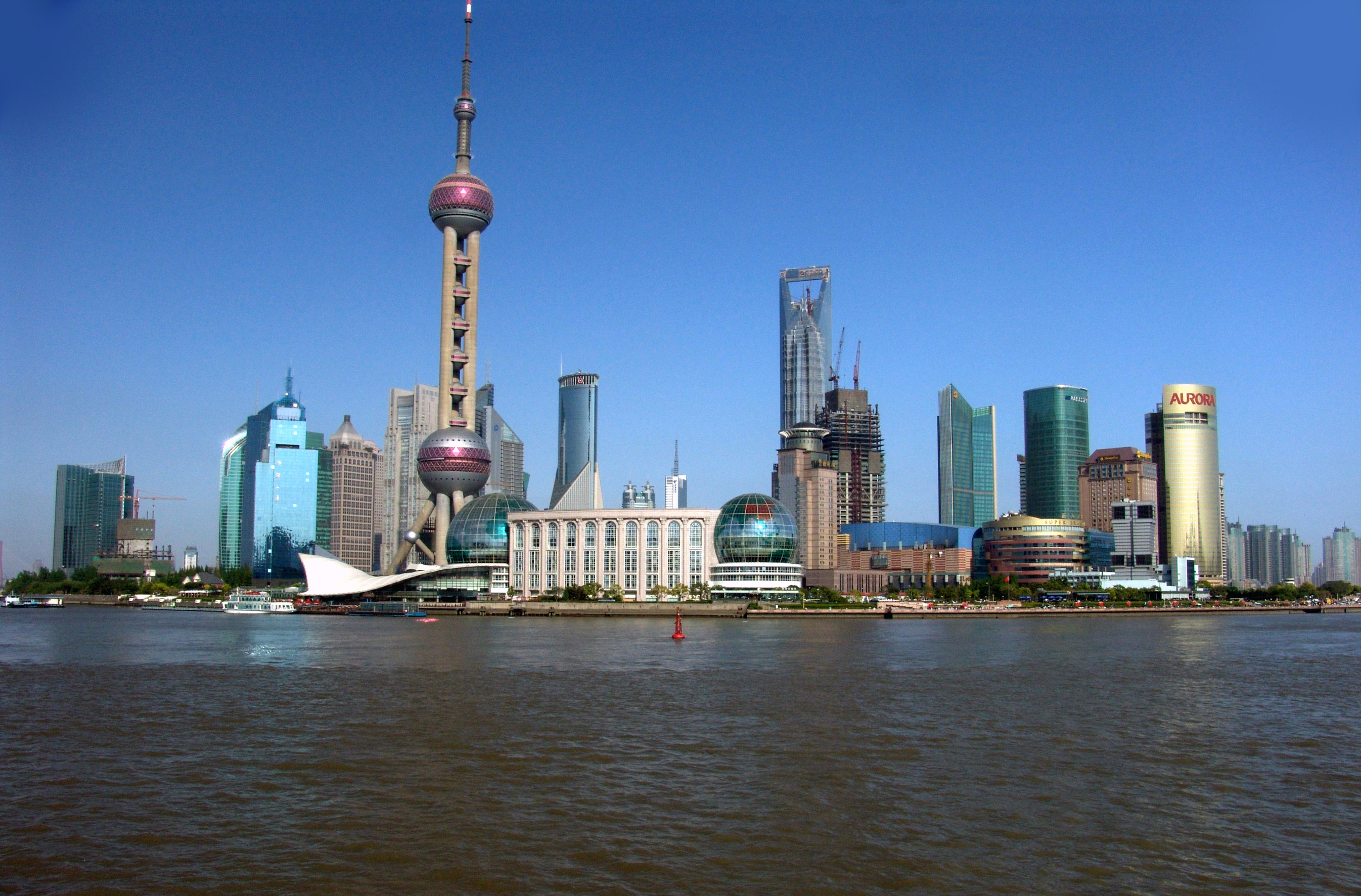 Port Authority
Local Name: Port of Shanghai
Authority: Shanghai International Port (Group) Co., Ltd.
Address: 358 East Daming Road
Shanghai, Shanghai 200080
Telephone: +8621 55333388
Email: contact@portshanghai.com.cn
Website: www.portshanghai.com.cn
Size: Very Large
Coordinates: 31° 13' 19" N, 121° 29' 22" E
Terminal Information
Wusong International Cruise Terminal at Baoshan Port
Shanghai's latest cruise terminal opened in 2011. The port is located 15 miles north of the city and accommodated large cruise ships. The four-story facility accommodates cruise ticketing, waiting, and customs.
Free shuttles have been known to drop off at two locations. Most recent is by Huangpu Park at the northern end of the Bund. Closest metro station is Nanjing East. Shuttles previously dropped off at Waima Wharf Silk Museum (1029 South Zhongshan). It is close to Nanpu Bridge with the spiral onramp. You will need to hail a taxi or walk west towards bridge to find the Nanpu Bridge metro station on Line 4.
Visit here to find other ways to reach the Wusong Cruise Terminal.
Shanghai Port International Cruise Terminal
Located on the Huangpu River, one of the tributaries of the Yangtze Delta, three small to mid-size cruise ships can berth at the terminal. The terminal was designed to mimic a water drop. It is near the Bund and has connections to tourist sites.
Inside the terminal, passengers will find ATMs, tourist information, and places to eat. Shuttle buses stop at the Bund and shopping districts.
Waigaoqiao Terminal
For large cruise ships that cannot navigate under the bridge on Huangpu River, the Waigaoqiao Cruise Terminal is 30km away from the Shanghai Port or 15 miles east of the Wusong Terminal. Four cruise ships can berth at Waigaoqiao.
Parking
Shanghai International Cruise Terminal
Directions From Shanghai:
Drive through A1 highway, turn right at Luo Shan Rd,
drive along with Luo Shan Rd then onto the Yangpu Bridge, get off the Bridge at the Lin Qing Rd then turn left again at Chang Yang Rd, go straight from Chang Yang Rd to Chang Zhi Rd, turn left at Gong Ping Rd, and turn right at Da Ming Rd, keep driving until No.500, turn right to Shanghai International Cruise Center.
Parking is available for 100 cars at the Transportation Center.
Wusong International Cruise Terminal
A large parking lot is adjacent to the cruise terminal around the operating platform.
City Information
Climate
Shanghai experiences four distinct seasons. Winters are cold (33F), although snow rarely falls here. Expect humid summers with downpours. The average high in July is 89F. Be prepared for typhoon during the season as Shanghai has experienced several damaging storms in the past. Spring and autumn are pleasant with comfortable daytime highs and cool nights.
Dining Out
When in Shanghai, try some of the specialty dishes:
Xiao Long Bao (XLB): steamed pork dumpling with hot soup inside. Make sure to puncture the wrapper to let the steam out before eating.
Hairy Crab: A Shanghai delicacy best when freshly caught between season, September-November. The local name is dazha xie.
Other notable dishes: Di Shui Dong Ribs, Houyin Fish, fried canned sardines, Juicy Peach, Juicy Pear, and Pudong Chicken.
Many restaurants do not provide napkins or soap in the restrooms. Be prepared for squat toilets.
Wi-Fi
Many coffee shops have free Wi-Fi, as will Apple stores, hotels, and restaurants in tourist areas. Facebook is blocked in China, and users may find it difficult to use search engines like Google.
Language
The official language is Chinese Mandarin, although there is a local dialect called Shanghainese spoken by roughly 14 million people. English is spoken in large hotels, shops, restaurants, and major tourist attractions.
Things to do in the area

Yuyuan Gardens
Restored in 1961, the gardens are full of pathways that wind through bamboo stands and rock gardens where stone bridges cross carp-filled pools. With unique pavilions, halls, and cloisters, the gardens contain six major scenic areas. Visitors will find peaceful spots for meditation, halls built for ancient ceremonies, and curio shops full of souvenirs. The treasure of the Yuyuan Garden is the Exquisite Jade Rock. About 3.3 meters tall, the rock has 72 holes that connect inside the rock. When water is poured on the top of the rock, it flows out from each of the holes.
Shanghai Museum
This Port of Shanghai attraction contains bronzes, pottery, paintings, and calligraphies from China's distinguished 5000-year history. From afar, the museum looks like an ancient bronze cooking vessel, and from above, it looks like a big Han Dynasty bronze mirror. Located in the People's Square in the center city, the architecture is a square base with a round top that symbolizes the ancient Chinese vision of a square earth under a round sky. The museum contains eleven galleries and three special halls for temporary exhibits.
Qibao (Old Town)
The Port of Shanghai's Old Town is the center of the old Chinese city and the first part of Shanghai to be settled by the Chinese. Foreigners seldom ventured here, and the area retains its unique Chinese heritage. Visitors can enjoy a huge temple bazaar near Shanghai Old Street or get souvenirs or antiques in reconstructed Ming and Qing Dynasty shop houses. The Taoist Temple of the Town God is at the eastern end, and the main square with the Bridge of Nine Turnings is in the center of the Old Town complex.
The Bund
One of Shanghai's most popular destination is this elevated, mile-long waterfront promenade with unobstructed views of the Shanghai skyline. Stroll by the towering Bank of China and Oriental and Jin Mao Towers. At night, the neon skyline is mesmerizing.
Pudong
Shanghai's best-known building are located here in the financial center. The future Shanghai Tower will join the modern skyscrapers comprising the skyline.
Jade Buddha Temple
A rebuilt 1928 Buddhist temple protects two beautiful white jade Buddhas from Burma. The reclining Buddhas were brought here in 1881 by a monk.
Observation Deck, Shanghai World Financial Center
The tallest building in China pokes the sky at 1555 feet high. Get the best view of Shanghai on the 100th floor observation deck from 8am-11pm.
Shopping
Be aware that any antiques created from 1795-1949 must have a red seal attached to be exported; older goods are not allowed out of China.
Nanjing Lu
A pedestrian mall of shopping starting from People's Park and running east, stopping short of the Bund. The Nanjing Lu features over 600 old department stores, modern retail outlets, high-end shops, restaurants, and opulent hotels.
Huaihai Road
Another major shopping center in Shanghai, Huaihai is renowned for high-end stores and refined tastes. Designer brands from around the globe can be found here.
North Sichuan Road
This shopping area is touted for "ordinary" people and inexpensive goods. Be aware of fake products.
Dongtai Road Antique Market
For antique goods, try this market. Find porcelain, jades, wooden wares, bronze, calligraphy, paintings, and embroidery.