Naples Cruise Ship Embarkation Port
Terminal location, parking information, transportation options, things to do, weather, special events
Naples, Italy
Naples is a city in Southern Italy situated on the country's west coast on the Gulf of Naples. The city is known internationally for its history, art, architecture, music, and gastronomy, and has played an important political and cultural role both within and beyond the Italian peninsula throughout its 2,800-year existence.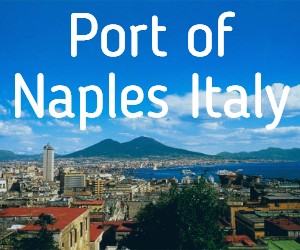 Port Authority
Local Name: Autorita Portuale di Napoli
Address: Piazzale Pisacane
Napoli, NA 80133
Italy
Telephone: 39 081 206929
Size: Large
Coordinates: 40° 50' 12" N, 14° 16' 27" E
Terminal Information
Cruise vessels use Maritime Station (Stazione Marittima), operated by Terminal Napoli. The terminal has seven boarding berths and seven mobile gangways. There are passenger assitance areas, car parking, bus areas.
Parking
Reaching the terminal
The port of Naples is situated in the centre of the city, very close to the extremely central piazza Municipio, 10 mins from Piazza Garibaldi (FS and MN terminals), 15 kms from Aeroporto Internazionale di Capodichino (Capodichino International Airport), a few minutes from casello autostradale (motorway tollbooth).
As of 2013, the car park near Beverello Dock is under development. The cark park is currently not bookable online. There are alternative private car park services that offer shuttle to the terminal.
Parking at the Port of Naples is operated by Super Naples.
Things to do in the area
Caserta Royal Palace
A huge 18th century royal palace and hunting lodge designed by architect Vanvitelli and rivaling Versailles. Magnificent, enormous park with lakes, rivers, statues, fountains and marvelous views. About a 40 minute train ride from Naples.
Maschio Angioino Castle
This Medieval castle is the main symbol of the architecture of the city of Naples. Castel Nuovo (New Castle) has been expanded or renovated several times since it was first begun in 1279.
Amalfi Coast
The Amalfi coast is a series of mountainside towns that offer architectural and artistic works of great significance.
Amalfi
Located about 43 miles from Naples, Amalfi is one of the bigger towns on the coast. It has squares connected by pedestrian streets full of restaurants, souvenir shops and tourists.
Calitri
Located in the center of Italy - halfway between the ruins of Pompeii and the Amalfi coast to the west and Magna Graecia to the east. The area around Calitri is sprinkled with castles, aristocratic palazzos and delightful locations soaked in history and tradition, ridged with hills and valleys and marked by the ancient trails along which Hannibal and his legions marched when setting off to attack ancient Rome 2,000 years ago.
Pompeii
The city of Pompeii is a partially buried Roman town-city near modern Naples in the Italian region of Campania. Along with Herculaneum, Pompeii was partially destroyed and buried under 13-20 ft. of ash and pumice in the eruption of Mount Vesuvius in 79 AD.
Mt. Vesuvius
Mount Vesuvius (Italian: Monte Vesuvio) is a stratovolcano in the Gulf of Naples, Italy, about 5.6 miles east of Naples and a short distance from the shore. It is the only volcano on the European mainland to have erupted within the last hundred years.