Port of Dubai Information for Cruisers
Terminal location, parking information, transportation options, things to do, weather, special events
Good to know
The official language is Arabic, but English is common as it is used in business and commerce. Street signs are often in Arabic and English.
Dubai is surrounded by desert. Expect hot temperatures during the day and cool temperatures at night. The best time of year to visit is "winter," October-April. Expect no more than 5 inches of precipitation during the rainy season.
Dubai is an Arabic city with Islamic traditions. While some areas have an "anything goes" vibe reminiscent of Las Vegas, visitors are encouraged to dress conservatively. For women this can mean long sleeves, no low-cut tops, and long pants or skirts.
Getting around Dubai
Taxis
Even with its modern public transportation system, Dubai is still very much a car city and visitors gravitate towards taxis. They can be found at malls or outside hotels. During peak demand hours (7-9am, 4-7pm) it can be difficult to find a taxi. Make sure you know exactly where you are going before hailing a taxi to avoid the driver taking circuitous routes to your destination. Make sure the taxi is an official taxi by looking for a meter.
Public Transport
Visitors can purchase a day pass for unlimited rides or a Nol Silver pass which has a 10% discount on metro and bus fares. The Silver card is more useful for visitors in Dubai longer than a day. Cards can be purchased at metro and bus stations.
The Metro has two lines open, Red and Green, with new lines, Blue and Purple, under construction. See the metro map for the latest information about open stations and routes.
The bus system is best used for moving to different districts in Dubai rather than general transport as some lines run infrequently.

Area Events
Global Village
Tour the world from late November to February in the Global Village, set up in the outskirts of Dubai. Each country sets up a pavilion imitating its famous landmarks and offers goods.
Dubai Shopping Festival
From January to early February, Dubai stores offer sales on their goods in a month-long shopping frenzy that draws two million visitors.
National Day Festival
On December 2, the Emirates celebrate independence from Britain with public monuments open to all and special events.
Ramadan (Circulating)
The Muslim festival of Ramadan lasts for a whole lunar cycle of 30 days and is observed by Muslims all over the world. During the month of Ramadan, Muslims must refrain from consuming anything for pleasure between the hours of sunrise and sunset, in all forms of food, drink, cigarettes and even sex being prohibited. Non-Muslims in Dubai are also expected to observe the strict abstinence rules during this time, as breaking them in public is seen as highly offensive and disrespectful.
Dubai, UAE
A former fishing village, Dubai has transformed into a modern hotspot of luxury hotels and resorts, duty-free shopping, and the contemporary Middle East. Innovation and sprawling development earmark Dubai's global rise as a center for commerce and business. The city is known for its gold export and imports, oil wells called the "pyramids of Dubai," and free trade. Cruises use the city as a jumping-off point for Middle Eastern voyages and it is frequented on world voyage itineraries.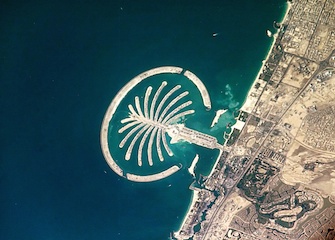 Port Authority
Local Name: Mina Rasheed
Authority: DP World
Address: Cruise Terminal, Berth 30
Port Rashid
Bur Dubai
Dubai, UAE
Telephone: 971 4 8811110
Email: sales@dpa.ae
Website: www.dpa.ae
Size: Medium
Coordinates: 25° 16' 2" N, 55°16' 15" E
Time: GMT + 4 hours

Terminal Information
Opened in 2010, the modern cruise area at Port Rasheed is topped by two sand-colored Arabic domes. The terminal is capable of hosting two cruise liners at once. Inside visitors will find duty-free shopping, souvenir shops, a post office, ATM, currency exchange, and business center. Visitors enjoy free Wi-Fi amongst ample seating. A help desk is manned all day and provides local information. Two bus shuttles transport passengers to Mercato Mall and Dubai City Center. A monitored taxi rank is available outside the terminal.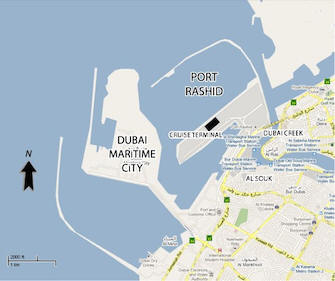 Parking
Directions to Port Rashid from Dubai International Airport: From the airport take Garhoud Bridge on Sheikh Zayed Road, after crossing Garhoud bridge you will pass the Al Ain interchange. You will see direction boards for Port Rashid & Karama veering towards the right of the road. Please follow the Port Rashid sign and you will reach a main signal. Keep going straight crossing 2 more signals and you will find Port Rashid at the right side. On the fourth Signal Please take the free right turn and you will reach the pass office / main gate in order to enter the Port.
Things to do in the area
Ibn Battuta Mall
This expansive mall has six themed areas: China, Egypt, Persia, Andalusia, Turkey, and India. Dine in corresponding restaurants or get lost amongst the boutiques. The mall has a multiplex cinema and museum of Islamic Invention and Engineering.
Creekside Park
See Dubai from Dubai Creek on a ferry or water taxi, or, walk along the creekside trail connecting the Arabian Gulf to the park.
Dubai Museum
Al Faheidi Fort, which dates from the early nineteenth century, houses the Dubai Museum, which contains an extensive collection of cultural, military and artistic items. The fort, Dubai's oldest standing structure, was originally built to protect the town from warlike tribes. Today visitors can see pearl diving tools, traditional musical instruments, copper jewelry, alabaster statues and clay pots.
Mall of Emirates
Shop 200 retail stores, catch a movie in the Cineplex, or take a break from the desert heat at the indoor snow skiing facility. All the equipment for skiing and snowboarding is available for rent.
Burj Khalifa
For the best view of Dubai, head for the observation deck of the Burj Khalifa, the tallest building in Dubai with 160 stories and 800 meters tall. You can go to the observation deck at level 124 and the restaurant at level 122. Access is by the lower ground level of the Dubai Mall. Book tickets in advance to guarantee entry.
Burj Al-Arab Hotel
Reservations are required to enter the lobby of this ultra-exclusive seven-star resort located in the Jumeirah area of Dubai. The hotel is designed to resemble a sail and is 321 meters high. A "smart casual" dress code applies.
Bastakia Quarter
The historic Bastakia Quarter is a memory of the days when Dubai was a small fishing port. Stroll the maze of streets and look at the fine homes with their distinctive wind towers that funneled any wind downwards into the house so providing cooling.
Souks
A wide array of souk (alternative: souq) are in Dubai. These shopping bazaars are places to visit for spices, gold, silver, arts and crafts, and tourist shirts.
Gold Souk
One of the world's largest retail markets, the Gold Souk is awash with glimmering ingots and jewelry ready for purchase from 300 traders.
Jumeirah Beach
The public beach at Jumeirah boasts fine soft sand and crystal clear seawaters. The beach is occasionally a little crowded. You'll find lifeguards, food outlets, showers, restrooms, picnic tables and play area.
On Mondays the beach park is restricted to women and children. The park is located about 2 miles south of the cruise port.
Jumeirah Mosque
This mosque is one of the few open to non-Muslim visitor tours. Photograph the awe-inspiring towers and impressive dome.
Dune Safari/Dune Bashing
Book with one of many excursion operators for a 4-wheel drive adventure up and over the golden sand dunes. Include a Arabian desert meal or book sand skiing on the dunes.
Palm Jumeirah
Visit Dubai's infamous Palm, a man-made island shaped like a palm tree visible from the moon. Take a helicopter ride for the best view of this millionaire's paradise.
Scuba Diving
Just 90 minutes outside Dubai, Fujairah and Khor Fakkan offer world-class coral reef and shipwreck diving. The ocean temperatures here are comfortable all year round.